Waste Management and Recology — two of the Bay Area's largest solid waste management companies — employ different strategies to arrive at similar results: nearly doubling residential curbside waste pickup rates over the past decade.
Recology, a San Francisco-based waste collection company that serves San Francisco and many cities on the Peninsula, often hikes its rates when it takes over a contract, or franchise agreement, with a new city, an analysis of rate charts from 2006 and 2016 shows. That same analysis shows that Waste Management, the waste collection company that serves much of Alameda County, raises its rates with the cities it has served for the past decade, sometimes more than doubling them.
Both Waste Management and Recology have a contentious history with cities and regulators in the Bay Area and nationally. Recology — formerly known as Norcal Waste — was involved in an illegal kickbacks-for-contracts scandal that lasted nearly a decade in San Bernardino County in the 1990s and resulted in a county administrator and Norcal vice president agreeing to plead guilty. In 2002, the Securities and Exchange Commission sued the founder and top officers of Waste Management in 2002 for fraud, resulting in fines of more than $30 million.
Currently, the companies are involved in a legal battle with each other over a waste disposal contract in San Francisco.
Recology and Waste Management's overall average rate increases from 2006 to 2016 are fairly similar. Recology raised its rates an average of 87 percent, while Waste Management raised its rates by an average of 90 percent.
But a closer look at the rate increases reveals more of how the companies do business with the cities and communities they serve. For those cities that Recology has consistently contracted with since 2006, the company has been more restrained in its rate increases: raising them on average by 55 percent.
But when Recology enters into a new contract with a city — usually when it takes over an old company's franchise agreement — Recology raised its prices by an average of 101 percent.
Waste Management, on the other hand, hasn't entered into a contract with any new Bay Area cities in the past decade. But it has more than doubled its rates with some of the cities it has served over that same timeframe.
Out of all of the Bay Area cities whose rate charts were obtained, the city of Albany — which is serviced by Waste Management — has the most expensive residential curbside pickup fees for a 32-gallon cart today, at $41.13.
Recology charges an average of $26.13 for residents to have their solid waste 32-gallon can picked up curbside. For Waste Management, the average cost for residents is $33.00.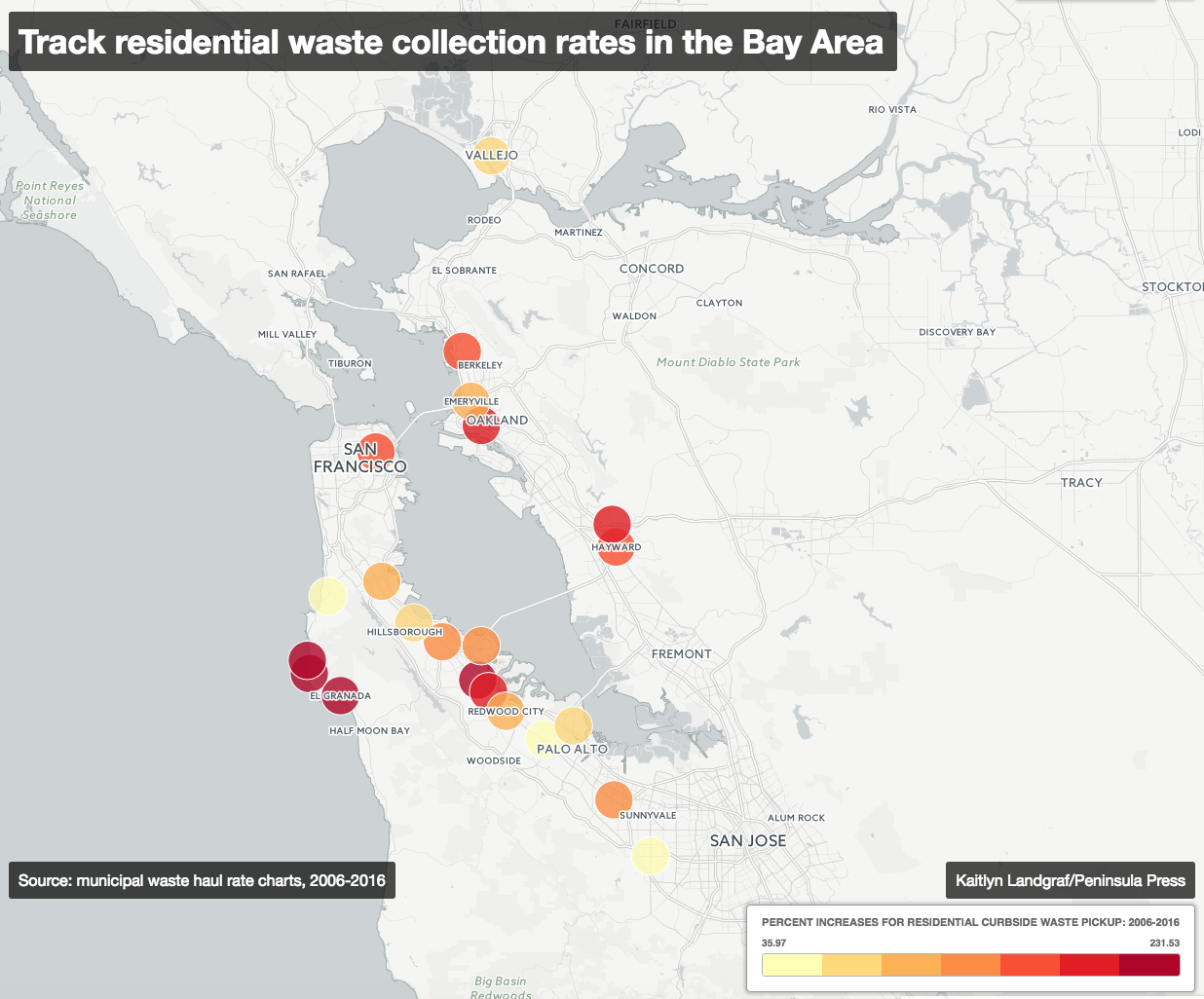 Oakland contract battle followed by rate jumps
The latest rate jumps in Oakland came after Waste Management filed a lawsuit in California Superior Court in July 2015 to prevent the San Francisco Department of the Environment from steering the city's waste disposal contract to Recology. Waste Management claimed that the city ignored its competitive bidding rules and was bypassing bids from Waste Management.
That same month, Waste Management hiked its rates in Oakland by as much as 44.5 percent for some residents, after it sued the city for awarding its trash contract to another local company. Faced by the lawsuit, the city council approved a contract that split the contract between the two firms, leaving residents with significantly higher garbage bills.
"Waste Management has too much power," said Diane Tebault, a 25-year resident of Oakland, who said her monthly rates jumped from $20.63 to $32.10 with the new contract. "What power does any city or person have negotiating? It's a monopoly."
Oakland's curbside solid waste rates have increased by more than 113 percent since 2006.
"It's the cost of living," said a customer service representative for Waste Management Alameda County, who would not give his name. "Anything goes up in price: gas, housing." But when asked why Waste Management's rate increases have outstripped those of Recology on average, he declined to comment.
"Numerous factors contribute to rate setting for the collection of trash," said Karen Stern, communications manager for Waste Management in Northern California and Nevada. Rate calculations can include labor, trucks, fuel, tires, maintenance and the franchise fee paid to a jurisdiction, said Stern.
Knowing how all those factors compare is difficult. But Waste Management's main landfill, the Altamont Landfill, is 18 miles away from Alameda County. In contrast, Recology hauls its solid waste to the Hay Road Landfill in Vacaville — more than 61 miles from San Francisco.
A ring of silence
In Oakland and San Francisco, government officials, Waste Management and Recology representatives, and consultants in the solid waste hauling industry declined to speak about the rate increases.
Representatives at Recology forwarded questions to the San Francisco Department of Public Health. At the San Francisco Department of Public Health, representatives forwarded questions to the Department of the Environment and declined to speak with the press without going through a supervisor and PR representative.
At Waste Management, a PR representative answered a few question, then forwarded inquiries to Rob Hilton at HF&H Consultants.
Hilton declined to be interviewed, saying he does not speak with journalists unless specifically directed to do so by a client, despite having been recommended by Waste Management. Waste Management did not respond to any further inquiries.
And in Oakland, the acting solid waste and recycling program supervisor Peter Slote, who was involved in Waste Management's contract renegotiation in 2015, refused to speak on the record.
Franchise vs. non-franchise
Nearly all cities that partner with Waste Management and Recology have a franchise agreement with the waste removal companies: a legal contract where the city bestows trash and recycling collection rights to a company for a set number of years on behalf of the city residents. Most cities in California choose to use an exclusive franchise, which permits contractors to operate under certain regulatory frameworks.
Over the past decade, Recology has entered into a franchise agreement with 13 new cities or communities in the Bay Area, mostly on the Peninsula.
For those cities, Recology has increased its residential curbside solid waste pickup fees by an average of 101 percent.
One exception to the franchise agreement rule is the city of San Francisco, which in 1932 passed an ordinance that granted the city the right to grant exclusive refuse collection licenses, which gradually came to be held by one company: Recology. Since the ordinance is written into the city charter, only a ballot measure can overturn it. Several ballot measures have been proposed — most recently in 2012 — but all have failed, and Recology has maintained its exclusive right to collect waste in San Francisco.
In San Francisco, rates have risen on average by 84 percent.
In individual cities, Bay Area fees vary widely
Around the Bay Area, rates for individual cities vary, and nearby cities can have wildly different rates. For example, in Belmont, rates increased on average by 118 percent, while in Burlingame they increased by only 50 percent.
The costs vary widely because each city's needs and resources differ, according to George Savage, executive vice president at Cal Recovery, a consulting engineering firm that specializes in solid waste and resource management. "There's a big difference between the way solid waste management is contracted in the cities of San Francisco, Santa Clara or Fresno."
One factor that affects solid waste collection costs is how much waste cities decide to recycle, Savage said. "That drives how collection, processing and disposal costs are calculated."
From year to year, rates can fluctuate in individual cities. And for some cities like Menlo Park and Pacifica, rates have decreased. In the coastal city of Pacifica, residential curbside rates went down by more than 9 percent over the past year.
General Manager Chris Porter of Recology of the Coast, which serves Pacifica, attributed the drop in rates to several factors, including the fact that residents had paid off the cost of their recycling and solid waste carts, and that fuel costs had decreased.
"A rate drop has never happened before in Pacifica," she said. "It took a team effort to get something like this done."