Four years ago, the Lozano sisters received a phone call on a Friday telling them to present themselves at San Francisco City Hall on Monday because the mayor wanted to see them.
None of them expected what awaited them: a signed proclamation dedicating March 6, 2012, as "Lozano Sisters Day" in the City and County of San Francisco.
"We were speechless," Gabriela Lozano told Peninsula Press in Spanish.
Gabriela, Lourdes and Rosie Lozano were recognized for their work as small-business owners of their family restaurant, L's Caffe, located in San Francisco's Mission District.
"Before we decided to open the business, we would always hear people say, 'never go into business with family because it can break apart the family.' Fortunately for us, it brought us closer together," Lourdes Lozano said in Spanish.
Ever since they opened their doors about nine years ago, the sisters have been dedicated to preserving Latino culture in the neighborhood by joining local historic conservation efforts; hosting local concerts and art shows in the restaurant; and by simply maintaining a Latino presence by speaking in Spanish and giving some of their foods Spanish monikers.
The sisters currently take turns running the day-to-day business and caring for their ailing parents.
As L's Caffe will soon reach its 10th anniversary this November, Lourdes Lozano said that it's been great to take on such an endeavor with her sisters, as it has brought them closer together and helped them realize how much they can count on each other when it comes to their livelihood and family matters, like caring for their parents.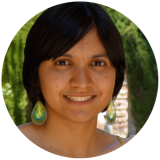 Ileana Najarro is a senior majoring in communication. She has interned at The Washington Post and will be an intern at The New York Times during Summer 2015, followed by an internship at the Mexico bureau of The Wall Street Journal as the 2015 Daniel Pearl Journalism Intern.