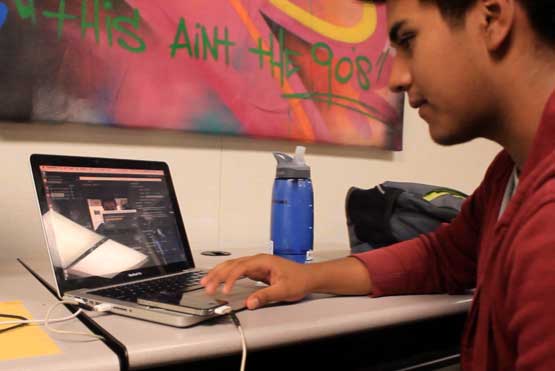 Roberto Gutierrez from East Palo Alto aspires to be a successful graphic designer. Dele Sobomehin from Portland, Ore., hopes to run the top youth basketball academy in the nation. Bruno Mandolesi from Dolomites, Italy, wishes to combine technological innovation with the craftsmanship of his hometown and build beautiful handmade items. These young people have different passions but they're all using their profiles on Ambition Spotlight — a networking website born in East Palo Alto — to highlight their work.
Nicknamed "LinkedIn for the hood" by its creators, David Chatman and Brian Joseff, Ambition Spotlight allows users to upload profiles with information about their passions and ambitions rather than career experience.
"Most of my friends and colleagues from the area don't even know what LinkedIn is," said Chatman, an East Palo Alto native. "And they wouldn't know what to put on their LinkedIn profile if they had one."
Websites like LinkedIn encourage users to highlight their career experience. But people from lower income areas — who often work menial jobs to get by — are not able to get noticed on such websites because either their professional interests are less mainstream or they just don't have any work experience yet to promote.
Chatman envisioned Ambition Spotlight while enrolled in CodeCamp, a coding bootcamp created by the East Palo Alto nonprofit Live in Peace.  The organization hired Stanford students Rafael Cosman and Shadi Barhoumi to teach a free, four-week coding bootcamp held at a community center in the area. CodeCamp largely targeted low-income 14- to 24-year-olds. Chatman had just lost his job at The Home Depot when he heard about the opportunity to take a coding class.
"I was torn between finding another job and taking this opportunity to learn something that I wasn't sure would help me or not," Chatman added. "Choosing CodeCamp changed everything for me. It opened doors."
In forming his idea, Chatman realized one of his frustrations was his neighborhood's reputation of being dangerous. He wanted to highlight the positive parts of East Palo Alto.
"There are so many talented people here who are trying to make a difference," said Chatman. "That should be what East Palo Alto is known for."
Chatman, who is a 23-year-old community college graduate, described his outlook on life as depressed and uninspired prior to his experience with CodeCamp.
"I wasn't the most hard-working kid growing up," Chatman said. "I never really believed in myself. Now I work all the time, and I love it."
Chatman's partner, Brian Joseff, a recent graduate of Dartmouth College, learned about Ambition Spotlight after attending CodeCamp's Demo Day, where students presented their projects to friends and family.
"I just went out to check it out because I was new to the Bay Area and thought I'd meet more people. But as I was watching all these presentations, I noticed a common thread in a lot of them," Joseff said. "These kids were trying to build something that would lift up their community."
Joseff was impressed by Chatman's work and offered to help him advance his website, taking it from a static HTML page to a much more interactive website, using modern programming technologies such as Firebase and jQuery.
"We still have a ton of things in our product road map," Joseff said.
The roadmap includes adding a 'Search' feature for recruiters to fill jobs, as well as a better way for users to connect with each other, as there is no connect or contact section. Currently, the site contains profiles with components like "Where I want to be in five years," "What I'm doing to get there" and "Who believes in me." Other users can click to "support" their friend, which adds their name to the section, "Friends that believe in me."
Chatman also told Peninsula Press the platform is launching a new feature where users can create a goal and post pictures and status updates related to it: "The idea is to give users a way to broadcast their progress to the world, have documentation of their successes online in a non-judgmental space … and to see other people from their community posting positive things."
Deniz Kahramaner, formerly a product manager at LinkedIn with a computer science master's degree from Stanford, said the website has a lot of potential.
"It's a scalable idea," said Kahramaner, who suggests adding a milestone component where users can congratulate each other on each accomplishment.
The website features about 115 profiles of people ranging from the United States to Italy, Venezuela and beyond.
"We want to build a product that serves the needs of kids in EPA who are aspiring to start a business or go to college," Joseff said. Once we build a product that works well for this group, we will then cast our sights on loftier goals like mobilizing untapped human capital in communities around the world."
"I know we can make this site huge," Chatman said. "It's not just us in East Palo Alto who want to be known for our passion for change."
Stanford students Barhoumi and Cosman believe that Chatman and his product illustrate the potential that their program's graduates can achieve.
"I am so proud of David," Cosman said. "He has become a star of CodeCamp."
Following the success of CodeCamp, Cosman and Barhoumi worked with Live in Peace to create a similar program called StreetCode Academy, where they teach young East Palo Alto students and recent high school graduates how to code for an entire year. Cosman, a senior at Stanford, and Barhoumi, a sophomore, collaborated with other EPA organizations like Esface to recruit students for their classes.
"Both of those organizations have simultaneously realized that tech is crucial for the future of East Palo Alto and the future of their youth," Cosman said. "Basketball is awesome — a great way to get involved in something positive. Art and music — same thing. But you're not going to have a lot of jobs from art and from basketball. You're going to have a lot of jobs from tech."
The StreetCode team recently met with top professionals from Facebook, Google, Olark and Apple, where the executives advised the young coders, including Chatman.
"This was not about us pitching. This was about us asking them for advice," Cosman said. "We said: 'Tell us how we can prepare our students for the jobs and internships that you have today and the internships that you will have five years from now. Because we want to be plugged into your companies long-term. We want to be producing the engineers you're going to be hiring.'"
The meeting was held in a roundtable fashion at the StreetCode offices in East Palo Alto with Cosman, Barhoumi, Justin Phipps, the co-founder of the nonprofit Live in Peace, Chatman and two other CodeCamp alums. Executives advised the students to learn computer science and stay current with tech and industry trends.
"The executives gave me more confidence in our product and ideas," Chatman said. "We have a long way to go, but I know we will get there."