Patrick and Sandra Scott spent their 41st anniversary on Dec. 14 in a place they can finally call home — even temporarily. After being homeless for a year, the couple moved into a motel room paid for by the county.
After living under the bleachers, in the flowerbeds and beneath different trees in Sunnyvale's Fair Oaks Park for most of the year, Patrick Scott said he was looking forward to sitting in a bath for a whole day, just letting the water run, fully aware that there's a drought in California.
"It's the little things that you miss the most," Patrick said.
Patrick and Sandra, both 62-years-old, became homeless last December because Patrick retired as a cook one year before he was eligible for Social Security benefits. Sandra was unemployed after being injured at work in 2005, and expensive hospital stays exhausted most of their savings.
When they were forced to leave their apartment in Sunnyvale, a relative offered to help but they said they wanted to work out their money problems on their own.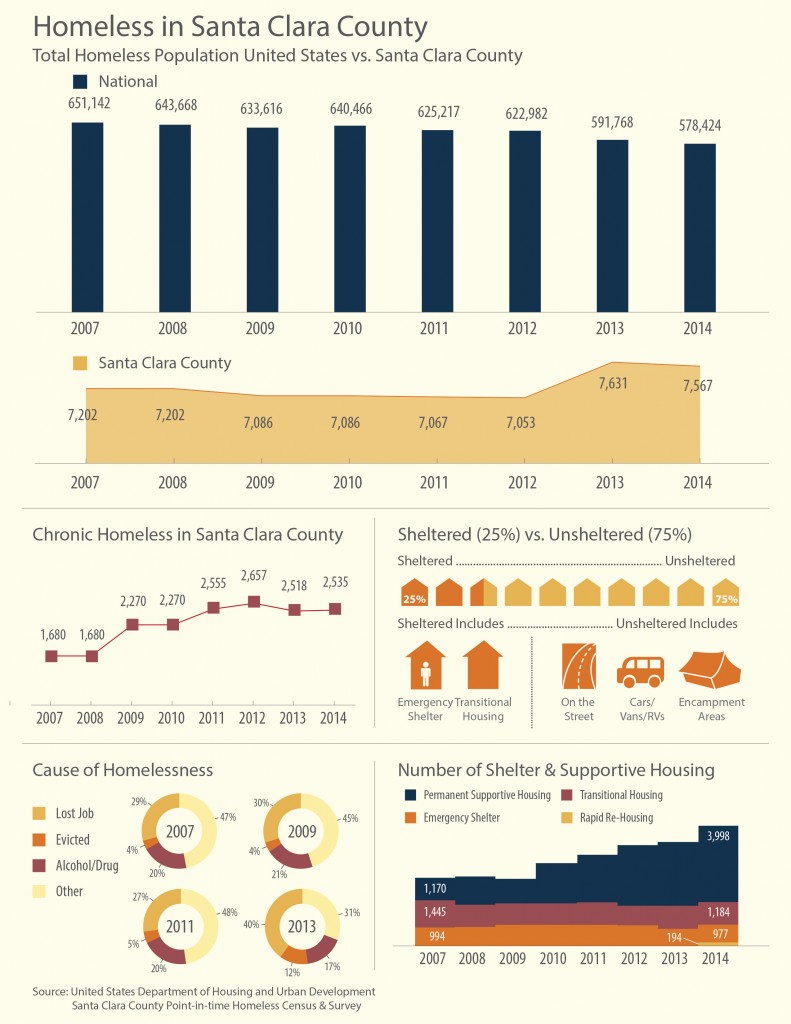 Santa Clara County, even with its enormous wealth per capita because of Silicon Valley's boom, had the largest percentage of unsheltered homeless in the country this year, according to the 2014 Annual Homeless Assessment Report to Congress. Of the 7,567 homeless, 75 percent lived on the streets or in their cars. Of New York City's 67,810 homeless, only 5 percent were unsheltered this year.
For the past decade, Santa Clara County has opened three shelters from Dec. 1 to March 31 to provide overnight lodging for homeless during the winter months. But the closing of one of them — the Sunnyvale Armory — this past spring has left homeless in the northern part of the county searching for alternatives as the cold winter temperatures set in. The old Sunnyvale Armory site is being converted to low-income housing.
When a countywide search for a replacement shelter bore no fruit, the county's Board of Supervisors approved a new comprehensive winter plan to deal with the homeless.
To make up for the loss of 125 beds in the Sunnyvale Armory, 56 beds are being added to other shelters including the Boccardo Reception Center, the Commercial Street Inn in San Jose, Hotel de Zink in Palo Alto and Project WeHOPE in East Palo Alto. In addition, the county is offering 90 motel beds — like the ones the Scotts obtained — the largest number the county has ever offered.
In October, the county approved $1 million to assist the homeless, an increase of close to $400,000 compared to last year.
Part of the increase is to pay for the motel beds, which cost an average of $850 per week for one person — nearly twice as much as a shelter bed — according to Bob Dolci, the county's homeless concerns coordinator.
Out of the 90 motel beds, 54 are dedicated to homeless families. InnVision Shelter Network, a provider of shelter and supportive services for the homeless, referred families on a first-come, first-serve basis.
The remaining 36 motel beds are reserved for homeless individuals and are overseen by Downtown Streets Team, an organization that helps the homeless find jobs and housing. Members on the Downtown Streets Team "volunteer" up to 20 hours per week on cleaning jobs, and instead of payment, receive grocery gift cards and case management services.
Only team members, or those on the wait list to get on the team, are eligible for motel beds.
That's how the Scotts — both team members — were able to move into a motel.
The idea is for "people to see those on the team getting into a motel, getting housing, and building better lives, and say, 'I can do that too,'" said Chris Richardson, Downtown Streets Team's program director.
In the past, those who wanted to stay in the Sunnyvale Armory had to line up each afternoon and join a lottery for a bed everyday. Under the new program, the lucky ones are placed into a motel or a shelter for 90 to 120 days. Demand still far exceeds supply.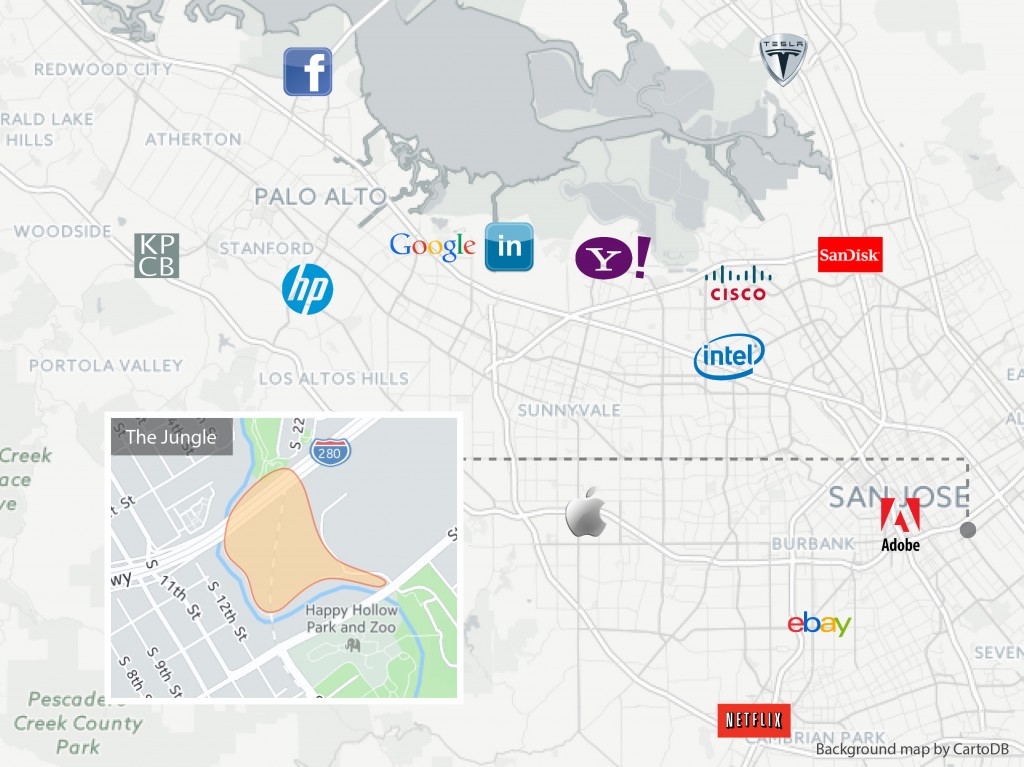 "I sure can use a motel room where I can come back anytime I want," said Clint, a 62-year-old homeless veteran who wouldn't give his last name, while he was eating a free breakfast at a church in Mountain View.
Clint was given a bed at a church in San Jose after he underwent heart surgery in September. He unzipped the top of his sweater and revealed a four-inch-long scar on his chest that was still fresh. But he has to leave by 5:30 in the morning and come back after 8:00 at night, under church rules. He spends most of his days reading in the library or wandering aimlessly.
Joseph Rosado, 40, was ecstatic when he was told by the Downtown Streets Team to move into a motel last week. For the past month, he has been sleeping in his brother's truck after getting off work at a Mountain View Safeway at 11:30 p.m. When it gets really cold, he stayed at work for extra hours or took a bus ride to keep warm.
Rosado almost lost his chance at a motel bed after being kicked off the Downtown Streets Team in early November for not showing up for his shifts. Rosado said the schedule conflicted with his two other jobs — one at Safeway and another part-time job.
Eventually, the team took Rosado back and put him on the wait list for a motel bed.
Being homeless in Silicon Valley means constantly having to figure out where to get a night's sleep. While some sleep in their cars, some sleep on "Motel 22" — the only bus that runs 24 hours a day in Silicon Valley. Others scatter to wherever they can get a few hours of undisturbed sleep. One of those places — the San Jose "Jungle" along Coyote Creek — was dismantled on Dec. 4.
Dolci acknowledged that the new homeless program helped fewer people, but said those who received hotel rooms were more likely to get off the streets permanently. They won't have to constantly look for a place to sleep and will have time, with the help of case managers, to look for employment and permanent housing.
"This is geared to hopefully solve some homelessness problems and end it," Dolci said.
If the new program proves effective, the county will continue it next year while still looking for a replacement for the Sunnyvale Armory, he added.
Lori Collins, shelter director at InnVision Shelter Network, described this year as a "trial period."
"We are all learning this together," Collins said. "We are all optimistic."
The Scotts, with their retirement benefits kicking in early next year, hope the motel will be the last stop in their homeless journey. They have been accepted to the low-income apartment currently being built at the old Sunnyvale Armory site.
"Being homeless, it hurts," Patrick said. "But in the morning, you get up, tie your shoes and get life going."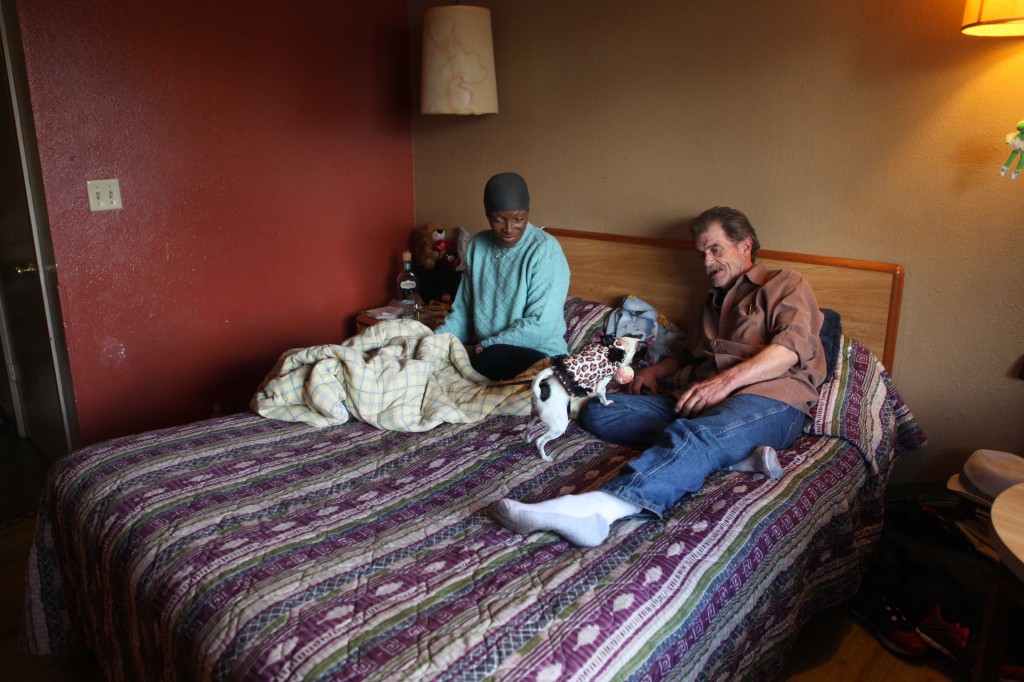 Read other stories in this special report series: