When Airel Tinajero, a Menlo Park city employee and mother of one, moved to Belle Haven four years ago, she was scared to walk outside her house after dark. A gang-related murder and five other shootings happened within four blocks of her home between 2011 and 2013. Tinajero recalls dropping to her kitchen floor upon hearing one of them.
A few months back, she was surprised by a dramatic change.
"It's safe. It's very calm, I just can't believe it," said Tinajero, 37, who now enjoys frequent walks in the evenings near her house when she mingles with neighbors. "You don't see groups of teenagers hanging around, with nothing to do. Instead, I see more people in their 20s and 30s walking their dogs."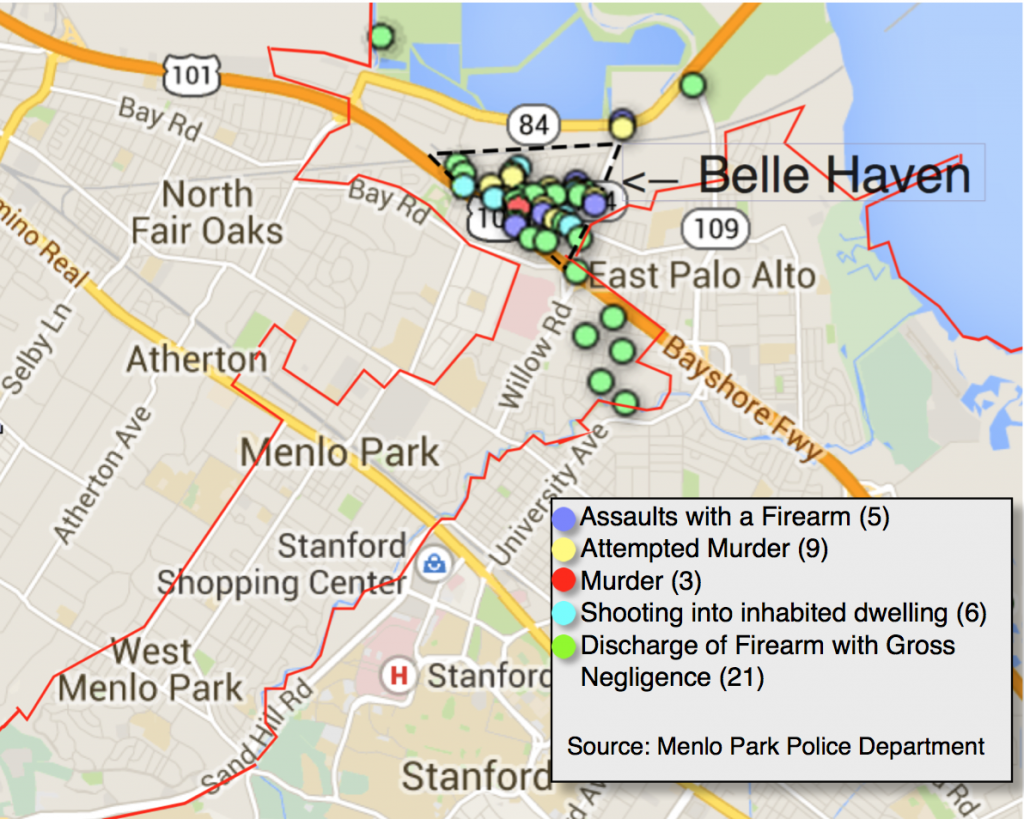 Other residents said they also felt safer and police data shows why. While all of Menlo Park's 44 shootings — including three murders — since 2011 were in Belle Haven or within a mile radius, remarkably, no violent gun incidents have occurred there this year.
The drop in violent crime points to a public safety shift that's characterizing a vast transformation of the area. Menlo Park's historically most-dangerous neighborhood east of Highway 101 has fewer discarded couches and TVs littering sidewalks. A new community garden opened at a lot that used to be overgrown by weeds. At Facebook's second campus being built along the Bayfront Expressway, cranes soar above the nearly finished 433,550-square-foot building.
The social media giant's move to the area in 2011 — along with simmering community anger over shootings — prompted the city to put a fresh focus on the long-neglected neighborhood.
"For so many years, people ignored this area of town, and now people are looking at it and figuring out how we can improve it for everybody," said Menlo Park Mayor Ray Mueller at the opening of the new community garden last month. "We have an amazing opportunity to transform the neighborhood in this renewal. This garden is symbolic of the effort that is taking place in Belle Haven right now being led by the residents."
Since 2012, the city has invested $338,000 to help youth stay in schools and out of gangs, and organize neighborhood watch groups to improve public safety and get rid of blight. Facebook contributed over $365,000 this year towards the opening of the Belle Haven neighborhood services center and police substation in April, and the hiring of an officer dedicated to keeping youth out of the criminal justice system. The company pledged an additional $400,000 to continue paying Officer Mary Ferguson's salary for the next two years.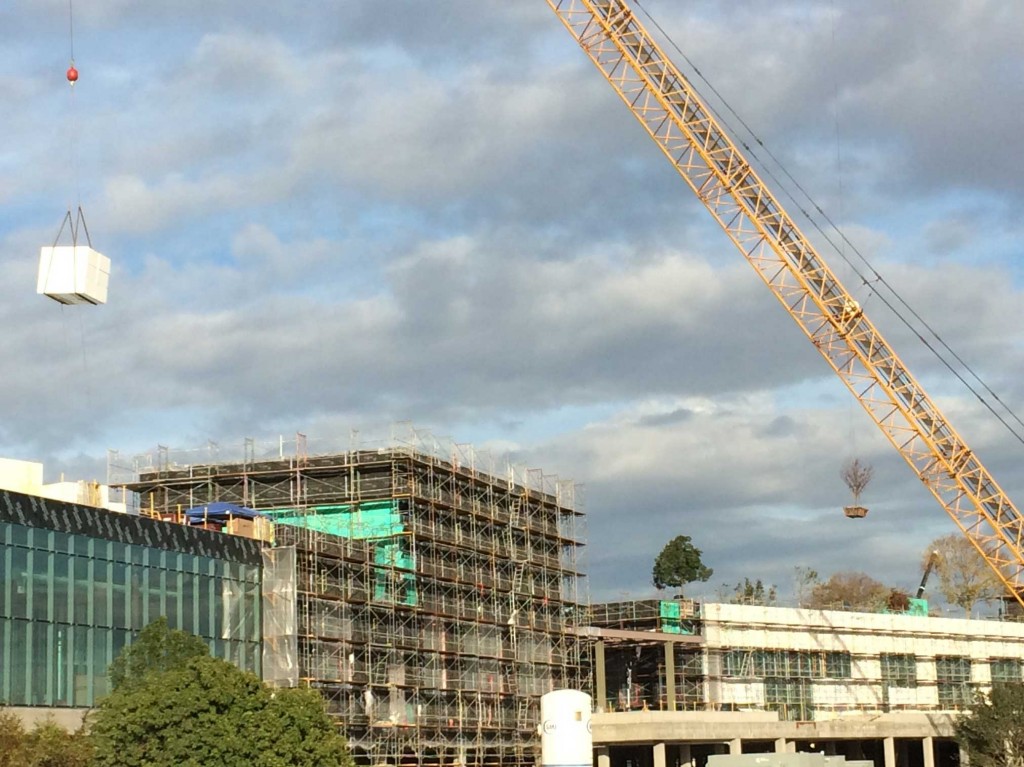 Though critics indicate potential conflicts of interest in the arrangement, Facebook, the city and Ferguson insist the donations have no strings attached.
Facebook has its own security force, and Ferguson says she has never handled any incidents at the company's campus. Instead, she teaches life skills to teenagers, and connects students who miss school with local counseling and other resources. At a time when police across the country are looking to strengthen community ties, Ferguson is visiting classrooms at Belle Haven Elementary to introduce the Menlo Park Police Department in a more positive light to children. "I don't want them to fear us," she said.
On a recent visit to fourth graders, a girl told Ferguson she had found a bullet near her house. Ferguson advised the class to, "Never pick up a bullet, and tell your parents right away." More little hands rose up. One boy told Ferguson he knew a woman who escaped from jail.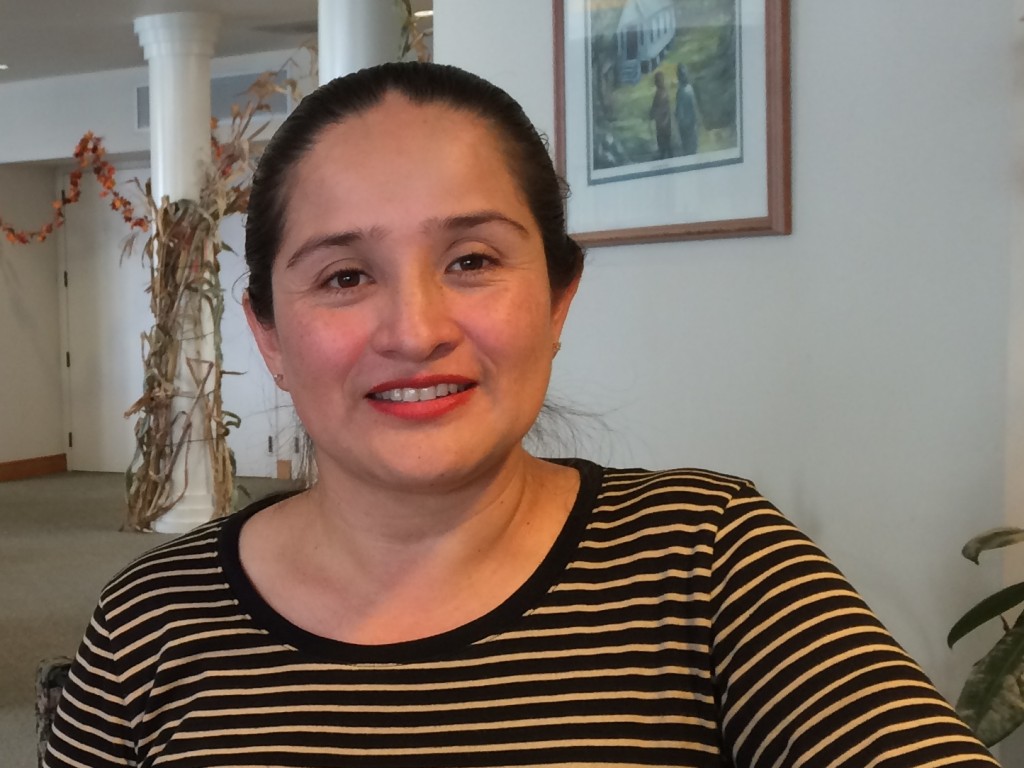 "It's kind of sad. They are so young and experiencing things that no one would want their child to experience," said Ferguson, a mother of two. "That's the reality, so it's my job to acknowledge it and let them know how to handle the situation."
Some residents, such as Martin Lamarque, remain skeptical that the new neighborhood police substation and Ferguson's efforts can eradicate crime in Belle Haven.
A few years back, Lamarque was sitting with his wife and three children at home when they heard shots just three doors down. Then, they heard screeching tires.
"This is the kind of neighborhood where if you wear the wrong color, you can get shot at. So I don't let my 19-year-old son roam around here," said Lamarque, a Belle Haven resident of 18 years. "It may be safer now, but I'm not going to experiment by letting my son be out there."
Lamarque believes that crime in his neighborhood is encouraged by dilapidated streets signaling a lack of attention from neighbors and city agencies. Recently, he noticed an abandoned couch stayed for a month on Chilco Street, near the edge of Belle Haven.
"When you don't enforce the little rules, you just give people permission to get into bigger transgressions. You create a lawless environment," said Lamarque, who blogs about the community for The Almanac, a local news website. "These kinds of neighborhoods are full of things like that."
Police Commander Dave Bertini credits the dramatic decline in shootings to more witnesses cooperating with police, a crackdown on gangs by local and FBI officers in 2012, and surveillance cameras installed earlier this year at Belle Haven's major intersections.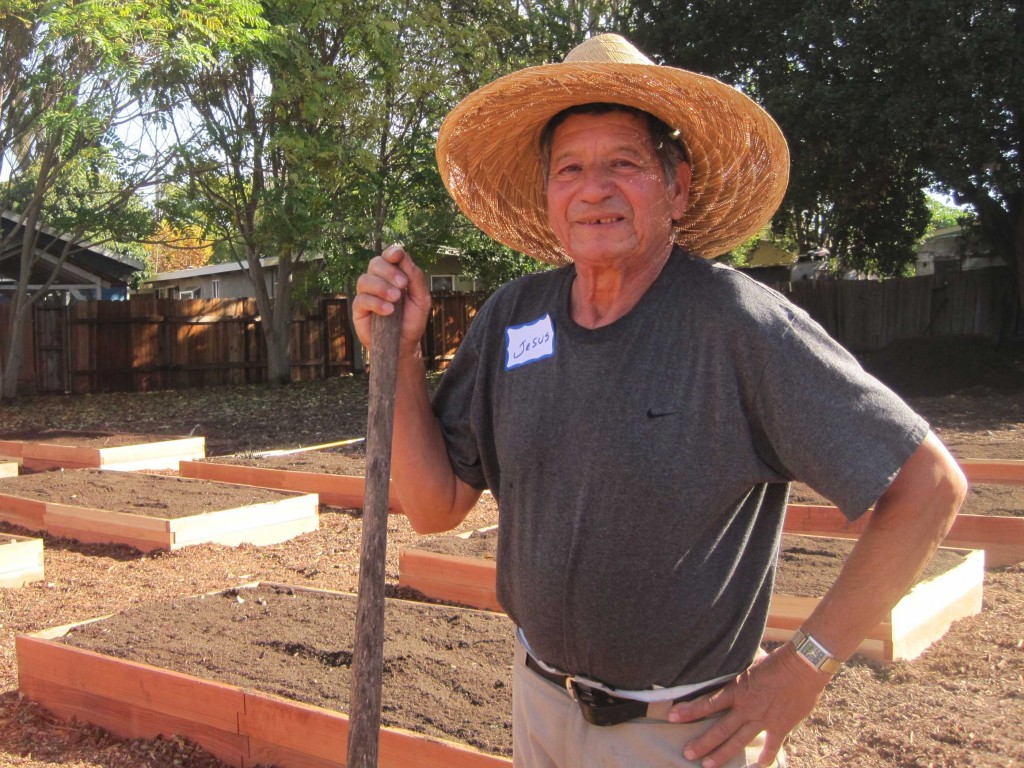 Bertini, who is in charge of the department's patrol operations, suspects gangs in Belle Haven are "keeping a low profile," and agrees that clean streets deter crime. That is why Menlo Park's only city code enforcement officer, Eleonor Hilario, is stationed at the Belle Haven police substation.
Hilario deals with graffiti, illegal dumping and furniture left on sidewalks. But her biggest concern is families living in illegally converted garages. Most of these structures, which rent for $500 to over $1,000, are located in Belle Haven and are unsafe, says Hilario. They are also a reminder of the struggles of low-income residents in the area even as safety improves.
"There's no insulation, no ventilation, so it can get pretty cold and stuffy in there," said Hilario, who hears about illegally converted garages every day. "A lot of people living there are probably undocumented workers and cannot afford other housing."
During inspections, Hilario usually finds a family of five cramped in a moldy room with shoddy bathrooms. Extension cords form multiple chains on the floor, a potential fire hazard. Water heaters servicing the main residence emit poisonous carbon monoxide into the stifling rooms.
Hilario suspects that tenants who are forced to move out after inspections end up going to another garage in Belle Haven or neighboring East Palo Alto, as the city has few affordable housing options.
Over the next two years, 94 housing apartments for low-income residents will be built in Belle Haven and nearby in Menlo Park. But the bulk of new housing developments will be market price, including 636 upscale apartments that are under construction near Facebook.
All of this means new residents and more traffic. The city estimates that the new residential projects and Facebook's second campus will add 10,870 daily vehicle trips to this neighborhood with a population of 6,200. Still, with the problems the development may cause, many Belle Haven residents say it's worth it.
"I've been seeing a lot of progress in the area," said Ismael Oseguera, a Belle Haven homeowner of 37 years. "Things are a lot better now."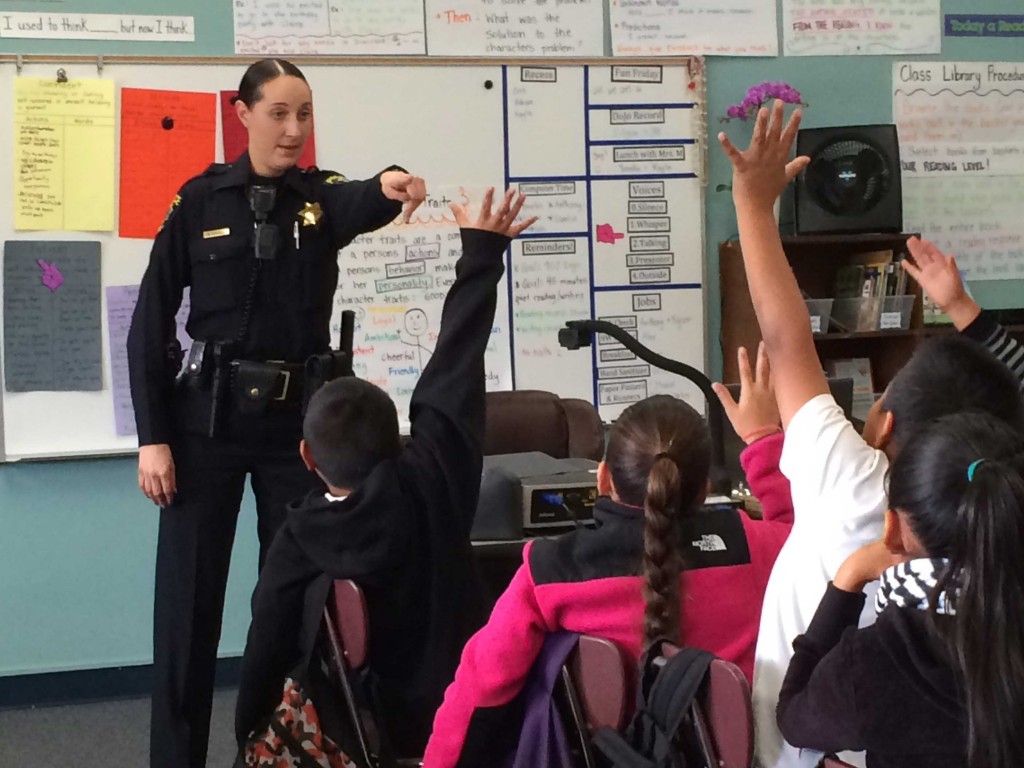 Read other stories in this special report series: