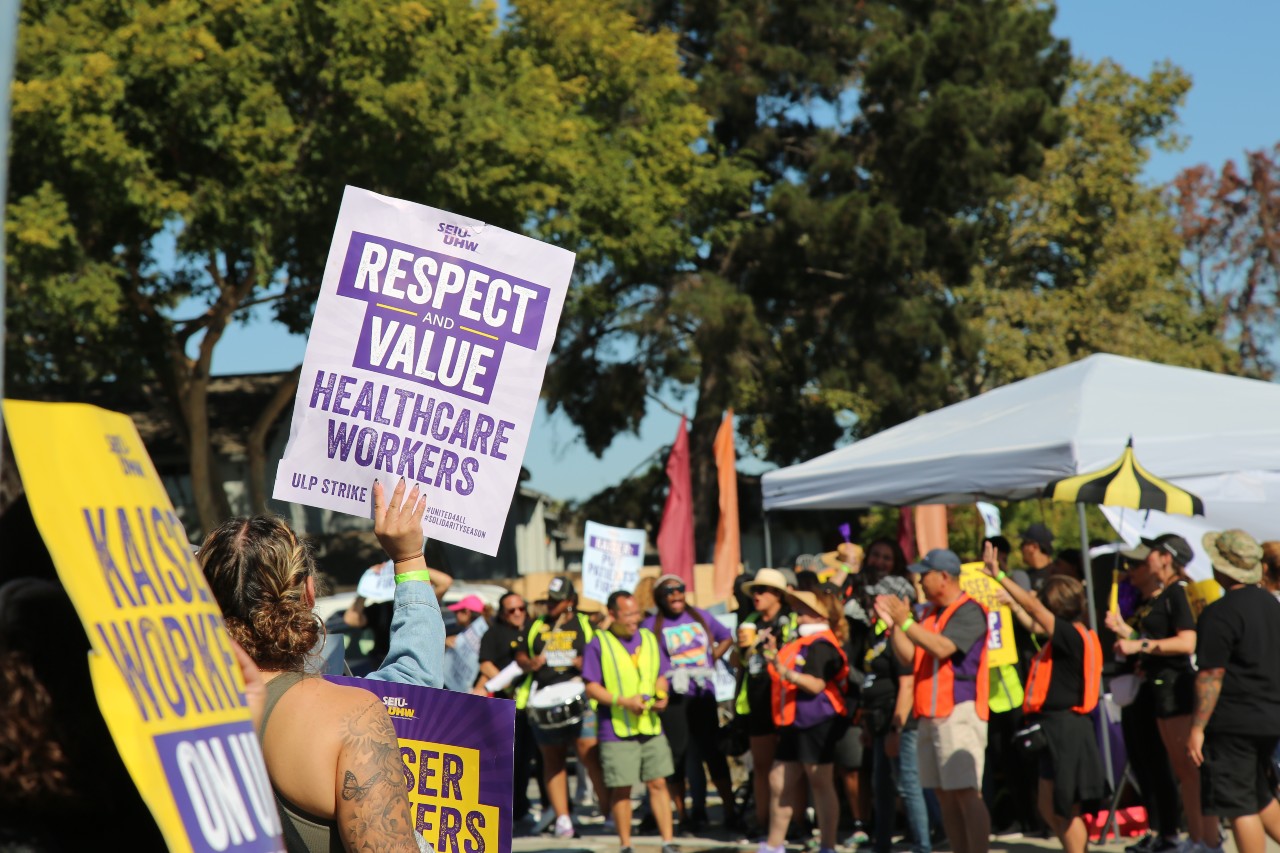 REDWOOD CITY – Following a three-day national strike, Kaiser Permanente executives and unionized healthcare workers reached a tentative labor agreement on October 13, halting moves towards a second strike in early November.
The 85,000 healthcare workers represented by the Coalition of Kaiser Permanente Unions will vote on the tentative agreement in a ratification process set to begin October 18. If ratified, the agreement will have an effective date of October 1, 2023.
The highlights of the deal include: guaranteed across-the-board wage increases totalling 21 percent over four years, increased investments in professional development and job training to expand the workforce, and a new minimum wage over three years for Coalition-represented members. Further details will be made public later.
"I'm heartened to see health care workers and their employers take this critical step towards securing the pay, benefits, and working conditions these heroes deserve," President Joe Biden said in an Oct. 13 press release.
The Strike
The tentative agreement comes after nearly seven months of negotiations and a three-day national strike that saw over 75,000 healthcare workers walk off their jobs in the largest healthcare strike in U.S. history. At the picket lines between Oct. 4 through Oct. 6, worker demands included a new labor contract addressing staffing shortages and wage increases.
The uncertainty surrounding the labor agreement during the strike led to disruptions in patient care. Remaining hospital staff had to take on new roles and adapt workflows. Lab results were delayed and doctors were forced to change medications because of the lack of pharmacists. Patients in the emergency room deemed stable enough were transferred to nearby non-Kaiser hospitals.
"I had a mom come up to me. Her son was turned away because Kaiser said employees [were] out striking," said Redwood City union executive board and bargaining team member Stephanie Archie-clemons.
Specific services affected by the strike included radiology, rehabilitation services, surgical procedures, the pharmacy, and more. Doctors and registered nurses were not officially part of the strike.
"About 60 to 65 job classifications are on strike, so it's a big effect on the inside," said Ron Cook, another Redwood City union executive board and bargaining team member.
The impact of the strike was also apparent outside of the hospitals where political leaders voiced their support. On day two of the strike at the Santa Clara Medical Center, California State Senator Aisha Wahab joined workers at the picket line. "If we care about patient care, if we really want to treat patients well, we need to make sure that we're treating our staff well," she said.
One of the workers' main demands was a solution to staffing shortages that had led to unsafe working conditions.
"You're burning yourself out, working double shifts, five days in a row," said Serita Valentine, an MRI technologist on strike at the Redwood City Medical Center.
In July, Kaiser committed to hiring 10,000 new, union-represented employees. And in a statement released on Oct. 5, Kaiser announced they had met their hiring goal three months early and "are committed to addressing every area of staffing that is still challenging."
However, staff said unsafe conditions persist.
"I'm here every day and we're doing the jobs of two and three individuals," said Schanta Wilson, a Redwood City medical assistant and bargaining team member. Wilson said she did not feel the impact of the new hires.
The staffing shortages also affected the quality of patient care. Often staff were so busy in the clinic that they could not reply to patient messages or send critical lab results.
Many of those employees who supported the strike have worked for Kaiser for decades. Archie-clemons, who has worked in Kaiser's nutrition department for 36 years, said "It was one of the best places to work at in the last 10 years. I'm being overworked. I'm seeing my coworkers get injured from short-staffing."
Ashika Avalos, a radiologic technologist on strike at the Santa Clara Medical Center, said lunches, letters, and kudos made workers proud to be on the frontlines during the COVID pandemic. However, she said that if Kaiser workers were once applauded for their service, they are now being taken for granted.
"At one point we were heroes. We got COVID multiple times, you know, and now we're just… being thrown to the side like this," she said.
The second major demand from Kaiser healthcare workers concerned better wages.
"Unfortunately, we have people working at our company that are homeless and sleeping in their cars. It's really sad," said Wilson. Dozens of workers on strike echoed the sentiment that the cost of living in the area was becoming unmanageable.
Employees at the Redwood City site said they could not afford to live near their workplace, with some driving over three hours from Fresno every day.
"Kaiser motto is we want to thrive. You're not really thriving if you're spending two hours in traffic," said Valentine.