The transition from prison back to society is hardly smooth.
Without resources or job prospects, the formerly incarcerated struggle to reintegrate. However, places like Farming Hope are helping them.
The San Francisco based nonprofit focuses on hiring formerly incarcerated and homeless by providing skills to help support
this transition. These are the stories of formerly incarcerated individuals merging with society and trying to find their place.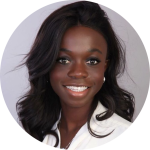 Lisa Setyon-Ortenzio is a trilingual French-raised journalist and graduate of NYU School of Journalism who is passionate about shining a light on issues impacting underserved and often marginalized communities. Prior to enrolling at Stanford, she worked for 2-years as a field producer for France Télévisions in Washington D.C. She covered an array of subjects including the presidential election of 2020, the COVID-19 crisis, Black Lives Matter Protests, Roe v. Wade being overturned and global economic and business matters. She has previously worked as a freelance multimedia journalist in Paris and as a production assistant at ABC News in New York. She is particularly engaged in topics of politics, race and ethnicity, data analysis, business and technology. At Stanford she is interested in incorporating more analytics and graphics into traditional media storytelling and thus promoting a more data-driven journalism that would empower readers to act in a more responsible way.