PALO ALTO – The culture wars have arrived in Palo Alto. In a forum earlier this month for the upcoming school board election, candidates clashed over the place of race, gender and sexuality in local school programs and curricula.
While the forum on secondary education covered topics from math classes to teacher burnout, emotions ran high as the four candidates discussed their views on the place of race, gender and sexuality in school. Newcomers Shana Segal, Nicole Chiu-Wang and Ingrid Campos and incumbent Shounak Dharap are competing for two of five seats on the Palo Alto Unified School District Board of Education.
The forum, held on Zoom on Oct. 6, was moderated by students from the debate teams at the district's two high schools, Gunn and Palo Alto High School. It was one of a number of forums hosted by the local PTA Council in advance of the election. Ballots are out now, and voting will remain open until Election Day on Nov. 8.
The first several questions of the evening were fairly mild, as candidates talked about prioritizing students' voices and supporting overextended teachers. But Campos quickly differentiated herself from her fellow candidates when the subject turned to what support and services the district should provide to students regarding gender and sexuality.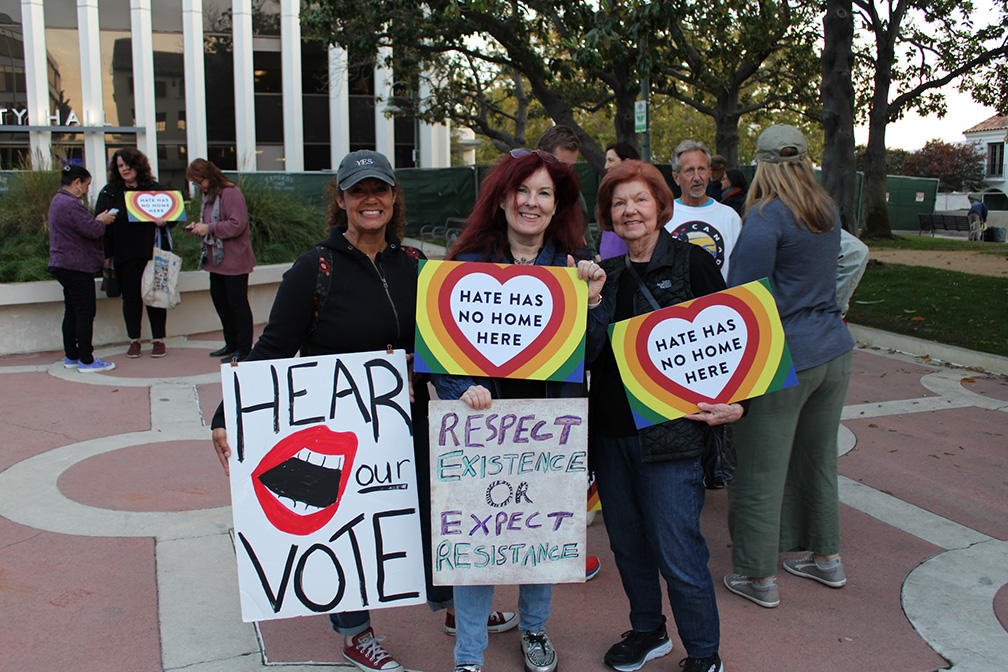 "Radical gender theory wants to eliminate words such as woman and man, and mom and dad," she said, the only candidate without any LGBTQ+ Pride flags displayed onscreen. Chiu-Wang picked hers up and waved it as Campos continued talking. "Those are sexual politics, and that destroys the innocence of children. You can fly your flag as much as you want, but that's my opinion."
Chiu-Wang's voice filled with emotion as she replied. "It is so important that we recognize a student's entire intersectional self," she said. "It is not political to tell a student that we value you for exactly who you are."
The interaction captured the core tension in this year's school board campaign. Public schooling around the country has become a battleground for fierce culture wars, and Palo Alto is no exception — although David Cohen, an English teacher at Palo Alto High School since 2002, said he didn't expect to see a shift to conservatism here.
"It's definitely different," Cohen said, in an interview, of this year's election. "Our election seems to be mirroring school board elections and other local elections around the country with the introduction of certain hot-button cultural issues and political issues."
Countering the stances of the three other candidates, Campos has emerged as a champion of what she describes as "traditional family values," while opposing critical race theory, LGBTQ-inclusive content in curricula, and social-emotional learning programs. Her campaign is emblematic of the conservative momentum roiling K-12 education across the country — from book bans in dozens of districts to legislation blocking LGBTQ+ topics from being taught in Florida.
Campos said in an interview that she doesn't think her views are widely shared in Palo Alto, and that those who agree with her prefer to remain anonymous. "Most people are pretty silent," she said. "They don't want to align with me because of my views — some people call them extremist."
But the reception to her campaign hasn't stopped her from running — and it's created a stir around the city unusual for a local election like this one.
"It is, I think, reflective of what the major national conservative movements are doing in realizing that local elections matter," Dharap, who is running for re-election, said in an interview. "It is surprising to see, and disconcerting when you find support for those positions, because they're not harmless opinions."
Until the ballots are in, it will be impossible to capture where exactly Palo Alto stands on these issues. But Cohen said that based on his experience, he expected the more liberal candidates to have a "solid but not unanimous" majority.
"I do have concerns that the way the numbers can shake out, you can win with a plurality," he said. "We don't have ranked-choice voting." With only two board seats in contention, votes could be scattered among the three more liberal candidates, while Campos is likely to amass conservative votes.
Dharap voiced a similar sentiment.
"I'm a little nervous about it, to be honest," he said in an interview, commenting that he doesn't want to know how many of his neighbors might quietly share Campos's views. "But in my four years on the board, I know that the community is very all in to the idea of inclusion."
For Chiu-Wang, issues related to diversity and inclusion in public schools were a major part of why she decided to run for school board in the first place: both because she's passionate about developing a strong ethnic studies curriculum for the district, and because she believes that representation matters for students in historically underrepresented and marginalized groups — the very issue that's most contentious in this election.
"It's really important that our students see people in leadership who look like them," she said. "Representation does matter, and we should value it."