SAN FRANCISCO – Hundreds rallied at San Francisco's Civic Center Plaza on October 9 in support of the ongoing protest movements in Iran, shouting, "Women, Life, Freedom" and calling for women's rights and justice in Iran.
Rally participants came to show solidarity with Iranian women, and to demand a regime change in their county. Some expressed disappointment with the lack of media coverage of the Iranian protests that began after the Iranian religious authorities killed the 22-year-old Kurdish woman Jîna 'Mahsa' Amini.
"When it comes to brown and black people, they tend to not get as much coverage as other ethnicities," said one rally participant who gave her name as Tina, a 28-year-old woman from Iran who came to the U.S. nine years ago.
Local officials, politicians, and representatives of women's rights organizations joined the three-hour rally. All speakers emphasized the importance of supporting the protests of Iranians.
"We are here because of Mahsa Amini. She was our sister, our cousin, our daughter, and it could've happened to any of the 40 million women who live in Iran," said San Francisco City Attorney David Chiu.
Amini was detained by morality police in Teheran on September 13 for wearing her head scarf too loosely. Three days later, she died after falling into a coma. Iran police cited a heart attack as cause of death. However, Amini's parents deny any heart problems of their daughter. They hold the police accountable for the death.
The protests led by women after Amini's death started in Iranian Kurdistan and continued to spread across the country. Despite a violent police response, the nationwide protests are ongoing with "Women, Life, Freedom" as a central mission statement of the movement.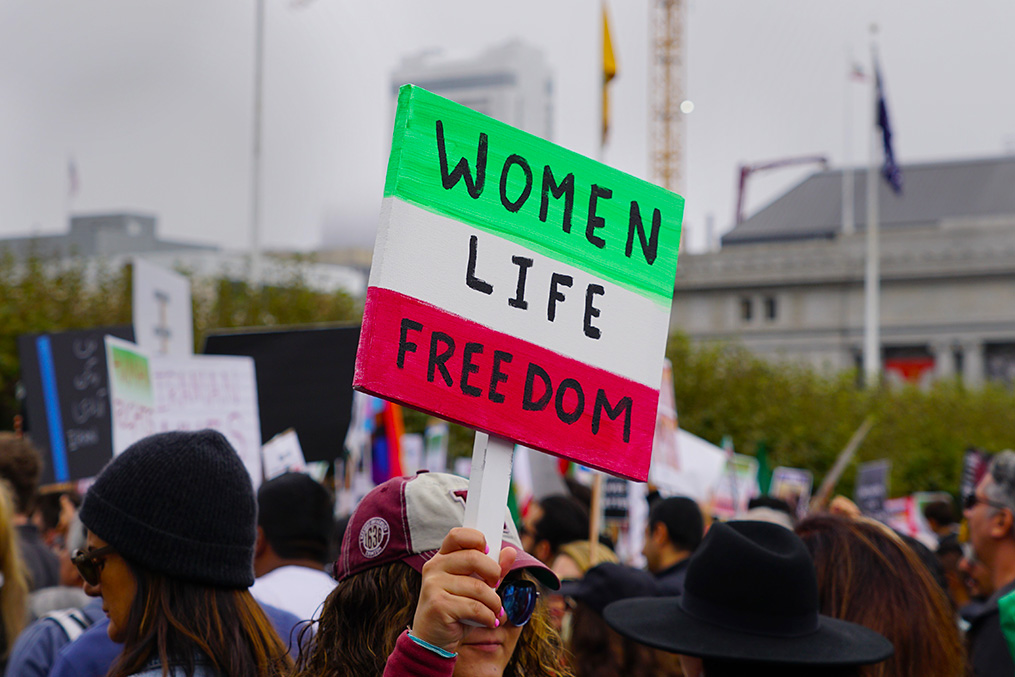 In the past weeks, protests have spread beyond Iran, and people around the world taking the streets for women's rights. "Women, Life, Freedom" the crowd also shouted at the San Francisco rally.
"I've seen all the suppression that the [Iranian] regime has caused to women", said an Iranian man, who identified himself as Kasra. "[To] my sister, my girlfriends, every single woman that I know."
Kasra grew up in Iran and lived there until he came to San Francisco seven years ago. "I have close friends, one of them being injured in recent protests. It has caused me to not be able to work for a couple weeks. It's very hard," he said.
Tina, the protester, agreed. "It's very, very personal to me," she said. "It has affected my daily tasks, my job, everything".
Temporary internet shutdowns make it hard to stay in constant contact with people in Iran. The Iranian government has cut off mobile data, restricted access to popular social media platforms, and blocked individual users.
Azeen Keihani, a young Iranian-American woman who took part in the rally, has relatives in Iran. "They just kind of avoid the topic of conversation because otherwise their phone will get blocked," said Keihani referring to messages with her cousins.
Despite the difficult circumstances in Iran, rally participants and speakers expressed some optimism.
"The people are the strongest force we have," said Keihani. "There's already been immense progress since the last week, since everyone around the world has shown that we want them to be freed."
Kasra said he is an "optimist guy" and believes that this time is different, as the Iranian voices are heard all across the world.
"I have hope," said Democratic California State Senator Scott Wiener. "And what gives me hope is those young women, who are risking their lives to fight for freedom."
Another Iran rally is planned for this Saturday, October 22, at 11am starting at UN Plaza in San Francisco.