SAN FRANCISCO — Bay Area-based electric vehicle advocacy group Charge Across Town held their annual EV Week event at Embarcadero Plaza on Oct. 8 and 9, hoping to entice people to make the switch.
EV Week 2022 came as local, state, and federal actors push electric vehicles, seeing them as a necessary component in the fight against climate change, particularly in hitting their emissions targets. In 2019, a whopping 41% of California's greenhouse gas emissions were from transportation. Charge Across Town estimates that 3,000 people walked through the event.
The event first ran in 2012, when Mayor Ed Lee, a noted electric vehicle enthusiast, was in office. The electric vehicle landscape has changed dramatically in the intervening years.
"Back in 2012, we had a handful of electric cars. Today, there's over 140 models of battery electric, plug-in hybrid, and fuel cell cars," said Maureen Blanc, the founder and director of Charge Across Town. "We're seeing tremendous excitement from consumers, but also tremendous innovation from startups and tech companies."
As experts continue to warn about fossil fuel emissions and their role in climate change, many governments, also eyeing their emissions targets, are stepping up rules and incentives aimed at expanding the use of electric vehicles.
"The powers that be see the writing on the wall that we cannot continue to dig oil out of the ground," said David Park of the Hydrogen Fuel Cell Partnership, a public-private partnership between several California public agencies and car manufacturers, including Toyota.
In August, the California Air Resources Board implemented a rule spurred by a 2020 executive order by Governor Gavin Newsom which will require all new vehicles sold in the state to be electric or plug-in hybrid vehicles by 2035. Also in August, President Joe Biden signed the Inflation Reduction Act (IRA) into law, provisions of which include tax credits on electric vehicles and related expenses for qualifying taxpayers.
The event, slated every year to run during San Francisco Fleet Week when military exhibitions draw hordes of tourists to the Embarcadero, had visitors walking around displays nestled next to the jewelry and art vendors in Embarcadero Plaza. Representatives from various companies and organizations pitched their products and services at their booths to all who were curious.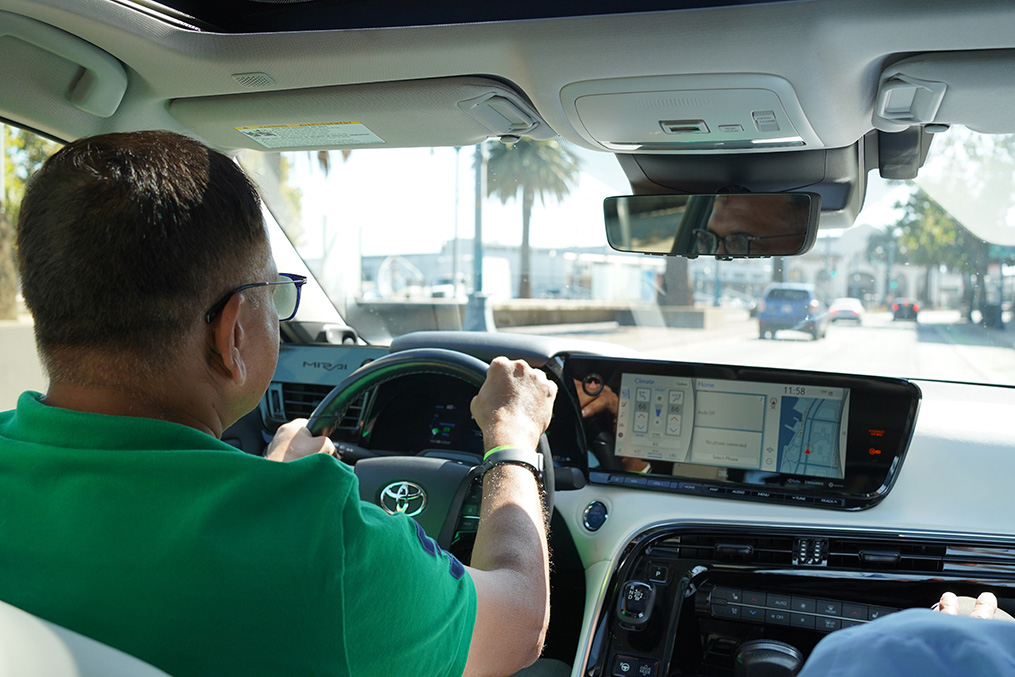 Booths at this year's event ranged from Kia and Toyota to PG&E and the Bay Area Air Quality Management District, with each showing off products—such as Cruise's self-driving electric vehicle—or initiatives designed to make electric vehicles more accessible to consumers.
An overarching theme was to dispel misconceptions about electric vehicles, such as the pervasive fear that there aren't places to charge the cars. Blanc acknowledged the current haphazard nature of charging infrastructure, but pointed at government programs that should ameliorate the problem.
"The state of California gets it, and they are moving to install hundreds of thousands of charging stations. And through the IRA Act, billions of dollars will be invested in building out the EV charging network across the United States," Blanc said.
The centerpiece of the event, though, was the opportunity to test drive an electric vehicle, which 164 people ultimately took up. Consumers had a chance to try out something they might be interested in, but were unsure of, with brightly-colored banners urging passersby to head towards the parked cars in a nearby lot.
Test drivers like Rabindra Sah, who was in town from India to visit his daughter, hopped into cars all weekend, with guidance from company representatives like Park.
The pair pulled out of the lot in a gleaming white Toyota Mirai (Japanese for "future"), a hydrogen fuel cell vehicle, a technology that's been included in EV Week since 2017. Along the 15-minute route, Sah peppered Park with questions, from the range of the car to the availability of hydrogen fueling stations, as Park directed Sah on where and which way to turn.
Ultimately, Charge Across Town's goal for EV Week since its inaugural year has been to inform the public about what's out there in the world of electric vehicles and to get them excited about it.
"Fantastic vehicle, very comfortable," Sah said after pulling back into the lot from his test drive. "People should buy it to become sustainable and environment-friendly."