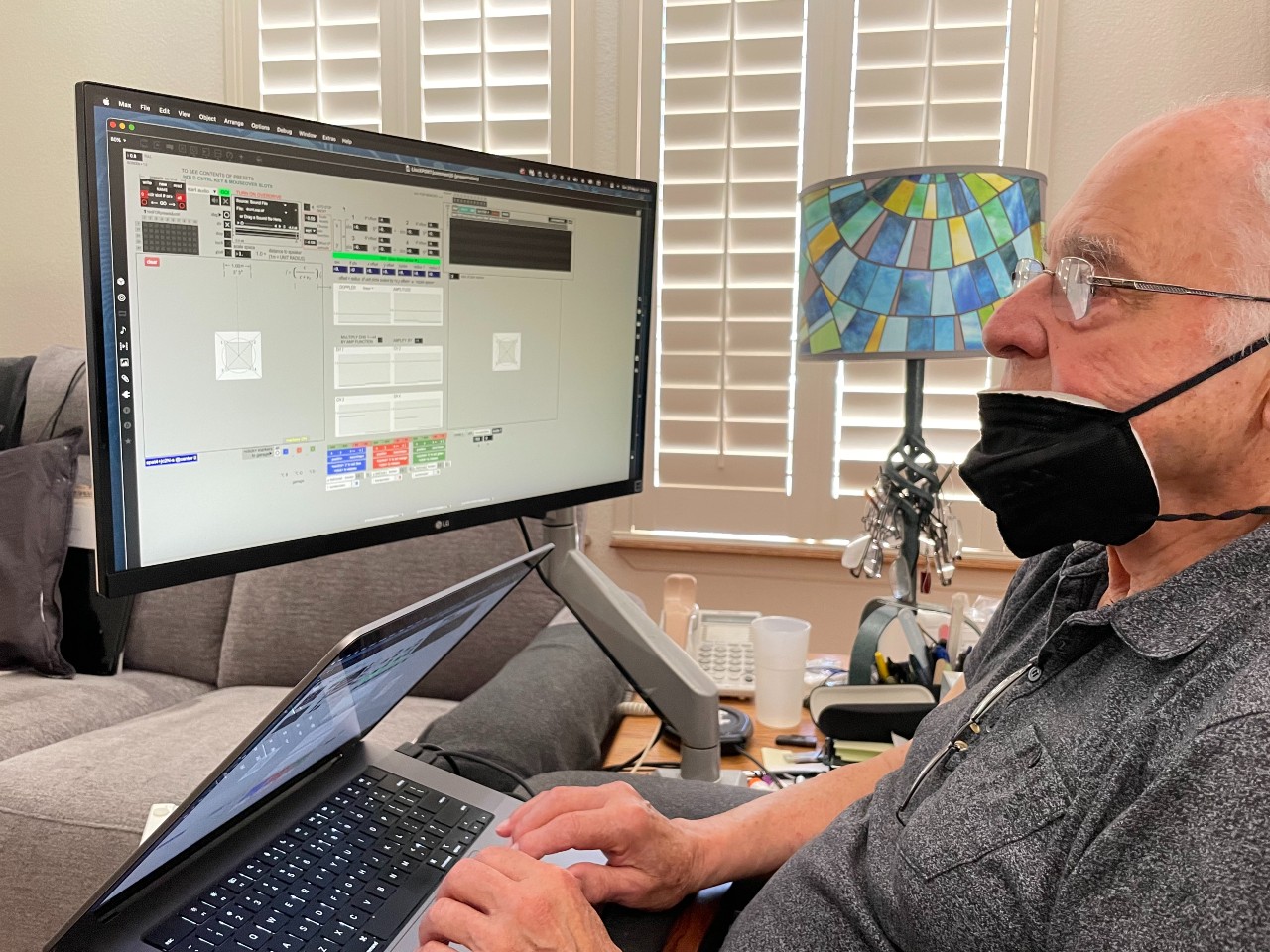 John Chowning sat down in his living room, which is also his office, a decision he made to spend more time with his family. Life-changing contributions have come out of his various offices over the years. He discovered the FM synthesis, founded Stanford's Center for Computer Research in Music and Acoustics and developed digital sound spatialization.
On a recent day, he pointed to four speakers located in each corner of the living room. He was about to demonstrate four-channel sound spatialization, an immersive audio experience in which sound moves through three-dimensional space, controlled by a computer program he had written. Chowning ran his program, and a drum-beat sound traveled around the room's perimeters in a circular motion, flowing from one speaker to the next, as we sat near the epicenter.
"I had this dream of creating simple patterns of sound in space where the music swirled around the audience and where the listener with their eyes closed is in an environment that is a creation of the synthesizer," said Chowning, who is 87.
His dream began in Paris in 1959 when he heard experimental electronic music for the first time. Next, he went to Stanford University to pursue a Doctor of Musical Arts in composition. In 1973, his friend in the Stanford Orchestra handed him a Science article called "Making Music with Digital Computers." Chowning had never seen a computer in his life, but he decided he would learn to program to pursue his dream of making spatial music.
Along the way, he developed an algorithm for FM (frequency modulation) synthesis. Chowning modeled the sound of two sine wave oscillators and realized that if he changed the amplitude and frequency of one wave, the frequency of the other wave modulated, an effect that created unique timbres never heard before. Using this method, Chowning could develop sounds that mimicked woodwinds, brass tones, percussion and the singing voice, among other tones.
In 1974, he sold the rights of the FM synthesis algorithm to Yamaha Corporation in what was one of Stanford's most lucrative patents. In 1983, Yahama developed the algorithm into the DX7 synthesizer, a digital electronic instrument that produces audio signals. The DX7, manufactured from 1983 to 1989, is one of the best-selling synthesizers of all time, and many consider it to be the sound that defined 1980s pop music.
In 1975 Chowning founded CCRMA, a pioneering computer music center at Stanford. The center inspired the creation of other computer music programs worldwide, most notably IRCAM, a French institute for computer music.
Today CCRMA supports a small but vibrant computer music scene in the Bay Area for promising young artists who could not exist without Chowning's discovery.
The cost of living in the San Francisco region "pushes a lot of artists out," said Lloyd May, a young musician and Ph.D. student at the music center. "It's very difficult to find a scene around here that isn't centered around institutions. That is why CCRMA is one of those havens in that it gives people funding and housing."
Noah Berrie, an experimental sound artist and CCRMA master's student, said the experimental computer scene in the Bay Area is small but distinctive.
"There is a rich culture here that is very much unlike New York, New Orleans or Chicago or wherever else there is a vibrant music scene. San Francisco and the Bay Area does have character still. It's a very different character than it had in the 60s, but it's a character that goes back at least 30 years to the 90s with vibrant noise and experimental electronic scenes."
Computer music uses programming, such as MAX/MSP, Pure Data and SuperCollider for composition. Today, electronic music is a generic term applied to everything from computer music to electronic dance music (EDM). The distinction between computer music and EDM, however, is that EDM is intended for dance, as told in its name, whereas computer music is not.
Humans have social scripts for responding to most musical genres, May said. At an EDM show, you know to dance, at a punk show you know to jump around, at a jazz show you know to sit down, and at a pop show you know to sing with the performer. There's no social scripting for computer music, as it is unconventional, arhythmic, atonal and often experimenting with the unknown.
"Computer music is music that would play on the tape deck of someone on their way to Mars," said Chris Chafe, the director of CCRMA.
CCRMA hosts students with diverging interests –– some want to become artists while others want to become engineers.
Berrie finds his interests in spatial music, sound engineering and extended performance. In his most recent show, which ran from February to April at Audium in San Francisco, he wired his body to transducers and turned his voice into a resonant chamber using a custom-built instrument, incorporating his voice with speakers placed around the room.
May described his music as hyperpop –– popular music with an experimental bent. His research at CCRMA focuses on disability and accessibility in technology. His dream job post-graduation is to work at the accessibility team for the Microsoft Research Lab. May said living in Silicon Valley has not influenced his music but has impacted his career path. Now, working in accessibility research at a big tech company feels like a viable option.
Despite his interest in working in big tech, May said that many artists at CCRMA possess worries about Silicon Valley's cultural influence.
"There are pretty deep concerns about the mindset that technology is a curative thing that is going to fix problems," May said. "By being immersed in that mindset, I think it generally makes people [at CCRMA] more tech cautious than tech optimistic."
Despite these concerns, music and technology in Silicon Valley have maintained an advantageous relationship. When Chowning worked on the development of music spatialization in the 1970s, he had close access to the AI laboratory at Stanford and the computer science department –– necessary resources to realize his dream.
"In the heyday when there were more barriers to entry, it was an exciting time to be in Silicon Valley," May said in reference to Chowning's time working on spatial sound. "You had access to all these people who knew tools and could get you transistors to build synths. It was a buzzy atmosphere."
Music and technology have always been tightly bound together. Berrie said Bay Area musicians' incorporation of computers into their work felt like a natural lineage of music-making in using new, available tools to produce new sounds.
The computer music coming out of Silicon Valley today sounds drastically different than the folk and rock 'n' roll that took off in the area in the 1950s, 1960s and 1970s. Nonetheless, similarities exist.
"Computer music totally blends with the same experimental spirit of the Grateful Dead where it's pushing for new modes of consciousness and expression with a free, casual, DIY approach," Berrie said.
Tech influenced music, but music influenced Silicon Valley, too. The music scene in the Bay Area paved the way for the creativity that helped create computers, according to Bo Crane, writer of Ticket to Rock and member of the Palo Alto Historical Society. Bill Gates said in a Rolling Stones article that he was influenced by Jimi Hendrix because he listened to him 10 hours a day with his Microsoft co-founder Paul Allen. The psychedelic music scene bled into tech companies in the area, said David Maynard, one of the first 100 users of the Internet who worked at SRI and Xerox PARC in the 1970s.
Computer music, with its atonal elements, has opened a palette that moves us away from the notion of right or wrong, said May, creating aesthetic freedom and making music more accessible for people historically marginalized from the art.
Chafe agreed. "The globalization and reach that we have now with computer music is phenomenal," said Chafe, who, shortly after our interview, would be performing in an online concert with international computer musicians. "Which way does [music] go? Does it go toward homogenization or does it go to the celebration of diversity –– I think that's where it's going."