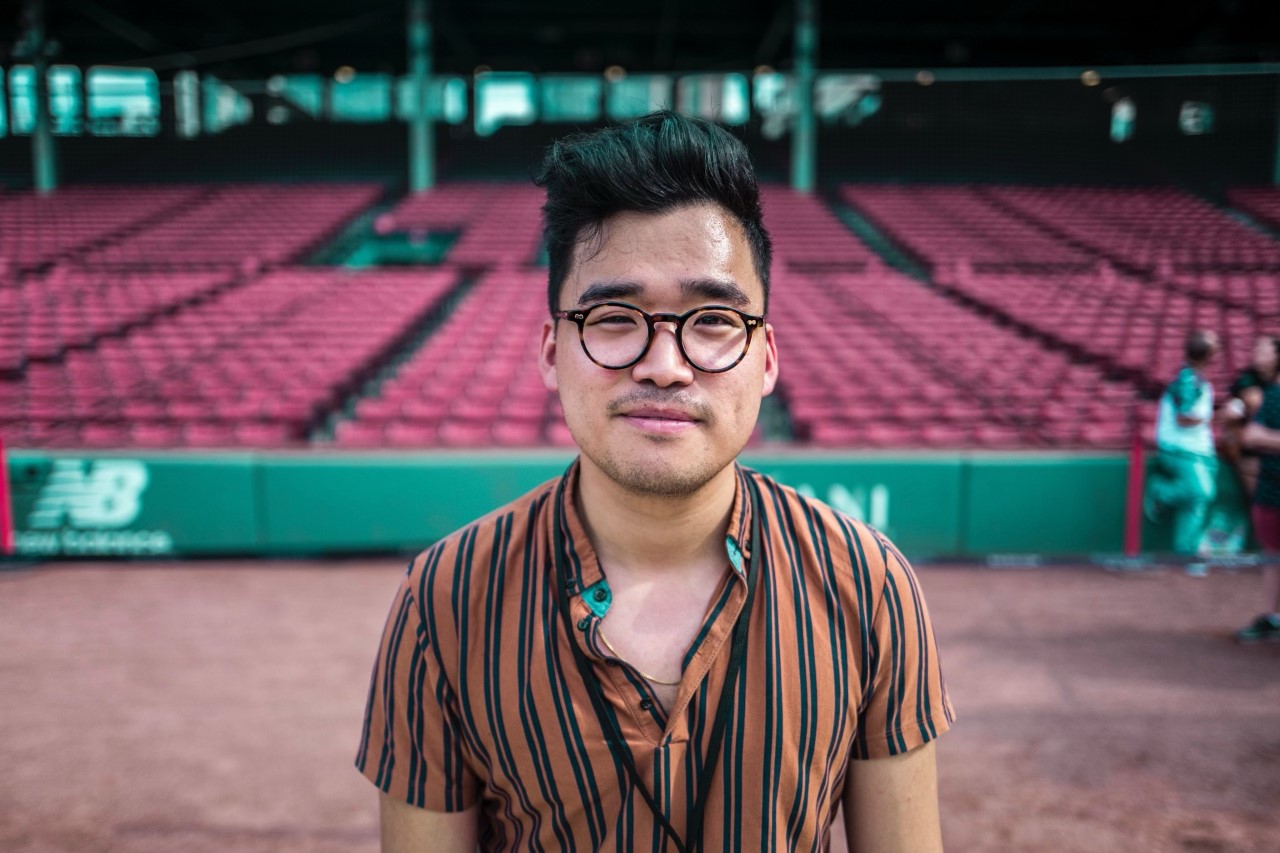 In the midst of a humid Boston summer in 2011, Joon Lee, just 16 years old, stood with anticipation just a few feet from the coveted clubhouse at Fenway Park. A yellow notepad and a pen in hand, Lee was moments away from one of the most formative experiences of his life.
Any young Bostonian would sacrifice their best throwing arm to be anywhere near that clubhouse. Yet here was Lee, a young, hungry, and inexperienced journalist, mentally preparing himself to meet his childhood heroes.
Michael Silverman, the Red Sox beat writer for the Boston Herald at the time, guided Lee down a long hallway filled with reporters and writers from all over Boston. Lee turned a corner to enter the Red Sox locker room and there stood David Ortiz.
"It felt like a scene out of a movie. There were so many emotions it was like a sensory overload," Lee recalls.
Today, he's a 27 year old New York-based writer for ESPN, primarily covering baseball. But a long-ago day in the Red Sox clubhouse became the launching pad for his career. "I remember feeling that my life was about to change, but I wasn't exactly sure how it was going to change," he said.
Silverman recollects mentoring Lee as a nervous yet attentive and passionate young man who acted a lot older than he was. For Silverman, Lee's drive and willingness to learn became an integral part of his success.
After that, Lee spent three summers in high school interning for Silverman at the Herald. He was consumed by those sweltering summer days, diving in and out of the Red Sox clubhouse transcribing Silverman's quotes for his beat.
From this experience, Lee spent a lot of time chipping away at how the industry of journalism worked. Lee describes feeling a sense of "tunnel vision" coming out of his work at the Herald.
"I was hyper-focused on becoming a journalist. I knew it was going to be an uphill battle but I abstractly knew that this was going to be my life." Lee said.
Joon Lee was born in Seoul, South Korea in 1995. When he was only two months old, his parents immigrated to the United States and settled in Boston. His father, a professor of accounting at Endicott College, brought his family to the U.S when he was just 30 years old to pursue a PhD. Joon's mother, Seungeun, an art teacher in Korea, put a pause on her career to take care of Joon and help the family integrate into American culture.
For Lee, family has been integral to his success. He believes that the sacrifice and extraordinary focus that both of his parents had while creating a life in America inspired him to pursue journalism through high school and college.
Seungeun Lee has had a strong impact on Joon for encouraging his dreams of becoming a journalist from an early age.
"My mom made sure I felt supported since journalism was an untraditional career path for young Asian Americans," he said.
Now in her 50's, Seungeun is completing a masters in interior architectural design and recently accepted her first job in 30 years at a design firm in Boston. She recalls her adamant support for her son to express his creative passion from an early age.
"I didn't want to define his future, especially coming from the culture I grew up in." she said.
Seungeun describes facilitating Joon's passion for creative writing by taking him to bookstores and local libraries as a child. Not only did she become closer to her son, she also learned more about American culture through his activities.
Aside from his summers working for the Boston Herald, in high school Lee worked for the local newspaper and even ran his own YouTube channel from his room, reviewing tech products to a couple thousand subscribers.
Lee started out his college career at Boston University and after a year transferred to Cornell University where he worked on the school newspaper, The Cornell Daily Sun, and continued to blog for SB Nation, covering his beloved Red Sox.
"I honestly didn't have much of a social life in highs chool or college because I spent all of my time going to football games, basketball games, and watching the Red Sox in between classes for my job. I just wanted to get better at reporting and writing," he said.
In the summer of 2016, he worked as a sports intern for The Washington Post and a year later graduated from Cornell with a degree in Communications.
His impressive resume got him noticed by editors at Bleacher Report and for two years he covered sports and pop culture figures such as Jimmy Garoppolo, David Ortiz and Chloe Kim.
"I gravitated towards baseball because the clubhouses reflected the intersection of a lot of different cultures. Growing up the Red Sox had a lot of minority stories like [David] Ortiz, Manny [Ramirez], and [Daisuke] Matsuzaka which for me was a big deal to see." Lee said.
Growing up near Boston, a city better known for its sports teams than its diversity, the environment had a huge impact on how Lee approaches his sportswriting career today.
"When I went to school I felt like I was navigating two different worlds," Lee recalls. "My house was very culturally Korean and the way that my family operated was different than how the kids at school would act or behave."
Lee grew up in the predominantly white suburbs of Western Massachusetts in a small city called Long Meadow. Not until after he moved from Boston to the suburbs did he become more aware of his status as an Asian American. He saw people's lack of understanding cultural differences through the subtle ways he was being treated by his teachers and classmates.
"Kids would make comments about my eyes and teachers would pick on me a bit, and it wasn't until I played sports that people started to realize that I was moderately athletic for an Asian kid," he said.
Lee describes learning a lot as a boy about American cultural values through sport. Being a naturally competitive person, he fell in love with the strategy, analytics and stories that come with sports.
Lee said, "Sports are such a reflection of America… It matters because it doesn't matter, right? Sports have no tangible effect on the direction of the world. That's why people love it so much and that's why it reflects so much of what we value at any given moment."
Lee follows this ideal to help guide him in his writing. He enjoys finding stories that express how sports reflect our changing society.
Lee recalls Michael Kim being one of the first Asians he saw on ESPN and the impact that had on him as an aspiring Asian American journalist. Other reporters such as Mina Kimes, Pablo S. Toree, and Ohm Youngmisuk, trailblazers for modern Asian-Americans in sports journalism, showed him that similar career paths might be open to him.
"Without them, I don't think I would personally be here. They opened a lot of doors for me and gave me a lot of good wisdom. I want to make sure through my writing that I am not closing any doors for anyone who might come after me," Lee says.
Not only does Lee feel strongly about continuing to fight for representation in the field of journalism but has expressed his desire to begin to tell more diverse stories among the Asian sports community.
According to Youngmisuk, an 37-year-old Asian American journalist who has been covering the NBA and NFL for ESPN for more than a decade, Joon Lee represents a new generation of outspoken sports journalists who reflect diversity in the newsroom and on the field.
For Youngmisuk, seeing more Asian athletes in different sports means journalism is going to need more Asian writers telling those nuanced stories. He wants young journalists like Joon Lee to lead the next generation of Asian Americans who are confident and mobilize against systemic stereotypes in sports.
"I am thrilled to see a young guy like Joon come up. I want him to succeed. I want the next generation of Asian American journalists to succeed," Youngmisuk said. "Watching his progression is great and he is a young leader just scratching the surface."
Galen Lew is a Coterm in the Communications department focusing on Media Studies. She completed her undergraduate career in 2021 with a BA in Science, Technology, and Society with a focus on Innovation and Organization. Galen is also a member of the Women's Varsity Lacrosse team. She is currently working on a thesis researching information inequality in journalism in varying socioeconomic communities.