Camilla Coupal was an undergraduate at Stanford University when her parents opened the first Coupa Café in the heart of Palo Alto. She fondly remembers decorating the Ramona Street shop with her family and painting the walls with the same butterscotch hue, the same color which can be found on café walls today.
Seventeen years later, the Venezuelan coffee shop that serves sleep-deprived college students and budding entrepreneurs is struggling to keep up their pre-pandemic hours. The root of the problem: a labor shortage caused by vaccine mandates and a high cost of living in the Bay Area, according to Coupal.
"We've never seen anything like this," Coupal says while sipping a cup of coffee outside of Coupa's flagship Ramona Street location.
The labor shortage is widespread across the country. The National Federation of Independent Business reported in October that over half of small business owners have job vacancies they cannot fill. Two months prior, 4.3 million people, three percent of the U.S. workforce, quit their jobs. It's coined the "Great Resignation." The pandemic has allowed individuals to reflect on their workplace and life values and advocate for better working conditions. LinkedIn's CEO Ryan Roslansky, said that data collected by the company shows that the number of people switching jobs has increased 54-percent from last year.
Coupal, who is in favor of the vaccine mandates that she believes will keep customers and employees safe, says 80% of the applicants she interviews are not willing to comply and get shots in their arms.
Across town on California Avenue, Diana Arzate, manager of Izzy's Brooklyn says everyone in the shop has been exhausting themselves as they attempt to fill two vacancies among an already small staff.
The calm of California Avenue on a Saturday afternoon juxtaposed the reality inside Izzy's Brooklyn Bagels: a scene bustling with activity as employees work tirelessly to meet the bagel demand in the area amid a severe labor shortage. On a Saturday afternoon, close to closing time, employees at Izzy's scrambled to deliver final orders and clean the kitchen after an especially hectic day. The shop has taken up residence on California since 2012 and is a primary supplier of bagels for weekend brunches and challah bread.
Arzate has worked at Izzy's for 21 years at their other Bay Area locations. "I used to have one manager and one assistant, but it's just me now," Arzate says after laughing nervously about the added stress she has been under. She says that, on top of her roles as manager, she has to train her employees to pick up different tasks.
Janine Miller, who's worked at Izzy's for eight years, says that the shortage hasn't affected her day-to-day. But she does think that "people's patience is not like it was before," since they have become accustomed to apps that make deliveries quicker.
Arzate believes government assistance that is designed to provide relief for individuals hard hit by the pandemic have fueled the shortage. "What I see is the people who are getting money from the governments don't want to support themselves," she says. "That is the main problem."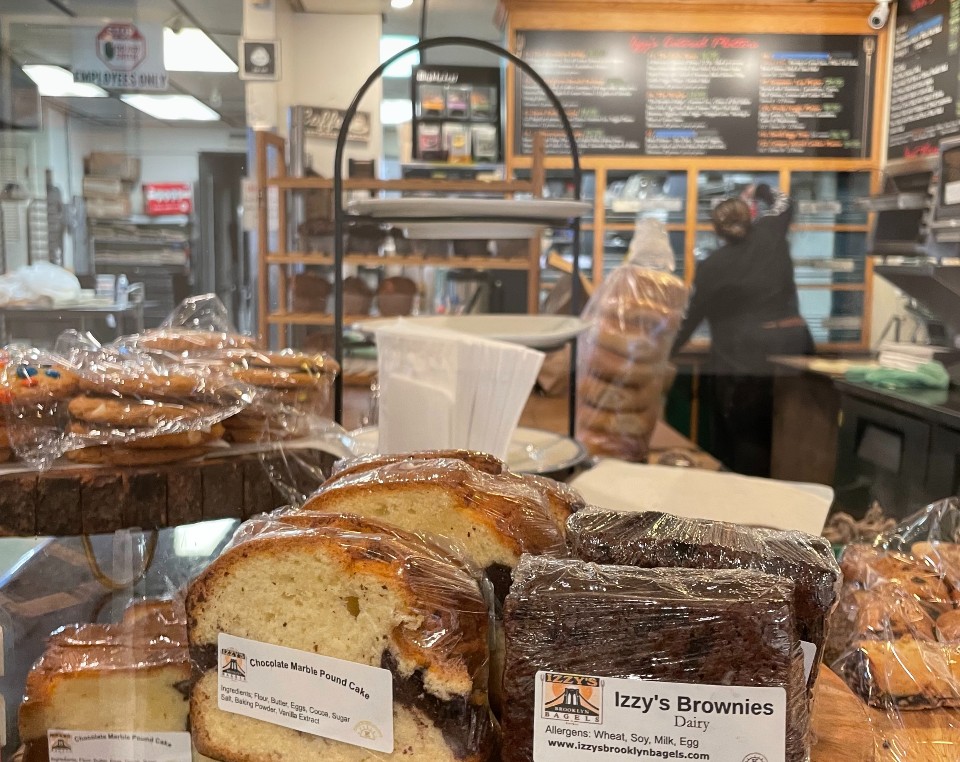 The stimulus package passed by Congress in March provides three checks of $1,400 to individuals who earned less than $75,000 in 2020. It also included weekly payments of $300 for those unemployed until September 2021.
Coupal hasn't experienced the stimulus checks to be the main reason for the shortage since most of her staff wasn't eligible. She points to the leading reasons being gentrification, a lack of affordable housing, and that the restaurant industry is filled with transient, short-term jobs.
Palo Alto officials are working on a plan to build apartments next to Caltrain stops, over 1,200 of which will be affordable housing units. Coupal, however, believes this is merely a Band-Aid approach. She says the sheer cost of living in the area is too high for workers who would qualify for the units.
In her experience, employees are not willing to travel to Palo Alto for work if they can find a job closer to home. "With tips and wages, we have employees making over $35 per hour and we still can't get them to come in," Coupal says. She explains that "hiccups" – such as lack of convenient transportation and cost of living – disincentivize people from working in Palo Alto.
The City of Palo Alto is allocating over $20 million from the City's Affordable Housing Fund to build 59 affordable housing units on El Camino Real, according to city council member Eric Filseth.
He also wrote in a statement to the Peninsula Press that the economy largely benefits high-income workers. An example Filseth gives is Facebook, now known as Meta, that "pays its engineers enough to live here, otherwise they couldn't hire," according to him. He says that same model doesn't "appear to work as well for low- and moderate-income workers.  It takes funding."
Coupal hopes that more people will apply at the start of the new year as the café extends its hours and recovers from the 90% of revenue it lost during the pandemic.
She says the labor shortage extends far beyond the restaurant industry with supply chain disruptions. Coupa had to change their cups due to the low paper supply. "It's a crisis right now and I know everyone else around us is living it," Coupal says.