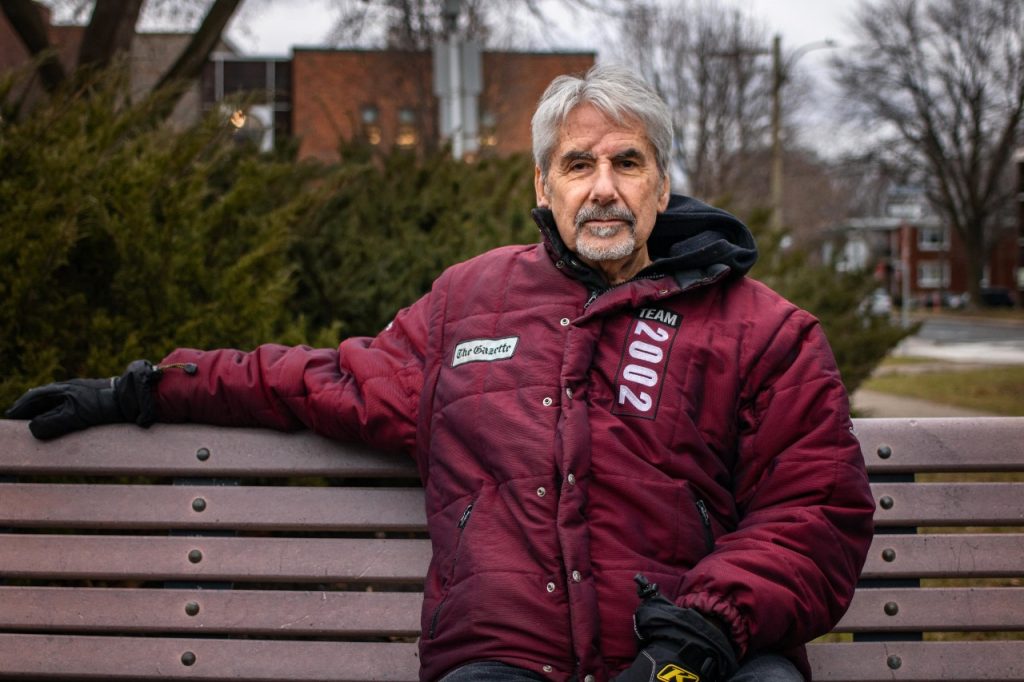 Three young guys had been going at Jack Todd all night. From the nearby seats, they jeered at him, shouting expletives. Todd was used to that, though, because his columns stir readers' passions, though not always favorably. Besides, it was easier to drown out their voices with the 20,000 others in the Bell Centre, the home arena of the Montreal Canadiens.
The game was coming to an end, and Todd was minutes away from filing his column for The Montreal Gazette. Without warning, one of the guys wound up and threw a toonie (a Canadian two-dollar coin), missing his head but striking his laptop. The screen made a loud crack as it smashed into pieces.
Todd tried to get the attention of security, to no avail. He could see the young guys, but there was no way he could get to them.
Todd didn't end up filing that night.
Jack Todd, 74, came to The Montreal Gazette in 1986 as a copy editor. He quickly realized that he could write better than the writers whose copy he edited. One night, a writer came in and said to him, "That was a really good lead on my story. But that was a Jack Todd lead, that wasn't my lead." So The Gazette made him a feature writer, covering the Calgary Olympics and various other sports gigs. When the legendary Michael Farber left The Gazette for Sports Illustrated in 1994, Todd was promoted to sports columnist.
Todd had been immersed in sports from a young age. His father was a boxer who fought in 75 professional fights. In the winter, he would train young boxers — primarily tough Mexican American boys from Nebraska — and Jack's job was to throw the medicine ball at their stomachs when they were trying to toughen up.
Todd received a basketball scholarship to attend the University of Nebraska from 1965 to 1969. There was a rule that freshmen could not compete, though, so he only played a handful of games before he was outmatched on the team by a few better players from New Jersey, who were 6'7" instead of Todd's 6'5". On the track team at the time, Todd quit basketball to concentrate on making it to the Olympics as a high jumper. Though his dream did not pan out, his love for writing gave way to a burgeoning journalistic career that started at the university's daily newspaper.
"The funny thing is," Todd said, "I was a jock and a journalist since I was like 17 years old."
He served as the editor of the college newspaper, the Daily Nebraskan, in 1968 at the height of the controversy surrounding the Vietnam War. Todd and his buddies spent much of their time working on the paper during the day, putting the paper to bed at night, smoking, drinking beers, going to class, and attending anti-war political meetings.
That same year, the paper was putting out a huge anti-Vietnam War edition. At the time, Todd took a course on editing, for which the final project was to go out to rural Nebraska to create a newspaper. Todd asked his professor if he could submit his college paper's Vietnam War supplement instead of handling this other project. The professor said no. Knowing that it was because he disagreed with Todd's sentiments on the war, Todd got "pissed off," nixed his plans to complete a double major in English and journalism, and finished with only the English degree from the University of Nebraska.
After interning at the Detroit Free Press in 1968 and the Miami Herald in 1969, and then working as a full-time city reporter at the Herald that same year, Todd was drafted into the U.S. army. Despite his anti-war sentiments and pleadings to dodge the draft by an old friend who had just returned from Vietnam and showed signs of post-traumatic stress disorder, Todd volunteered for Marine Corps officer training. As time went on, though, he became even more disillusioned. On Christmas leave in 1970, right before he was about to complete his basic training, he decided to desert to Canada.
The story of Jack Todd and the story of the Montreal Canadiens came together in January 1971. Todd arrived in Montreal as a conscious objector, never having seen a game of hockey. One of his first friends in Montreal introduced him to the sport. They began watching games together and went to see the Boston series. At that time, the Canadiens were good, but Bobby Orr's Bruins were better. In the second game of the series — the Canadiens had lost the first — the Canadiens trailed 5-1 in the second period, and Todd and his friend left early to see blues guitarist Buddy Guy perform.
They had developed a rapport with Guy before the show; the bluesman assumed that, because Todd had long hair and his friend a big afro, they must be musicians. When Guy came out for another set, he said, "Congratulations. Are you guys Montreal Canadiens fans?" Todd and his friend replied that they were. "Your team won," Guy said. At the end of the second period, the Canadiens had scored to make it 5-2, and in the third period, they scored five goals more and won 7-5.
"It was the most famous comeback in Canadiens history," Todd said, "and we missed it."
He has wanted for a long time to write a book about the 1971 Canadiens. He was fascinated by how the broader political conflict of the time interacted with hockey as French-English tensions developed on and off the ice.
Todd narrowly escaped those tensions himself. A self-proclaimed hippie, Todd was unwilling to cut his long hair and almost was arrested one day on St. Catherine Street. Fortunately, his college roommate was in the U.S. State Department and happened to be there. He flashed his diplomatic passport, and the officers let Todd go.
Todd started the research for this book a dozen times. It was intense research, though, and he became doubtful whether he could ever earn back what it would cost to write the book. Now, he regrets not writing it.
"I'll write a column about it," Todd resolved.
Now he has the bandwidth to do so. In 2008, Todd quit full-time work at The Gazette. Today he works freelance, writing a column about the Canadiens once or twice a week. Though it has been 13 years since he worked as a full-time sports columnist, he still writes with all the verve and critical assessment that prompted fans to throw coins at him all those years ago.
Of the Canadiens' recent losses in Calgary, Todd wrote, "The Canadiens in Calgary looked like they had just flown Air Siberia from Irkutsk by way of Cairo. They were zombies impersonating hockey players, with Shea Weber and Joel Armia taking turns competing for the 'What Was He Thinking?' Cup."
He went on to argue that the Canadiens, to improve their game, do not need players who do everything perfectly, but players who do things imperfectly and still put "the %*&#$@#& puck in the %*&#$@#& net." He referred to one such former Canadien, Alex Galchenyuk, as someone who "somehow contrived to have a 30-goal season while wandering around in his own zone like a drunk trying to find his car keys in a parking lot," whose hockey IQ he described as "somewhere between a frozen puck and a rink board."
"He's very opinionated, and that's what makes him such a good columnist," said Stu Cowan, Todd's editor at The Gazette for 12 years. His willingness to take a stand has defined Todd's life as both a conscientious objector and a journalist. He has lived his personal and journalistic lives richly, thinking deeply and critically about the world, inspiring young writers he sometimes mentors and enraging those who call him a "draft dodger" and an "asshole."
Jack Todd is a polarizing figure. His readers either love him or hate him. He receives fan mail and hate mail and has received death threats from a family of boxers he wrote about in Montreal. From labeling Conrad Black a "suppurating pustule on the buttocks of humanity" to decrying Jeffrey Loria at the end of every column he writes, Todd is unafraid to say what he thinks.
His column sign-off is "Now and forever." Now and forever, he remains unapologetically Jack Todd.
Alexa Gold is a Stanford junior undergraduate double majoring in communication and political science. She is a New York City native whose passion for media and entertainment began at Fiorello H. LaGuardia High School of Music & Art and Performing Arts. Her interest in political science was fueled by the increases in polarization, spread of disinformation and heightened racial tensions of the past several years. In her free time, Alexa enjoys reading, sports (particularly hockey and surfing), and watching scary movies.