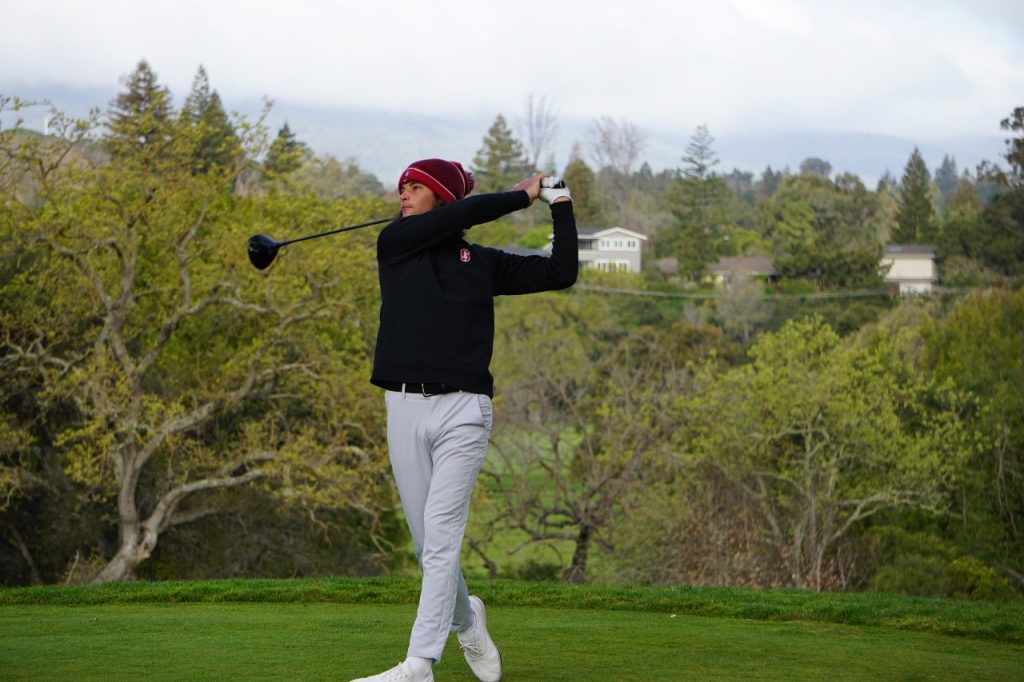 It is often said facetiously of child prodigies that they came out of the womb holding a microphone, or a paintbrush, or a chess piece. Wolfgang Amadeus Mozart began playing the harpsichord at four years old and composing simple music at five. Pablo Picasso held his first public art exhibit at age 11, and Stevie Wonder began his recording career at 12.
Jake Beber-Frankel came out of the womb holding a golf club (plastic, of course). He and his twin sister, Phoebe, began taking golf lessons at the age of six and competing at seven. While Phoebe has traded her golf career for a liberal arts education at Barnard College, Jake, 19, is now on campus training with the Stanford men's golf team.
"We can't wait for Jake Beber-Frankel to be part of our squad," men's golf coach Conrad Ray said after Jake signed his letter of intent in November of 2019. "His physical upside, speed, and panache are hard to come by."
Jake arrived on campus on Feb. 12. Following a mandatory 10-day quarantine due to COVID-19, Jake began his training with the 10 other players on campus: two hours of practice every afternoon, plus one-hour workouts in the morning twice a week.
Before Stanford, Jake excelled at golf, from qualifying for state tournaments from seventh grade on to helping his high school, Ransom Everglades in Coconut Grove, Fla., to its first three state championship appearances. Along the way, he picked up a host of titles and trophies, a level of success not at all unfamiliar to the family in which he was raised.
The son of Emmy Award-winning director David Frankel and grandson of The New York Times' Pulitzer Prize-winning editor Max Frankel, Jake grew up surrounded by media titans. Though his career goals lie elsewhere, as a boy, Jake played the trumpet for many years, wrote music and screenplays, and even tried his hand at the visual arts.
"He's really drawn to writing," his father, David, said. "He's a funny writer."
The writing gene was passed down to Jake from Max Frankel, now 90. Born in 1930 in Weissenfels, Germany, he emigrated to the United States at 10, seven years after Adolf Hitler came to power.
"It's a big part of our family mythology," David Frankel said of the troubles his father faced as a Jewish boy in Germany. "It's important for us all to remember where we came from."
He said that his father has written memoirs about his experiences that everyone in the family has read. In 2014, for Jake and Phoebe's b'nai mitzvah, Max Frankel took his grandchildren's education about their Jewish family history one step further. He took Jake and Phoebe on a two-week trip through Europe that included visits to his hometown of Weissenfels and to concentration camps to learn about what Jake calls "the darker side of his past."
Yet, rather than be dispirited by his grandfather's history, Jake is inspired. Max Frankel attended the High School of Music & Art in Manhattan, followed by Columbia College, where he received both his bachelor's and master's degrees. Following part-time work for The New York Times in college, Frankel joined The Times as a full-time reporter in 1952. By 1986, he had worked his way up to editor-in-chief.
"The way he made it to New York," Jake said, shaking his head, "that's just inspiring."
Jake is no stranger to hard work. During his first remote academic quarter at Stanford, he awakened at 8 a.m., practiced at his local golf course in Biscayne Key for three hours, came home to attend class and then completed his schoolwork after a couple hours' rest in the evening. He values routine and believes that staying organized is essential to maintaining a good work-life balance.
"You make sure you know what you have to do," Jake said. "I need to know when it will all get done first."
This systematic, calculated regimen has paid dividends. Jake played for his high school golf team starting in seventh grade, qualifying for the state championship as an individual or on a team for six consecutive seasons. He was a two-time Junior All-American who played in three American Junior Golf Association Invitationals, finishing in third place at the Thunderbird International Junior. He was first team All-Dade County for five years in a row (from 2015 to 2019) and was named Miami-Dade County Golfer of the Year in 2017 and 2018. Jake is ranked No. 12 by Junior Golf Scoreboard and No. 23 in the AJGA Rankings.
At the 2019 Junior PGA Championship, Jake shot a 60, 10 under par, which he said is his proudest accomplishment in the sport thus far.
Yet despite his many solo victories, Jake is a team player.
"Playing for a team is super fun," he said. "Getting the high school team to 'states' for the first time was really exciting for everyone."
Mastering the emotional component of the game was not always easy for the young golfer. Jake's mother, Jennifer Beber, recalls instances when Jake fell apart over imperfect executions at the beginning of his career.
It was only after the father of another player put his arm around Jake during a tournament and said, "You're too good of a player to be acting like this" that Jake's game completely changed.
"Now, if you watched him play, you would not be able to tell whether he was playing well or playing poorly because he's totally calm," she said.
Though he plans to study political science or international relations at Stanford, Jake's dream is to turn pro and join the PGA Tour. As clear-sighted as ever, he plans to train hard for the next four years and then evaluate his skill level.
Like everyone, Jake is not without challenges. He's a terrible swimmer, according to his father, and he does not read as many books as his parents would like him to. But the focus and dedication he brings to his game have been passed down through his blood.
"My parents have been my biggest influence," Jake said. "Seeing how curious you can be at any time and being dedicated to what you do."