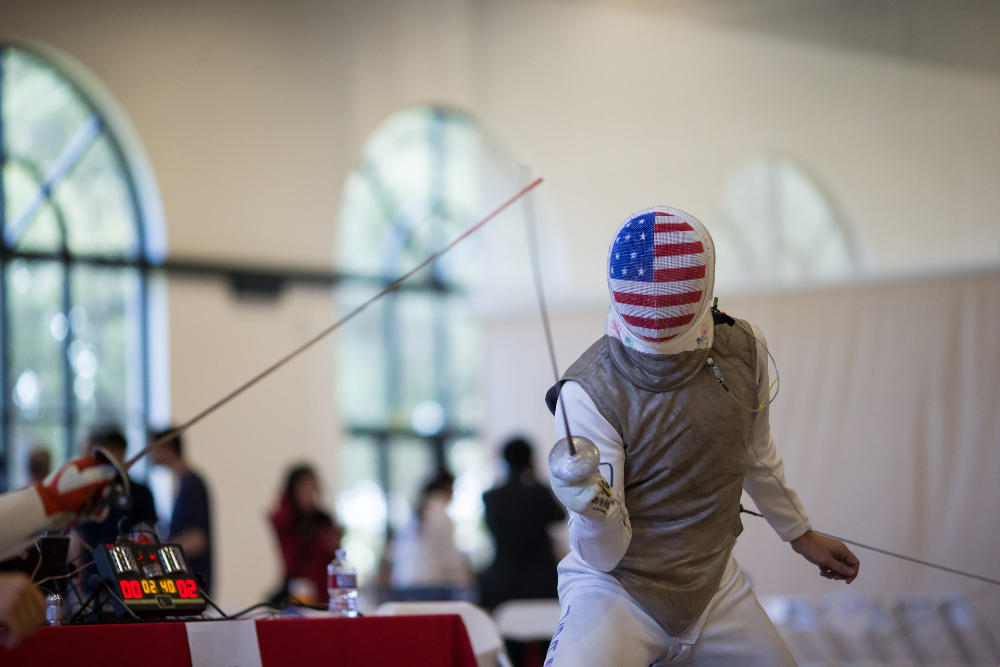 Fencer Alexander Massialas, though amiable, is very competitive.
"My father was a three-time Olympian himself, and this will be my third Olympics," he said, referring to the Tokyo Games, scheduled for July. "So I've always thought, you know, why not compete with my dad a little bit?"
His desire to win stood out to Stanford fencing coach Lisa Posthumus, who worked with Massialas during his time at Stanford from 2012 through 2016.
"It didn't matter if we were fencing at practice, if we were playing Ultimate Frisbee outside to warm up, or if it was, like, playing thumb war on the bus," Posthumus said with a laugh. "Alex is going to win. I mean, I'm a 50-year-old lady who's playing thumb war. He could let me win. But no way."
At the Rio de Janeiro Olympics in 2016, Massialas came back from a near-loss in the quarterfinals to win a silver medal in men's foil. That moment marked the first Olympic medal for an American individual men's fencer since 1984. But still, he hoped for the gold.
Tokyo represents another chance at the ultimate win for Massialas, who is now 26.
Uncertainty has surrounded the Tokyo Olympics since the coronavirus pandemic forced the Games to be delayed by a year, but Alex Massialas and his father and coach, Greg Massialas, remain focused on preparing for the event.
Father and son arrived at the Colorado Springs Olympic Training Center in mid-February to ramp up training. When the Olympics were postponed, Alex Massialas said, he scaled back and took some time to rest. As the pandemic went on, he completed bodyweight workouts for strength and agility in his backyard and continued taking fencing lessons with his father, who conveniently lives next door.
Greg Massialas is optimistic about the Tokyo Olympics. While foreign spectators won't be allowed during the Olympics, the Games is currently set for July 23 to August 8, 2021.
As one of the athletes who missed the chance to compete at the 1980 Olympics when the American government decided to boycott the Moscow Games, the elder Massialas is no stranger to uncertainty. Despite his disappointment in 1980, he went on to compete at the 1984 and 1988 Olympics, his best results being fifth place (team) and 28th place (individual) in 1984. He then returned to the Olympics as a referee in 1996 and, more recently, as a coach.
"In 1980, we were not able to control our destiny," Greg Massialas said. "But here, I believe we still can. Even though it was a year deferred, I think that we're ready for it."
Both father and son said they aim to focus on what they can control: fencing.
In Colorado Springs, after completing a quarantine, Massialas' life has centered around training. The day begins with stretching, footwork and private lessons focused on technique. Later, there is a strength and conditioning workout, and then the fencers practice competing against each other—an activity called a bout—in the early evening.
"Fencing requires actually competing against other people to really improve," Greg Massialas said. One-on-one competition has been limited in recent months, but it's possible in the closed campus setting at the Olympic Training Center.
Massialas qualified for the Tokyo Olympics before the pandemic took hold, so now is the time to hone his skills and improve on his previous Olympic performances.
"I thought I was really peaking at the right moment," Alex Massialas said of the beginning of his 2020 season. Now, "it's about trying to peak again at the right time."
"No matter the situation in fencing, you have to adapt to your opponent," he added. "And for me, this was just another adaptation we had to make."
Alex and Greg Massialas, as well as Posthumus, all noted that fencing is a strategic sport with a significant mental component. Fencers have only seconds to try to strike each other on limited, defined target areas of the body before a point is scored. Scoring requires both quick movements and quick thinking.
"He's intense, but he has a calm spirit, which I think helps him in challenging times," Greg Massialas said.
Posthumus said that in addition to being competitive and uncommonly athletic, Massialas is smart.
"He's able to outwit his opponents. He's able to hide his weaknesses and expose theirs," she said.
Massialas earned a Stanford mechanical engineering degree, all while juggling international travel for tournaments. He brought his schoolwork with him on flights to Europe and Asia and somehow got it all done.
Massialas figures he'll apply his degree professionally one day, but for now, he's a full-time fencer. Although he doesn't make a traditional salary, Massialas receives a stipend from the United States Olympic Committee for being among the top five fencers in the world, and he also has equipment and monetary sponsorships.
His dad added, "He lives right next door to us so he doesn't pay rent, and he doesn't pay coaching fees—that's sort of part of the family program."
Alex's younger sister, Sabrina Massialas, 24, is among the United States' top women's fencers and is also vying for an Olympic spot this year. The siblings' mom, a piano instructor, is the one non-fencer in the family.
Greg Massialas said that despite his family's uncommon success in fencing, the sport is not a topic of dinner table conversation.
"While he's fencing, I'm the coach," he said. "But once the match is over, I'm the dad. I think that's worked out quite well for us."
The father-son relationship is harmonious, but Alex hasn't let go of his competitive vision.
He said the 2024 Olympics in Paris "is definitely something that's on my radar."
"Paris and France as a whole has such a rich fencing history," Alex said, "So to be able to fence at the Olympics in Paris with a fan base so passionate about the sport would be an amazing feeling."
Perhaps it's not only his competitive spirit but also pure love for the sport that drives him to keep fencing.