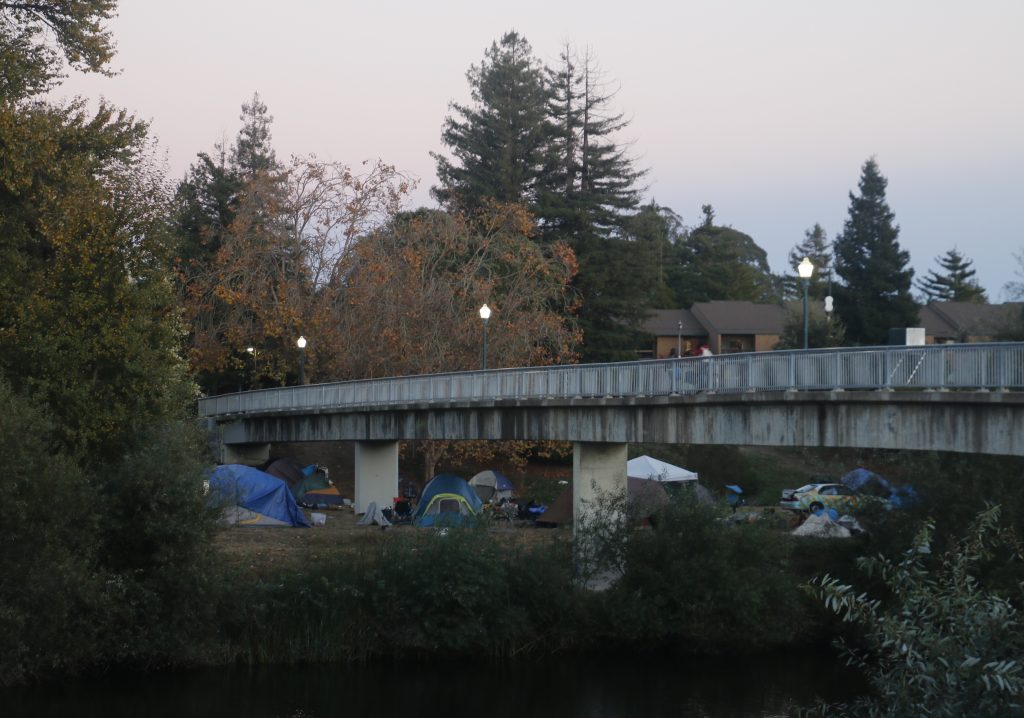 One day in March, Jeffrey Jerozal got caught in a rainstorm. The sudden coronavirus lockdown put Santa Cruz's businesses and residents on edge, and wherever Jerozal tried to take temporary shelter, he was met with hostility. A scuffle ensued, the police came, and the homeless man was taken to a hospital, wet and shivering.

"It's a damned state to get hypothermia in Santa Cruz," he said.

Experiences like Jerozal's are common in a beach town that promotes its legacy of tolerance — "Keep Santa Cruz Weird" is the slogan on T-shirts — but hasn't been able to solve a persistent problem with homelessness. As city officials, nonprofits and activists struggle for answers, the onset of winter poses even more threat to those who find shelter in the open.

"It's colder, it's wetter," said Alicia Kuhl, president of the Santa Cruz Homeless Union, an advocacy group. "People have issues with… their laundry, keeping things dry. We tend to need more blankets and winter supplies to be donated to people. And we call it survival gear and survival supplies because at that point, that's what it is."

Looming over everything this year is a resurgent coronavirus. COVID-19 case numbers have pushed Santa Cruz County back into California's most severe tier of restrictions, shutting gyms, indoor restaurants and the landmark Santa Cruz Beach Boardwalk.

The scale of the county's homelessness problem means that no shelter can risk shutting down. A 2019 point-in-time count estimated the homeless population at 2,167 people, with only 467 of them sheltered.

The county government has announced contracts to expand capacity to 549 beds across various nonprofit-operated shelters, including sites run by Housing Matters and the Salvation Army. But capacity has fluctuated with coronavirus restrictions and the relocation of temporary shelter sites for winter.

So far, Santa Cruz's shelters have avoided the wave of deadly COVID-19 outbreaks that devastated several of the county's nursing care facilities over the summer. However, in July a Salvation Army-run shelter in Watsonville was forced to shut for three weeks after eight people tested positive for the virus.

Leaders of the Housing Matters and Salvation Army shelters say they are wary of the recent spike in cases, but prepared.

"I think this winter will be more challenging than most winters, but not necessarily any more challenging than the last seven, eight, nine months," said Cassie Blom, a spokesperson for Housing Matters. "We're accustomed to it and also really tired, but in it for the long haul."

ADAPTING TO A PANDEMIC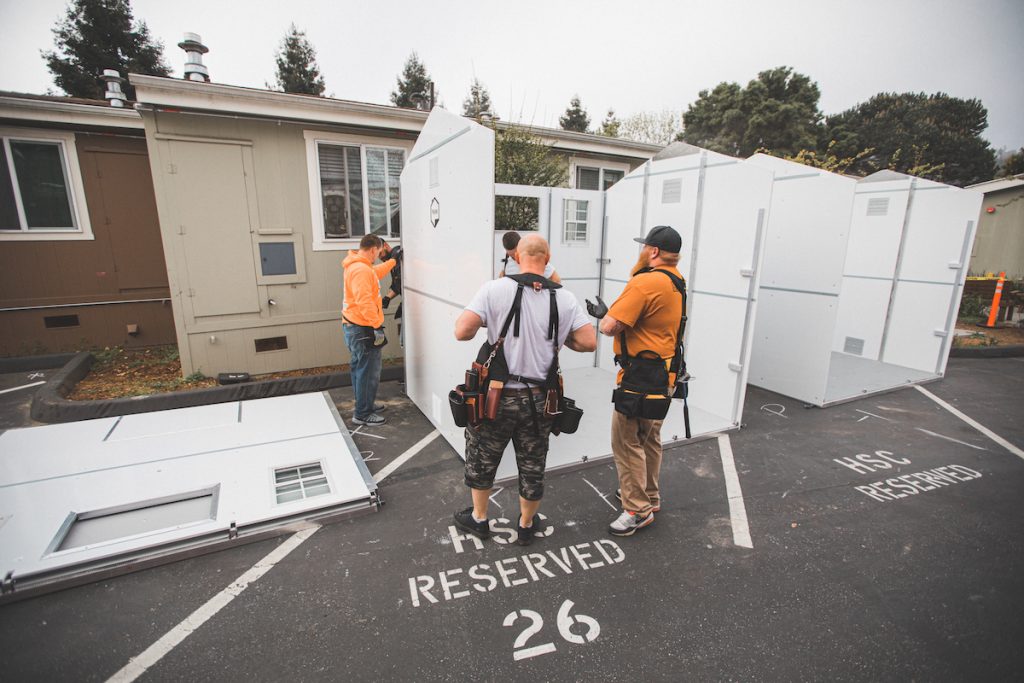 At one of Housing Matters' shelters on Coral Street, residents now sleep divided by plastic partitions and aligned head-to-toe. Half of the shelter's capacity was moved into the campus parking lot, which has been transformed into a village of individual, prefabricated shelter units to comply with social distancing rules and restrictions on indoor crowds. The cafeteria, complete with extended outdoor table space, now serves lunch as well as dinner to encourage residents to stay within the compound.

"We've had a lot of success in doing what we're doing," said Evyn Simpson, assistant director of programs at Housing Matters. "It's worked, we haven't had an outbreak, and we've been careful and followed all of our policies with the cooperation of our participants and residents."

Most of Santa Cruz's other shelters are following similar policies. These include converted spaces at the vacant National Guard Armory, run by the Salvation Army, and the Veterans Memorial Hall, a collaboration between various nonprofits and the county. Lines of tape designate socially distanced spaces where residents can pitch their tents on the Armory floor..

Santa Cruz County has not reported an outbreak of coronavirus from either shelter.

The Watsonville outbreak showed the difficulty of detecting cases even with the precautions that shelters are taking, said Marcos Marquez, Santa Cruz County coordinator for the Salvation Army. All eight individuals who tested positive were asymptomatic. The outbreak was only identified when a resident tested positive for COVID-19 in an unrelated medical checkup, according to Marquez.

Marquez said the shelter had erred on the side of "extreme caution" prior to the outbreak, reducing its indoor capacity, sanitizing and screening residents for high temperatures and other COVID symptoms upon entry to the shelter.

"We were actually doing almost everything you could possibly do," he said. "And there were still people that tested positive."

Marquez was encouraged by Santa Cruz County's response: a team was able to test everyone at the shelter and relocate those who tested positive to other shelters where they could isolate.

Blom also praised the county's assistance. The county-run Homeless Persons Health Project is based at Housing Matters' campus on Coral Street, giving her team access to COVID testing and local health officials at short notice.

It's enough support that the Housing Matters team feels confident about addressing the worst-case scenario of an outbreak in their facility. "If an outbreak happened, we would follow all the guidelines from the CDC [and] from the county nurses that we've been collaborating with since the very get-go," Simpson said. "We have a quarantine house that is available for five folks that we haven't had to use for that many people."

Still, the nature of the coronavirus makes foolproof protection nearly impossible. After seeing the virus spread invisibly through one of his shelters, Marquez said all his team can do is work harder to secure the precautions they can control.

"I tell my staff, you've got to hope for the best, and you've got to do your best," Marquez said. "You've got to give everything you have to make sure that everything is sanitized and clean."

It's a burden that's no longer new to Marquez, the Housing Matters team or any of the shelter operators.

"We are all running a million miles a minute, every day, for months," Blom said. "I don't expect that to stop."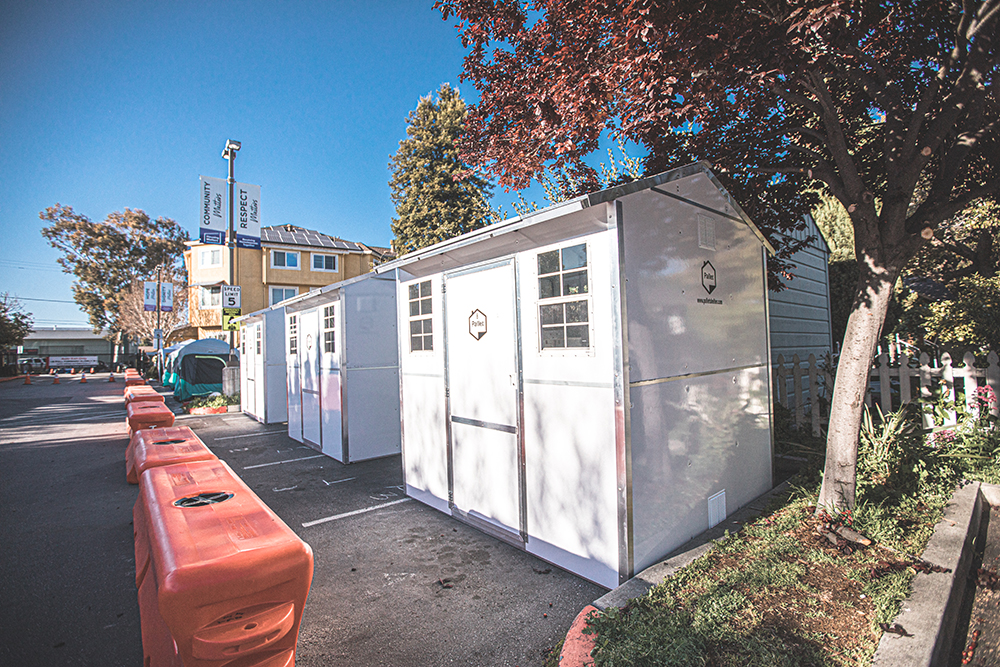 CALLS TO POLICE
Keeping those in shelters safe is only part of the problem. Many more of Santa Cruz's homeless community sleep in doorways, cars and encampments scattered around the city, where they've been met with hostility and concern.
"It's very visible, and it's pretty overwhelming," City Manager Martin Bernal said. "If we had a few encampments here and there it'd be one thing. But we have so many all the time, it's just impossible to keep on top of everything … we get calls every single day."
The calls usually come from concerned residents and business owners, who complain that some encampments disrupt business, threaten public safety, and promote drugs and crime. Santa Cruz's response has leaned heavily on law enforcement: encampments deemed to have grown into health or safety risks are swiftly cleared by police.
People living on the streets face citations for "quality of life violations" like obstructing sidewalks and smoking in public, and those sleeping in cars risk having their vehicles seized for violating parking or vehicle registration laws.
It's an approach popular with some residents, including a longstanding citizens' group with its own slogan for the town: "Take Back Santa Cruz." The group calls for tougher laws and policing to keep the city "safe and clean."
Others, however, say that the constant displacement of Santa Cruz's homeless is inconsiderate and unhelpful. City Council member Sandy Brown criticized the strategy as one only concerned with enforcement, which she characterized as "piling up citations that never get paid and 'move along' policies."
Bernal called the clearing of encampments a "difficult situation."
"It just becomes a public nuisance from a real perspective in terms of public health, sanitation, and all kinds of issues, so we're forced to address it," he said. "But… it's never a permanent kind of thing. Those folks have to go somewhere else. And then the cycle begins again."
Members of city government are split on how much more Santa Cruz should do. The city has made attempts to establish and manage transitional homeless encampments staffed by social workers. But many, including Bernal and Council member Cynthia Mathews, maintain that it's Santa Cruz County's role to fund and run the shelters and rehabilitation services that might help get the city's homeless off the streets.
"I would like to see more of a regional approach where it isn't expected that the city is going to be the one to do all this," Mathews said. "I don't see it as our primary role, per se, as a city to be the primary provider of [homeless] services."
Brown believes the city could be spending more of its own budget — and attention — on the homeless. "It's a 'circle the wagons' approach," she said. "Trying to avoid risk and blame by deflecting onto others… And what it also does is, it creates this accountability gap. So if everybody's blaming somebody else for things not working, no one's to blame. And nobody is taking responsibility."
IMPASSIONED VOICES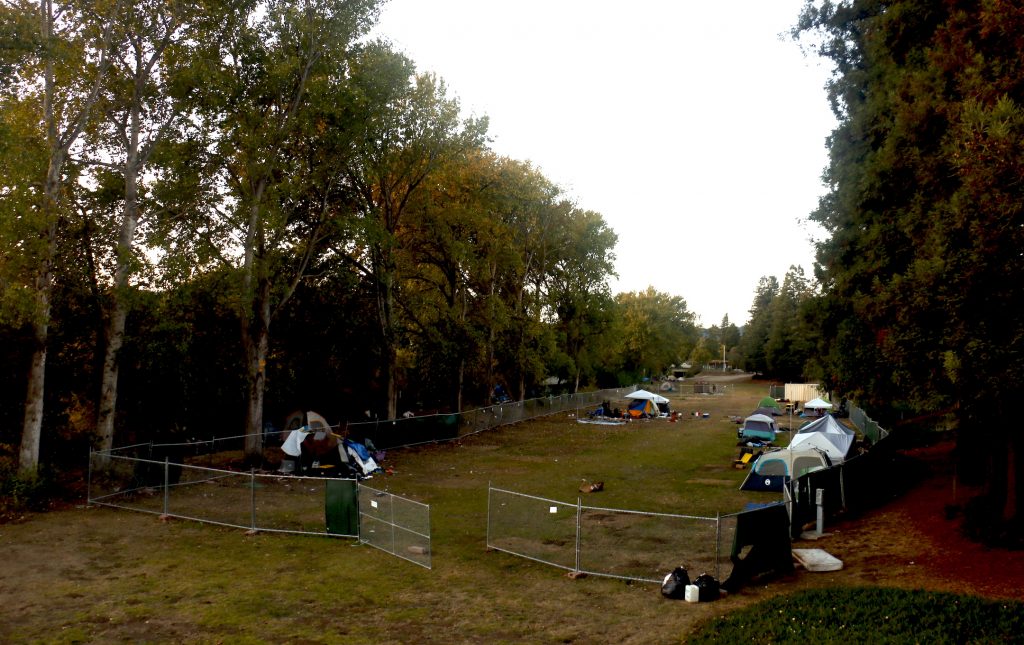 Aid for homeless people who haven't been able to find shelter space comes mostly from activists and volunteers working on the streets. In Santa Cruz fashion, there are many impassioned voices — and some disagreements — on how best to organize and help the homeless.
Activists in the city are split across various nonprofits and protest groups run by small teams of volunteers. Downtown, a few blocks from the city's historic clock tower, the protest group Food Not Bombs gathers daily in a parking lot to distribute meals, clothing and supplies. In an office building by the San Lorenzo river, the Warming Center Program provides laundry and storage services.
Even Santa Cruz's activists, though, are divided in their approach: Food Not Bombs couples its activities with protest politics, while the Warming Center Program aims to be apolitical and more cooperative with the city. They operate independently, and both groups are frustrated in their relationship with city government.
"It's almost like the city acts like an ex-girlfriend," said Brent Adams, founder of the Warming Center Program. "They don't want to take emails, they don't want to answer them, they've tried to pretend we're not in the room. It's always awkward."
Keith McHenry, one of Food Not Bombs' co-founders, is much more pointed in his criticism.
"We have tried to work with [the city] for years, but they have no actual interest in helping the homeless," he said.
Bernal, the city manager, acknowledged the divisions between the city and Santa Cruz's activists but remains optimistic. "We have the same objectives," he said. "I think what happens a lot of times is that, I don't know… you're communicating but somehow you're speaking different languages."
Amid the frustration, the next wave of Santa Cruz's activists are deciding for themselves whom to trust. Steven Cheatham-Marvelli, a UC Santa Cruz student who's worked with both Food Not Bombs and the Warming Center, sees common ground among the city's various groups.
"We have a lot of divides being stoked between the community and people can get kind of pushed to extremes," he said. "But we have a very liberal and very passionate, empathetic community here."
But until someone makes a breakthrough, cynicism will be hard to overcome.
"The city government's attitude has seemed to be that they're going to at least acknowledge it rather than ignore it," Cheatham-Marvelli said. "That being said, I think if you ask around, we'll all agree, Keith, Brent, myself… we're not doing enough."