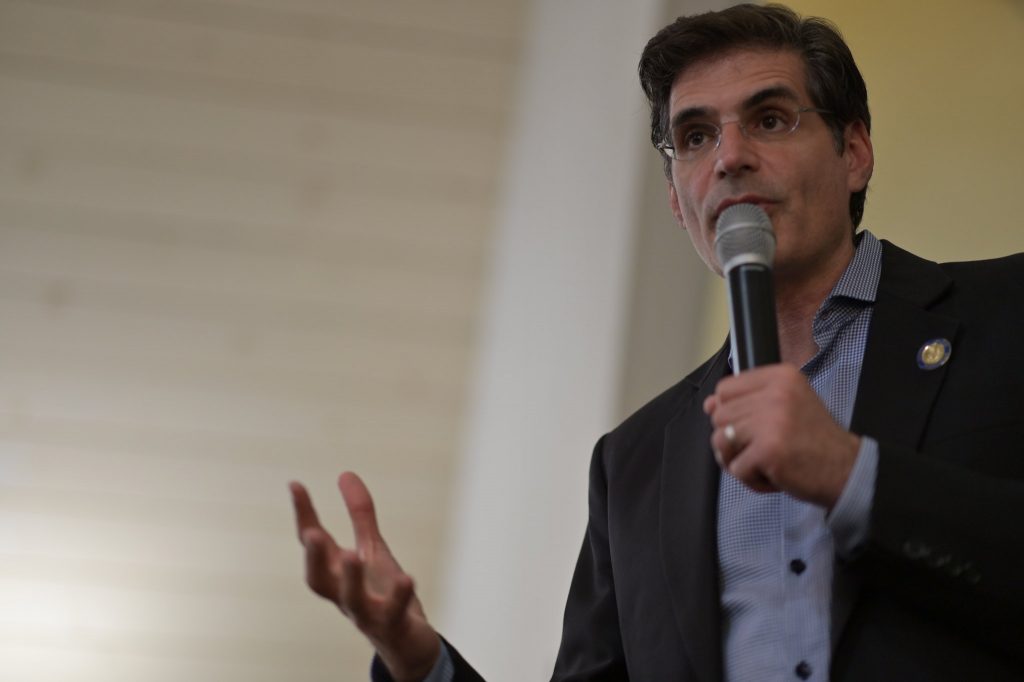 In the race to replace the retiring Jerry Hill in California's 13th State Senate district, the two candidates are drawing their sharpest contrasts with one another on issues related to race and police reform.
Josh Becker — a Democrat from Menlo Park endorsed by Hill, Gov. Gavin Newsom and Sens. Kamala Harris and Ed Markey — is warning that if Proposition 16 — which would restore affirmative action in the state — were to fail in deep-blue California, the no vote would "send a very bad message" in light of a national race reckoning following the deaths of George Floyd, Breonna Taylor and Ahmaud Arbery. Proposition 16 would repeal a state constitutional amendment that prohibits government institutions from considering race, sex, or ethnicity in areas of public employment, public contracting, and public education.
"I believe it levels the playing field and permits something that I think we want to permit here in California," Becker said of the ballot measure during a Sept. 24 debate hosted by the League of Women Voters. "Especially at this time, if Prop 16 doesn't pass I think it will send a very bad message, and right now I'm not sure it is leading in polls so I think we do need to rally around it."
In a poll released two weeks ago by the Public Policy Institute of California, just 31% of survey respondents approved of Prop 16 while 47% opposed it.
"We're at a major inflection point as a country in terms of our actions on racial justice," Becker said. "We have a historic opportunity right now to create racial equality and Prop 16 is a step in that direction."
Becker's Republican opponent Alex Glew — a Los Altos mechanical engineer who founded an engineering consulting firm — warned of rampant abuses of power if Prop 16 were to pass.
"To go ahead and allow somebody to have that kind of power over others where they can offer preferential treatment to suit their needs is absolutely unacceptable and it's a step backwards," Glew said. "It applies not only to college admissions, but it also applies to government contracting and government jobs. So it can be used to pander for votes, to provide political rewards and to basically be abused in any way people want."
Glew has been a vocal opponent of the proposition, making his strong opposition to affirmative action one of the key components of his campaign.
"Nobody should have that sort of power over someone else, and I find it shocking this would come up," Glew said.
During the debate, Glew and Becker expressed agreement on issues ranging from expanding mass transit, increasing healthcare pricing transparency and transitioning to renewable energy to combat climate change, which left some of their sharpest contrasts to be drawn on racial and cultural issues.
"Safety requires police; we need to sustain the level of police that we have," Grew said in response to a question on how he would improve public safety and trust in police. "As for trust, there need to be more working groups between the groups that do not trust the police and the police themselves. The answer is not to purge the police, the answer is not to defund the police, the answer is to have community groups that will interface and provide this interface with communities who are not happy and the police who serve them."
Becker, meanwhile, endorsed one of the interpretations of the "defund the police" movement.
"We do need to look at shifting funding for certain things that in many cases police don't want to do anyway," he said. "Which is responding to mental health crises — there may be better-trained people who respond, and we can shift funding that way."
The 13th State Senate district extends from South San Francisco to Sunnyvale and is a reliably Democratic seat. In 2016, Hill won reelection over Republican challenger Rick Ciardella 75.9% to 24.1%. In the March primary, Becker and Glew advanced to the top-two general election runoff after winning 23.8% and 17.3% of the vote, respectively. Remaining ballots were cast for four other Democrats and one Libertarian. The race has not been polled since the primary.
Facing seemingly insurmountable odds, Glew sought to make inroads with Democrats by focusing his message on areas of agreement.
"There are numerous issues where the vast majority of people agree on it," he said. "To spend so much time as we do on what I call fringe elements and fringe issues that are merely there for destruction, is not functional and is not providing the time and energy necessary to work on basic problems such as forest management, roads and schools."
However, Glew occasionally found himself making statements that voters in his heavily-Democratic district would most certainly not agree on. For instance, on the issue of California's recent string of wildfires, Glew said, "I don't attribute this to climate change, this is just incompetence across the board on forest maintenance."
While Glew's argument on forest maintenance has standing, scientists across the country have linked California's worsening wildfires to climate change, and a study of studies conducted by European scientists finds that warming temperatures have an "unequivocal and pervasive" role in the state's fires.
Glew also used a familiar catchphrase reviled by Black Lives Matter activists and criminal justice reform advocates.
"Back the blue," he said. "And vote Alex Glew."