Four months ago, designer Meiling Mack, 24, quit her job in marketing to focus on her brand, Made by Mei.
Mack creates what's known as Monday wear – bejeweled swimwear that many masqueraders wear during day one of the annual Carnival celebrations in Trinidad and Tobago.
After launching her brand Made by Mei in January 2019, Mack said things started taking off this year, during the Carnival season in January and February.
Of all the Caribbean's Carnival celebrations that were supposed to happen this year, Trinidad and Tobago's was one of the few not canceled or postponed due to the COVID-19 pandemic. It happened, as scheduled, on February 24 and 25.
Mack was looking forward to designing for Jamaica's April Carnival next, and seeing where that would take her.
Then COVID-19 happened.
"Life just kind of stopped," Mack said. "I used to use my job to fund my sewing. I did have enough savings to quit the job, but then I didn't prepare for covid. So I was like okay what am I supposed to do now?"
Jamaica's Carnival was postponed until October as festivals and large gatherings were canceled across the Caribbean region, which has just over 29,000 COVID-19 cases as of June 4, according to this case tracker created by Caribbean software engineer Janique-ka John.
Trinidad and Tobago is down to one active case, and retailers, schools and offices are beginning to open back up in a phased re-opening. But it may be a while until large gatherings like parties and festivals can happen, forcing some creatives to find new means of income and avenues for innovation in the entertainment industry.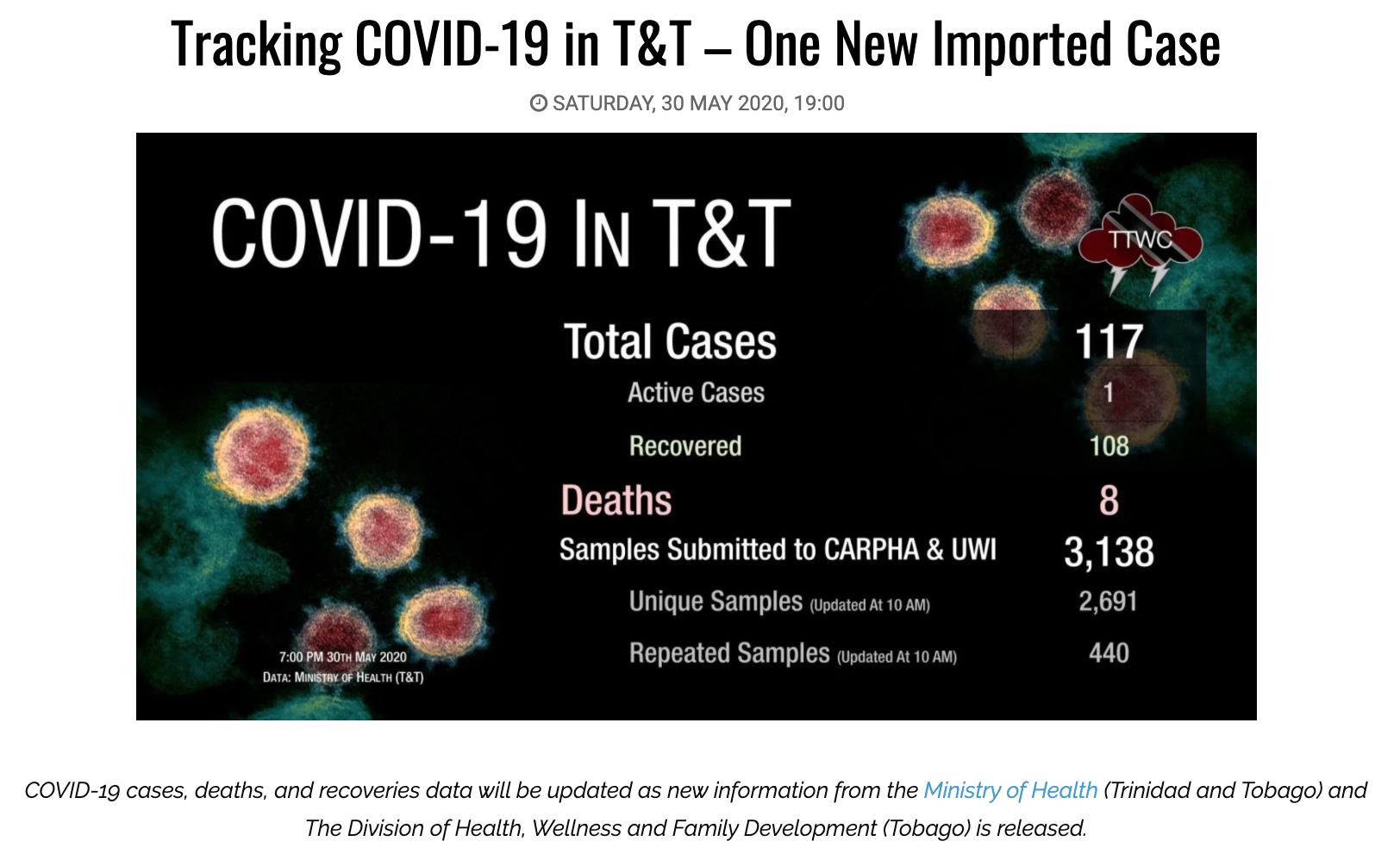 Players of the national instrument, the steelpan, are performing live online. Event-organizers are hosting virtual parties. And designers are sewing cloth face masks to distribute to the public.
While the oil and gas industry drives Trinidad and Tobago's economy, the Carnival and entertainment industry are an important part of the social fabric of the nation.
Mack grew up loving the rich culture around Trinidad and Tobago's Carnival and her business is an expression of that love. As she figured out how to make her last salary stretch, Mack shifted from designing Carnival wear and bathing suits to sewing cloth masks used to protect against the virus.
To date, she's sewed 1,000 masks, with the help of her mother and a couple friends, and using her home sewing machines.
"That was my limit that I gave myself. After that it's just to save money and see how I could move forward from there," Mack said. "The market is already pretty saturated. You're seeing a bunch of people popping up making masks now."
Now that things are returning to normal, she's focusing on swimwear and only sewing masks by request. Mack said the income from the masks has been a "saving grace".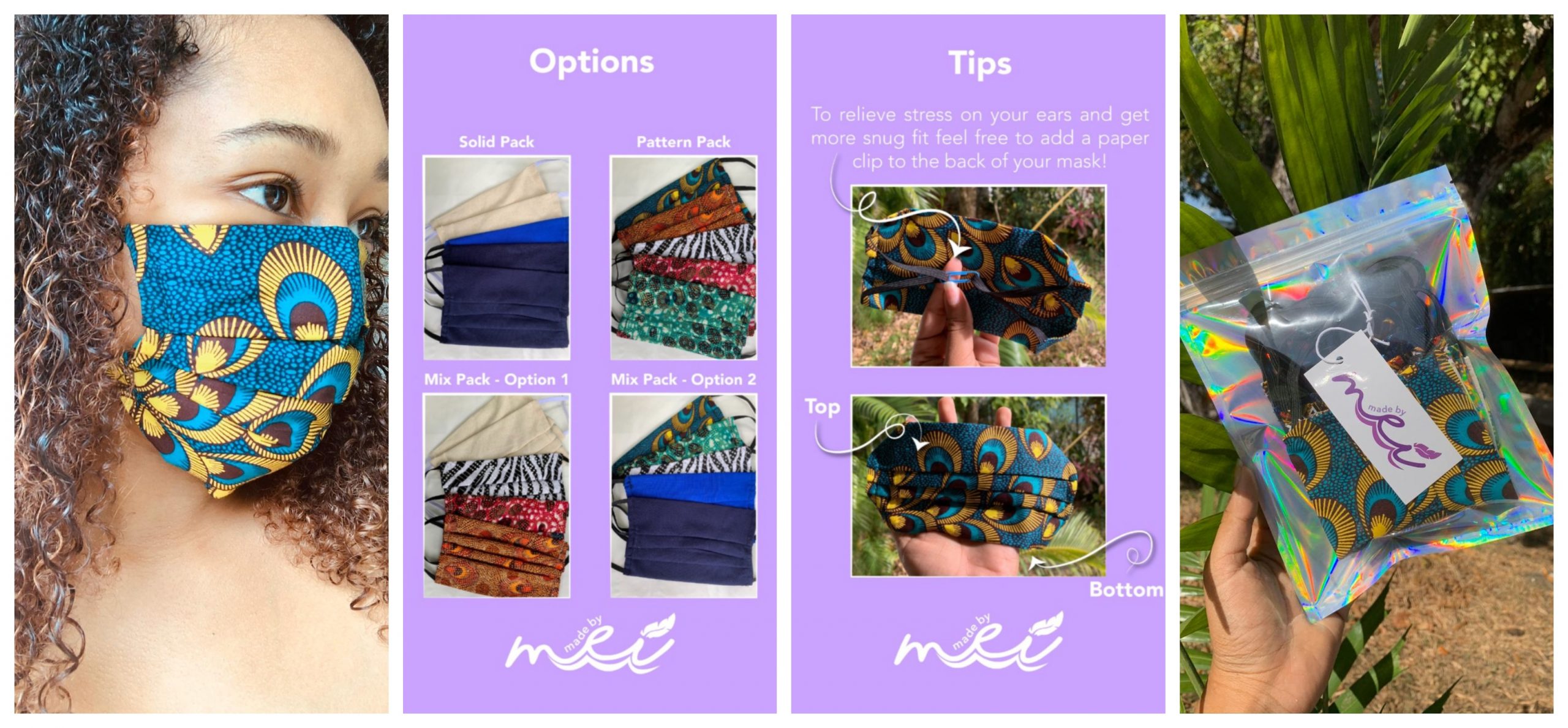 Other clothing and Carnival designers are pivoting to making cloth masks for protection, some for sale, some for charity.
Before the pandemic hit Trinidad and Tobago, Jamila Harewood, a small business owner and account clerk, had designed bejeweled face masks as a Carnival accessory for masqueraders.
In April, Harewood, 38, sewed and donated 100 fabric masks with the colors of the national flag – red white and black – to the National Women's League, an arm of the People's National Movement, which currently governs the country.
Harewood also runs her own business, Fierce Faces, which does face paint and body art. Usually, she and her team would get a lot of jobs doing face painting for events like family days, sports days and birthday parties.
Now, that's all come to a halt and Harewood thinks it will take some time for things to return to normal.
"What I'm concerned about is the amount of time it would take for people to feel comfortable enough to go out to public events and for companies to decide to throw family days and sports days," Harewood said. "I can't see that happening immediately. There would probably be a lot of restrictions in terms of gatherings."

The Carnival industry may continue to be affected by social distancing protocols for a while. July is the season of band launches, a large party where Carnival bands debut their costumes for the next year.
Though Dr. Nyan Gadsby-Dolly, Minister of Community Development, Culture and the Arts, said Carnival 2021 will not be cancelled, the July band launches are up in the air.
Shanice Charles, a committee member for the Lost Tribe Carnival band, said they're watching the clock and watching the news, thinking long and hard about how to proceed.
"Postponing events is really heartbreaking for us because we do this year by year," Charles, 28, said. "This is something that we look forward to. It's not just for making money. It's the fact that you actually giving people an experience."
As a committee member, Charles helps push sales for the launch and works backstage, too.
"I cry every band launch. It's really corny but I stand up in front of the stage, and I cry every year," Charles said. "Because you know, you work hard and you [just] see it come to life."
"Your road experience for Carnival starts with the band launch," she added.
Even if large-event restrictions are lifted in time for band launch season, and even if they were able to pull off the launch in a rush, Charles worries about having so many people in one space.
"A lot of people said they're not even going out when the lockdown or quarantine is lifted. A lot of people said nah, they will stay inside for at least six months again. It's a scary scary time," Charles said.
Meanwhile, Charles is hosting virtual events.
It's a collaborative effort involving chefs, graphic designers, marketing and showcasing the talents of different DJs. So far they've done a virtual brunch and movie nights.
"I want to give people an actual platform to showcase their skills," Charles said. "So after, when the lockdown is lifted, or quarantine has lifted, people can actually have jobs after, get bookings and stuff like that."
Live entertainment is taking hold, as entertainers adjust to the constraints of the lockdown. Others are strengthening their digital presence now and for the future.
Rhyjell Ellis, 28, runs Millennial Studios, a photography and videography company. Usually the team would be shooting events in the corporate and entertainment circuits, including Jamaica's Carnival, but now they aren't getting work.
Instead, he's focused on how they can market their studio – that is, their equipment and expertise in filming and photography – to people in the future.
"A lot of people want to do things, but they don't have the equipment. They don't have good quality cameras, they don't have backdrops and lighting and all that, which is fair," Ellis said. "Everybody has ideas. People's creative side coming out more now than ever so being a facilitator for that is very important."
What does a post-COVID future look like for the entertainment industry?
Treston Laurenço, founder of marketing and management company Laurenco Marketing Agency, hopes that business-owners continue the trend of interacting with customers through virtual engagement.
"You're seeing a lot more faces behind the companies," Laurenço said, referring to business owners who are going live on social media to connect to customers.
"People just don't want to think that they're talking to a computer," Laurenço said. "They want to know that the person that they're talking to has emotions, has feelings. They want to know that you have a name."
Freelance graphic designer Judah Chrichlow, 23, thinks a lot of new ideas will come out of the pandemic, especially as people are getting on board with virtual events.
She's been getting requests for logos, label designs and business cards. Now that people have more time on their hands, they're trying to get their business ideas off the ground. She, too, is thinking about how to expand her business into more digital spaces.
"It's not the future anymore," she said. "It's the present. We're in the digital age."