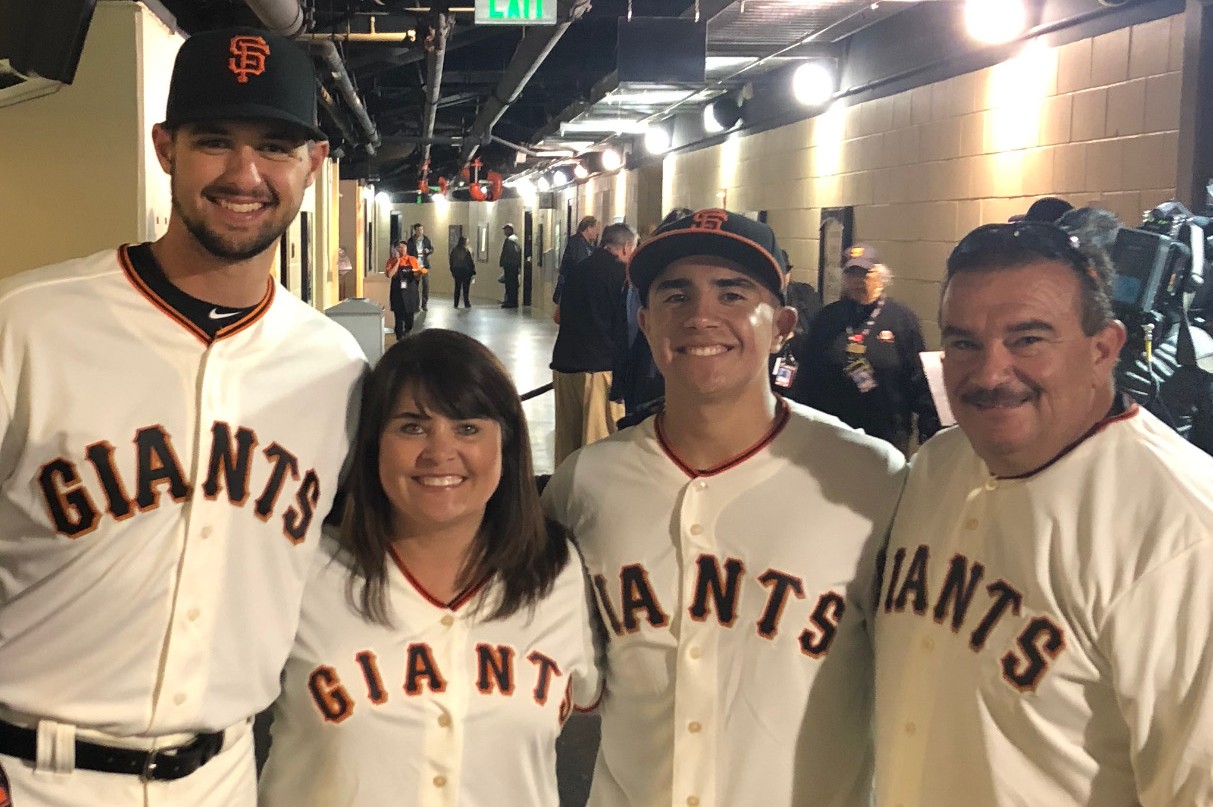 While attending the wedding of San Francisco Giants outfielder Adam DuVall in 2017, Tiffany Fuentes thought back to how it all started six years earlier when a San Jose newspaper ad caught her attention.
The San Jose Giants, the Single-A affiliate of the San Francisco Giants, were searching for candidates to serve as host families for the upcoming season. With the high cost of living in the Bay Area, the ad asked for families in the San Jose area to volunteer rooms in their homes for players to live in for free.
Linda Pereira, the San Jose Giants' director of player personnel, who has been with the team for 52 years, says host families are growing more popular in minor league baseball. While it is unclear exactly how many teams use them, the economics behind it are encouraging more teams to do it.
Tiffany and Dan Fuentes, along with their young son, PJ, decided that being big baseball fans and having an extra room in the house was a sign that they should apply to become a host family. Excitedly, they got the house ready, getting everything they thought would make a player comfortable. Tiffany purposely did not put a television in the bedroom so that the player would not feel bound to his room. Then they waited.
And waited.
The 2011 season came and went. Nothing. No newly arrived player needed a home, no family suddenly unable to continue housing a player. Pereira assured Tiffany and Dan that they were at the top of the list for 2012.
Finally, the 2012 season came, and so, too, did Adam DuVall, the first of 14 players to live with the Fuentes family over the course of eight seasons.
PJ, who was nine years old at the time DuVall moved in, recalls being starstruck. "It was so cool having a professional baseball player living in your house," he said.
The first year was a learning experience for everyone. Tiffany works as a general manager for Costco in Gilroy, and Dan owns a fumigation business. It was important to make sure they had time to manage both work and hosting a player. They wanted to take good care of DuVall without smothering him. There was also the worry about letting someone they didn't know into their home.
Finding the right balance could only come with time.
The Fuentes family has had no problems with players over the past nine years. Pereira does her best to pair families and players with care. She spends time at spring training each year meeting players and explaining how it works: they must be involved with their host family; this is more than simply a room in a home. She also refrains from pairing Spanish-speaking players with families that speak Spanish, so they are forced to learn English faster. This system has worked well in creating relationships between families and players.
These relationships have remained beyond the year of hosting the players. Tiffany and Dan have attended the weddings of big leaguers DuVall and Tyler Beede and have been invited to three more weddings of players they have hosted.
With the growing reputation as a solid host family, Tiffany and Dan started housing some of the higher-ranked prospects in the organization. This past season, Joey Bart, the top prospect in the Giants organization, lived with them for four months before getting promoted to double-AA.
Aside from saving a ton of money, Bart appreciated living with the Fuentes family because of their generosity. He recalls the time when Dan took his car in to the shop for him while the team was away on a road trip.
"They are some of the most caring people I have ever met," Bart said, "They truly made me feel at home, even being so far away from my own home."
The minor league season can be a grind. Playing 135 games or more entails long bus trips and meeting many new people. Combine this with making, on average, $290 in a week during the season, it can be hard for a player to get comfortable. It can also be difficult to find suitable housing with the uncontrollability that can come with a season. Promotions and demotions to different levels means moving cities, and so does being traded to a new organization. Signing a six-month lease is not as easy as it sounds. Host families help to alleviate these stresses that players face on a daily basis.
The Fuentes family took in a second player in the 2019 season, pitcher Tristan Beck, whom the Giants obtained in a trade with Atlanta. Beck moved out of his apartment in Florida and joined the team on a weeklong road trip in southern California. The team returned to San Jose about two o'clock in the morning, and he rode with Bart to his new home at the Fuentes' house.
The family welcomed him with open arms, and immediately gave him keys to an extra family car so that he could get to and from the field.
"We take good care of our players," Tiffany said. Pereira agreed, saying that they make players like part of their family.
While it is rewarding for the players, the family feels it gets as much out of the experience as the players. They went to San Jose games before becoming a host family and have only gone more since.
The family has learned a lot more about baseball. PJ has been able to talk to the players about the game, being a catcher like Bart. He is preparing to play college baseball at Menlo College next year. Tiffany and Dan have enjoyed learning more as fans of the game.
The biggest reward, though, Dan says, is seeing the players succeed.
The success started early with DuVall making the big leagues with the Giants before being traded to the Reds. Not only was it exciting seeing one of their former players playing in the majors, the call-up for DuVall marked an important shift of fandom in the Fuentes' home.
"I grew up a Dodger fan," Tiffany says with a smile, "My grandfather was a diehard Dodger fan." The same goes for Dan, who grew up going to Dodger games with his father.
The two made a deal. Once a player they housed made it to the big leagues, they would officially switch to being Giants fans. DuVall was the player who made it official. They are excited for Bart to potentially become the next player they see playing in San Francisco and are proud to be a part of his story.
Pereira says word of mouth has become the best way to attract new families, and the Fuentes family cannot recommend it highly enough.
"The players are so busy," Tiffany says, "but being able to cook them their favorite meals every now and again and help make them comfortable is awesome."
With each new wedding invitation, Tiffany, Dan and PJ are reminded just how beneficial and special these relationships are for both the players and the family.