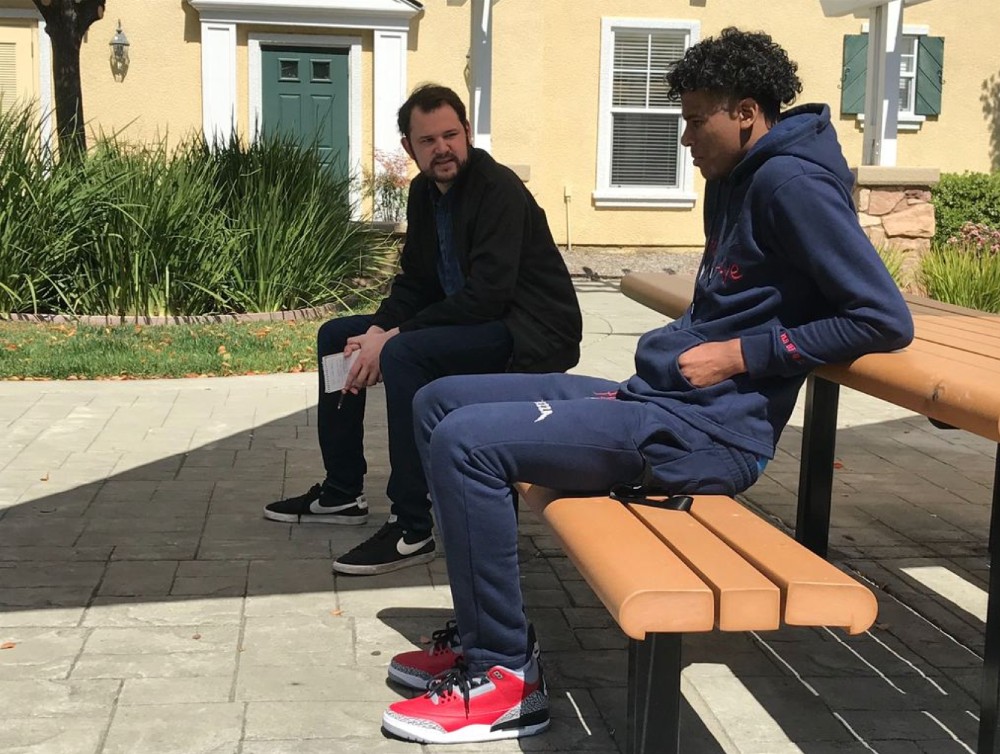 As Connor Letourneau walks into a Starbucks across the street from the new Chase Center in San Francisco, it's clear he takes his job seriously. He wears a button-down shirt and a navy blue sports coat and carries a dark brown, soft, leather briefcase. For a 29-year-old, his attire fits the trend of city-living millennials. With less than three hours before tip-off, Letourneau looks as if he should be heading to work at McKinsey, not the press room.
Letourneau has been the Golden State Warriors beat writer for the San Francisco Chronicle since 2016. He has covered the daily exploits of what was the hottest team in the NBA. The Warriors won three titles before injuries and free agency decimated this season.
In the back of Starbucks, Letourneau's voice is loud and deep; it echoes against the coffee shop walls as he proudly describes his first year on the beat when the Warriors tried to defend their first NBA title but lost to LeBron James and the Cavaliers in game seven.
"It was a fun challenge and I pushed myself harder in that year than I have ever before," Letourneau said.
Letourneau has dreamt of covering the NBA since he was 12 years old. Growing up, he read the sports section of The Oregonian every morning over breakfast in the kitchen of his childhood home in Portland. Living out his dream, Letourneau dedicates his life now to covering the Warriors.
"He's on-call like a surgeon 24 hours a day," Scott Ostler, Letourneau's colleague as a Chronicle sports columnist, said.
"I'm the go-to source for readers," Letourneau said. "They count on me to have something when news breaks."
It's a responsibility Letourneau doesn't take lightly. He often brings his laptop to a bar when he goes out to meet friends and has left many social events early to cover a breaking news story. Letourneau treats every day like Game 7 of the NBA Finals.
It is a constant grind. A typical week for Letourneau during the NBA season consists of writing more than 20 stories, attending dozens of off-day and post-game press conferences, speaking on radio shows and a weekly podcast. To stay on top of digital media, Letourneau is habitually on Twitter, tweeting more than 6,000 times each year, growing his following ten-fold since coming onto the Warriors beat from 2,000 to 20,000.
"For die-hard fans, the Warriors are their whole lives. I don't forget that people care about them like that," Letourneau said. "I try to go the extra mile to separate my coverage from the competition."
Letourneau strives to find ways to differentiate himself and his Warriors coverage. At the start of each basketball season, he sets a specific goal. This year, Letourneau committed to writing a feature story every off-day. If the Warriors are not playing one of their 82 games of the season, Letourneau goes out, interviews a handful of players and coaches, and cranks out an 850-word story.
"That's what sets a great player apart," Ostler said. "Great players advance by setting goals. They don't go on cruise control in the offseason. That's the same with writers."
Letourneau has developed strong working relationships with the players over the years. He has become closest to consummate pro, forward Shaun Livingston, who recently retired after a 15-year career. Letourneau nearly wrote Livingston's biography. While he can't always rush to the locker room post-game like writers for The Athletic because he has separate print deadlines to meet, Letourneau successfully navigates the pulse of the team and earns the players' trust to uncover their human stories.
Letourneau is especially proud of a feature he wrote on Vander Blue, who played for the Warriors minor league team in Santa Cruz.
"Everyone writes about Steph Curry and Kevin Durant, but there's way more Vander Blues out there trying to make it and struggling financially and mentally," Letourneau said.
It was meaningful for him to give readers a look into life on the fringes of the NBA.
John Branch, Pulitzer Prize-winning writer at the New York Times, is one of Letourneau's sportswriting idols. Branch understands the pressure that Letourneau faces working for "one of the last surviving newspapers."
In the face of the newly changing media landscape, Branch said that Letourneau is setting himself and the Chronicle apart from the competition by telling stories like that of Vander Blue. Branch said: "It's the kind of story I love because it's all about humanity. It's not about wins and losses."
Letourneau's face lit up as he explained that this is what beat writing is all about: "You know what goes on the court because you can see it on TV. But it's the beat writer's responsibility to lift that curtain, and I love being able to tell the human story."
Letourneau approaches every day on the beat with the energy of a triple shot iced latte.
"Once he's locked into a story, there's no distracting him or breaking him out of that focus," Wes Goldberg, Warriors beat writer for the San Jose Mercury News, said.
Wearing his wireless headphones, cranking house music, Letourneau can often be found sitting hunched over his computer like a t-rex, hands directly under his chest.
"He's just completely engrossed, and nothing breaks that concentration unless I throw something at him," his friend, sports journalist Ryan Gorsey, said.
Scott Ostler recalls a day in Toronto last June when he and Letourneau were covering the NBA Finals. Each day of the series, the sportswriters headed to the arena for the morning press conference, then to the press room for a couple of hours to write their stories.
"We typically go back to the hotel before the game to nap and grab lunch," Ostler said. "But when I got back later in the evening, Letourneau was still there. He had been there since 9 am. It doesn't faze him."
If Letourneau's work style were to be compared to a player on the Warriors, his competing beat writer, Goldberg, said it would be Klay Thompson. "Klay is so singularly focused on maximizing his abilities, but he's not doing it for attention. We know Klay Thompson; he's a very low-key, understated type of guy," Goldberg said. "That's like Connor. He's actually told me several times he has no interest in being on TV. He's doing the work because, like Klay, he puts in the reps, and there's an unyielding standard he holds himself to."
While Letourneau prefers to stay out of the spotlight, he steps up as a team leader among the Chronicle's other sportswriters, especially during the playoffs. The Chronicle's team of writers meet at halftime, and Letourneau offers them suggestions for stories that they might write after the game. Ostler, who covers many sports in his column, said: "I lean on Connor a lot. If I'm going to write anything about the Warriors, I always run it by him to get his thoughts."
Letourneau marks a particular breed of sportswriters: those who see their work as more than a job. "It has become a part of my identity," Letourneau said. "I've never had a backup plan. I look at it as a craft, a calling."
Letourneau's challenge of coming onto the Warriors beat in 2016 is nothing compared to the current obstacle he faces: As of March 11, the NBA suspended its season due to the outbreak of COVID-19. Letourneau is facing pressure from his editors to produce Warriors' content since they still have a print edition to fill. "It's definitely tough to cover an NBA team when there's no media availability or games," Letourneau said.
While Letourneau's job is not at risk, his day-to-day responsibilities as a sportswriter might be. Every major sports league covered by the Chronicle is currently suspended due to the pandemic. Letourneau said, "Apparently, there's a chance we'll trim down our sports section and move some sportswriters to the news desk temporarily." Unfazed, Letourneau said he's "trying to get creative."