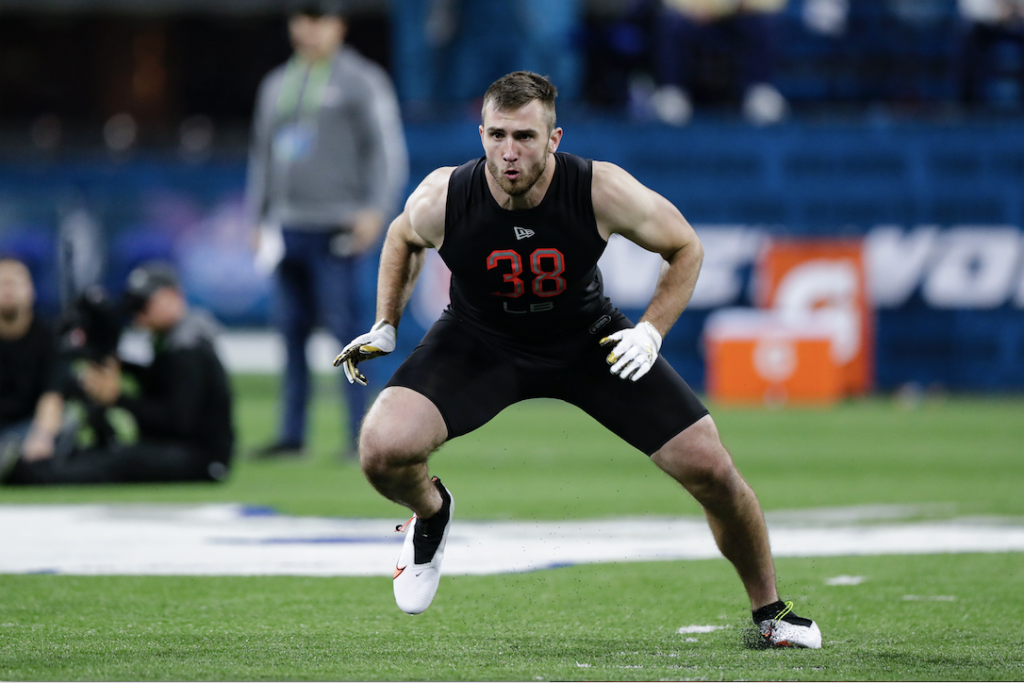 And now he waits. While American life slips into hibernation, Casey Toohill sharpens his focus on April's NFL Draft. The Stanford linebacker has reached peaks in academic and athletic realms, but his stellar performance at February's combine swung his fate further toward the National Football League.
Toohill is on the bubble. But, last month's Combine only boosted his chances. The week-long gauntlet of bench-press tests, 40-yard dashes and interviews saw Toohill excel: His twenty-yard shuttle, vertical and broad jump were some of the best among all linebackers.
And because he sports a 3.71 Stanford G.P.A, and 132 career tackles to boot, Casey Toohill has options. But for now, the 6-foot-4, 247-pound San Diego native has trained his focus on the NFL.
Just before the combine in late February, Lance Anderson, Stanford's Defensive Coordinator said Toohill's performance is "going to surprise a lot of people." He was right.
A fearless pass rusher, melding agility, strength and instincts in a rare athletic cocktail, Toohill was one of only 44 linebackers invited to the NFL Combine. But he is also a Stanford graduate who has interned with Condoleezza Rice and blue-chip investment firms.
"It's very much a blessing to be in this position and have these opportunities," Toohill said.
His regimen reflects his ambition. Unlike most college graduates, Toohill hunkered down in a San Ramon gym, sharpening mind and body ahead of the Combine in Indianapolis. Banding together with fellow NFL hopefuls – including Stanford's Colby Parkinson –  Toohill mapped out a unique nine-to-five.
He's in the gym before most 2019 grads have picked up coffee. Running lasts two hours, he recharges with a quick lunch, then caps off the day with a lifting circuit and recovery work until about 5 p.m.
"I'm focusing on the little details that can make a difference with all the tests," Toohill said, "whether it's the 40 [yard dash] or the vertical jump or the bench press."
Over his five years on The Farm, the little details were mandatory medicine for success as an outside linebacker and a political science major. Now, that muscle memory could land him in the NFL.
Lance Anderson likens Toohill's play to former Stanford linebackers Kevin Anderson and Peter Kalambayi, both of whom landed NFL contracts. Anderson's voice drips with praise for Toohill as he compares Toohill's mental edge and work ethic to other Stanford greats like Trent Murphy and Toby Gerhart.
Casey's battling a competitive draft class. Clemson's Isaiah Simmons, Kenneth Murray out of Oklahoma and Louisiana State University's Patrick Queen loom large as pre-draft favorites. The second round is fighting ground too, where Wisconsin's Zach Baun and Ohio State's Malik Harrison further crowd the field.
Stanford tight end Colby Parkinson said Toohill's "football IQ and his hustle" will go a long way in scouts' eyes. Parkinson himself – a Civil Engineering major and pass-catching sparkplug – has drawn much draft buzz.
"During his fifth year we all called him Grandpa Casey," Parkinson added.
Plus, his senior stats build a compelling case: eight sacks, 10 quarterback hurries, and 60 tackles and a Second Team All-Pac-12 nod speak loudly in Toohill's favor. But rather than fixating on a singular outcome, Toohill is laser-focused on his game plan.
"I try not to think ahead too much to the draft and things I don't have control over," he says.
Toohill represents a tide of athletes who could read about NFL risks and opt out. Green Bay Packers' receiver Equanimeous St. Brown, for instance, committed to Notre Dame in three different languages, yet chooses a game that risks his physical safety. His younger brother, Osiris, was Toohill's teammate at Stanford and is also trilingual.
With respect to the safety, players like Parkinson urges calm when considering football's future.
"The advancements of the medical field have made the game a lot safer," Parkinson said, adding, "I have noticed that kids start playing tackle football a lot later, but overall I do not worry about the sport's future at all."
And despite the nearby constellation of tech palaces and venture capital dreams, Toohill is dead set on professional football.
While Toohill reached for glory in the combine, the job market would likely reward someone with his résumé: a Stanford diploma, complimented by summers at investment and accounting firms and, most notably, the stint in the office of former Secretary of State Rice.
"I wouldn't say I didn't anything crazy important," he said, downplaying his work on Rice's correspondence. Typical Toohill. That's his style: so locked into the details that he glides past the degree of his feats on or off the gridiron.
He has other dreams too.
"At some point I want to get an MBA," he said. "I just love learning about business."
He looks to Toby Gerhart – a fellow Stanford grad, and NFL veteran – for reference. After a six-year NFL career, Gerhart returned to The Farm where he's getting an MBA at Stanford's Graduate School of Business. Before going pro, Gerhart was his high school's valedictorian and majored in Management Science and Engineering while setting rushing records for the Cardinal.
"He's the man," Toohill says of Gerhart.
Anderson notes that if Toohill captures his NFL dreams, "he's still going to have a lot of life to live."
Towering over a podium on December 2019 at Stanford's Hoover Institution, Toohill accepted the Stanford football award for leadership with a speech that would have befit a politician or a CEO. His words ricocheted across Hoover's stately walls, weeks before he appeared at the NFL combine. He took no well-deserved victory laps, but instead apologized.
"I'm sorry I couldn't do more for the team to help accomplish the mission," said Toohill, visibly vexed by missing bowl eligibility. "Leaders are judged by the success of the team and I happily accept that," he continued.
As he launched into an unknowable chapter, Toohill made no lofty proclamations about what the future would hold. Instead, he made a promise.
"I have so much love and respect for every one of you. If any of you call me in the middle of the night and need anything, I promise I'll be there for you."