On October 15,  four companies with friendly and perky one-word names, launched fleets of brightly colored e-scooters onto the congested streets of San Francisco.
The fleet colors, like the scooters, were electric: Lime was aggressively green, Jump neon orange. Spin and Scoot were reddish, though Scoot leaned to the maroon side of the hue and Spin was orangey.
Over the coming year, up to 10,000 e-scooters will join the city's busy traffic-scape. More scooter riders will weave through the cars, trucks, motorcycles, mopeds, bikes and all the other vehicles that uneasily share the city roadways.
And despite mounting national concern about injuries, particularly head injuries, few of those scooter riders will be wearing helmets.
Michael Papes, a San Francisco Uber driver, says he loves e-scooters but added, "I think that people who ride them don't have any idea how dangerous it is and the risk involved."
"A lot of people will be going down hills too fast and not having a helmet," he said. "It's pretty scary."
The safety of powered scooters
In early 2018, three companies deployed scooters onto city streets without the permission of municipal authorities.
Almost immediately, city officials began to receive complaints about haphazard parking, sidewalk riding and dangers to pedestrians.
Following a cease and desist letter against unpermitted scooters from city attorneys, San Francisco started a one-year pilot program overseen by the San Francisco Municipal Transportation Authority. Two operators – Skip and Scoot – were allowed to operate small fleets and all other operators were barred.
The pilot was "built to prioritize public safety," Sustainable Streets Director Tom Maguire wrote in the blog, Street Talk. Towards the end of the pilot, the city required scooters to be locked or tethered at the end of a ride, sharply reducing complaints about scooters blocking the right of way.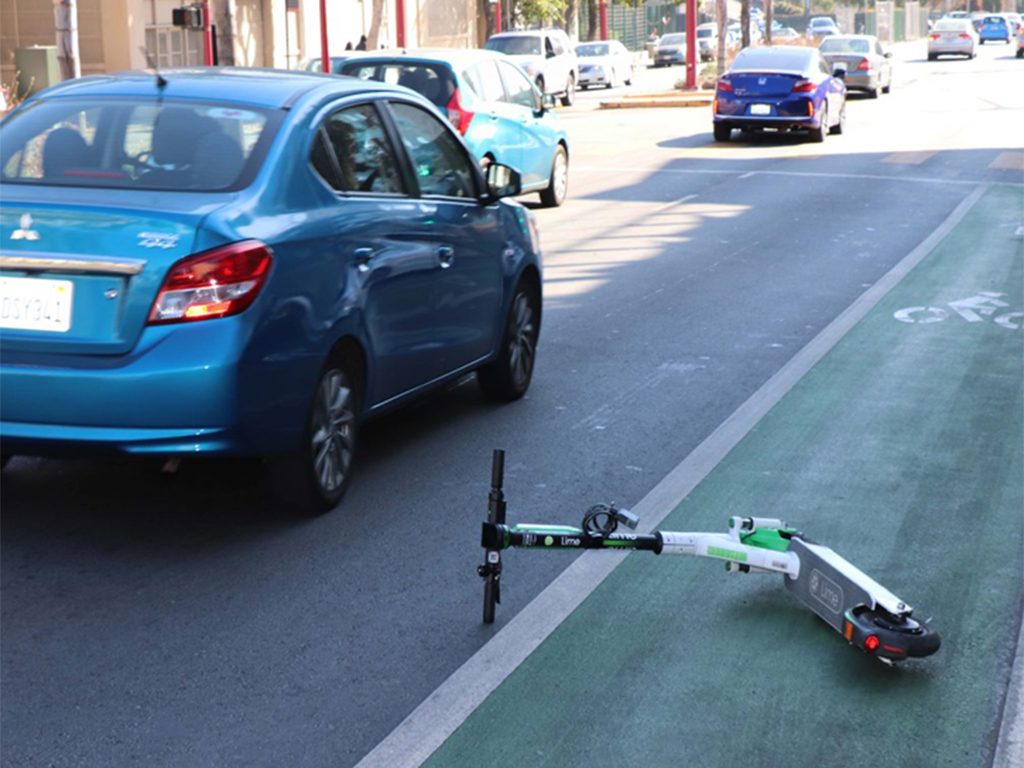 But while San Francisco's pilot was making progress on clearing sidewalks of poorly parked scooters, the safety of e-scooter riders began to receive national attention.
On Feb. 5, Consumer Reports released a nationwide investigation that found more than 1,500 scooter-related injuries in 47 cities where either Bird or Lime, the two largest scooter companies, operated. Consumer Reports reported that "doctors at trauma centers told CR they've been treating serious injuries related to e-scooters since the ride-share fleets started showing up." The investigators found an extremely low level of helmet use.
"Right now, a stunning number of e-scooter users are getting seriously hurt, including with head injuries," the magazine reported.
When Santa Francisco began its pilot, all e-scooter riders in California were required to wear helmets. However, a state law that took effect Jan. 1, 2019 – three months into the pilot — made helmets mandatory only for e-scooter riders who are under 18.
Scooter operators protested the helmet requirement, arguing that because adults aren't required to wear helmets when bicycling, scooter riders shouldn't be treated differently.
Catherine Lerer is a personal injury lawyer in Santa Monica, the place she refers to as "ground zero" for e-scooters because the city is home to the Bird headquarters. It's also the first place where Bird deployed its scooters.
In the last two years, scooter injury cases have become a major part of her practice. She estimated that she has more than 150 clients, both riders and pedestrians, who had been injured in scooter accidents. She said she is fielding one or two calls a day from people with scooter injuries.
Lerer doesn't accept the equivalence of bicycles and e-scooters.
"Maybe a bicycle rider will have a broken bone… with scooter riders what I see are shattered bones…, where the rider has to go in and have surgery and hardware plates and screws," she said. "That's what I see over and over again and it's because of the speed that they are traveling at."
In Lerer's view, many scooter injuries were caused by riders riding on the sidewalk or not following traffic rules. But "the number one thing that if I could change anything would be to require helmets," she said. "And that's because not only the calls that I get with the heartbreaking stories of the head injuries, but it's also confirmed by… two studies, major studies, of scooter injuries."
Studies find high percentage of head injuries
A 2019 study of scooter injuries at two trauma centers in Los Angeles over a one-year period identified 249 patients who visited emergency rooms with a scooter-related injury. That compared to 195 ER visits for bicyclist injuries and 181 visits for pedestrian injuries during the same time period.
Of the injuries, 40 percent were head injuries, 32 percent fractures, and 28 percent "contusions, sprains, and lacerations without fracture or head injury." Most of the patients were discharged home from the ER, but 15 were admitted to the hospital.
According to the study, published in JAMA Open Network, only 10 riders were wearing a helmet.
An April 2019 study sponsored by the Centers for Disease Control and Prevention evaluated scooter injuries in Austin, Texas over the period from September to November 2018.  Key findings were that "almost half of the injured riders in this study sustained an injury to the head. A traumatic brain injury was experienced by 15%. These injuries may have been preventable. Only one of 190 injured scooter riders was wearing a helmet."
Both studies only looked at cohorts with injuries severe enough to result in an ER visit, and so the injuries were likely more severe than if the studies included patients who visited urgent care facilities or private physician offices. Nevertheless, the percentage of head injuries was striking.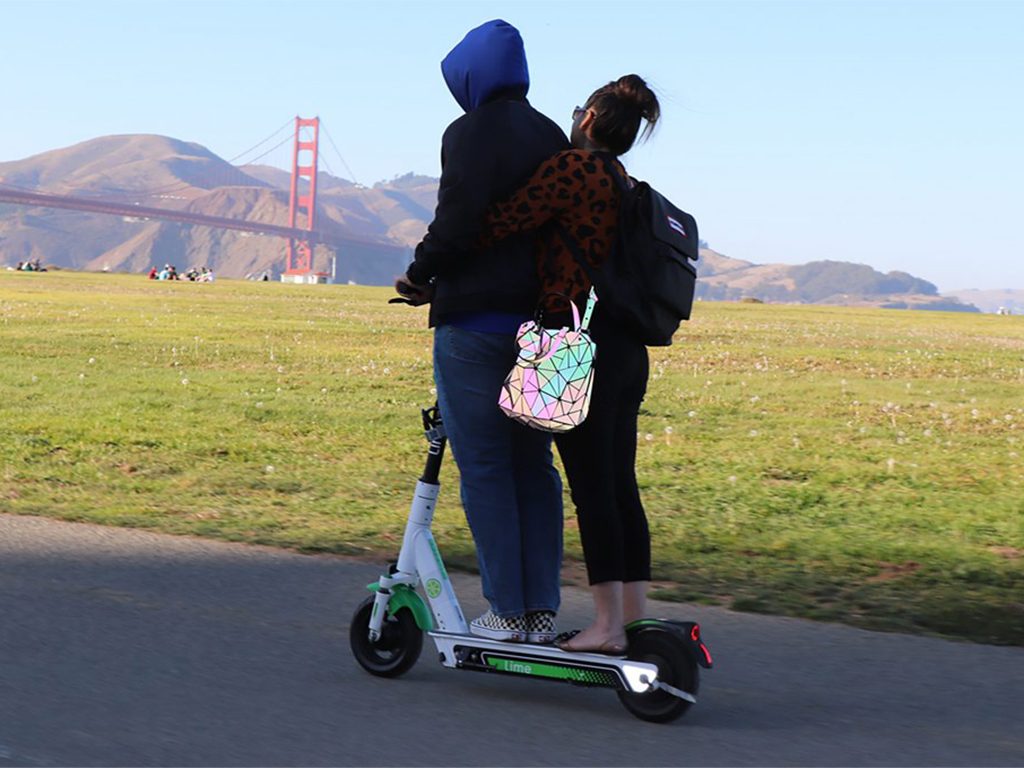 The data in San Francisco
During the pilot program, Skip and Scoot had to file monthly operating reports with information on collisions and injuries to their riders or pedestrians.
That data was used in a "mid-pilot" evaluation of scooter collisions and associated injuries prepared by the city's department of public health and the Zuckerberg San Francisco General Hospital and Trauma Center. The analysts also gathered data from police and hospital records, but that data only covered less than three months of the pilot program. The police data was not specific on whether injuries sustained were related to use of an e-scooter or a "Motorboard."
The information reported by the operators included several matters that relate to safety.
The report found only 12% of riders reporting injuries were wearing helmets.
One of the operators, Skip, reported "a consistently rising trend of collisions."
Skip reported 34 collisions within the first five months and there were eight times as many collisions in February 2019 as in October of 2018, even after adjusting for increased ridership over that period.
According to the mid-pilot report, during the same period of time that Skip was reporting 34 collisions, Scoot, the other operator, reported no collisions or injuries at all.
The mid-pilot report suggested that further injury information be collected and analyzed.
Less than three months after the release of the mid-pilot report and before the end of the pilot program, SFMTA voted to authorize the new permanent scooter program. According to the SFMTA, the reason for the compressed timing was to avoid a lag between the end of the pilot and the start of the new program.
Additional collision data
The mid-pilot collision study only evaluated less than five months of program data, but the operators continued to file monthly reports through the remainder of the pilot (12 months in Skip's case and 11 months in Scoot's). In response to a public records request, SFMTA recently released those reports.
A Peninsula Press analysis showed that Skip reported continuing collisions and injuries during the pilot, ultimately reporting a total of 131 over 12 months.
During the same period, Scoot reported no collisions or injuries, though its's riders travelled nearly 200,000 Vehicle Miles.
In Scoot's monthly reports to SFMTA, it stated, "We are working on new and easier ways for riders and the public to report crashes to Scoot, to help mitigate the common issue of underreporting crashes when they happen."
Scoot did not respond to a written request for information about its reporting of collisions and injuries in San Francisco.
In the permanent program, the SFMTA requires the operators to provide safety information for riders and to recommend and encourage helmet use. Spin, for example, will send a customer a helmet by mail, free except for a $10 shipping charge. Safety training is provided in the app and the operators offer voluntary training classes.
As the program proceeds, SFMTA will continue to require operators to report scooter injuries and it retains the discretion to make changes in the program if it deems that conditions warrant. As further information is collected and evaluated, it remains to be seen whether the frequency of collisions and injuries prove to outweigh positive aspects of the program.
---
Key Dates San Francisco's Scooter Rollout
March 2018 – Three operators – Bird, Lime and Spin – launch e-scooters in San Francisco without obtaining permits or other permission from the City.
April 2018 –San Francisco's City Attorney issue cease and desist letters to the three dockless electric scooter companies citing endangerment of public health and safety
April 17, 2018 – San Francisco Board of Supervisors passes resolution requiring any operator of shared powered scooters to have a permit from SFMTA.
May 1, 2018 – SFMTA's Board of Directors approves one-year pilot program
August 28, 2018 – SFMTA selects Scoot and Skip to be the sole operators during the pilot. SFMTA rejects applications by 10 other operators, including Bird and Lime. Scoot and Skip are each allowed 625 scooters with possibility of doubling after 6 months.
October 14, 2018 – One-year pilot program begins.
January, 2019 – JAMA injury study San Diego
February 05, 2019 – Consumer Reports article: (E-Scooter Ride-Share Industry Leaves Injuries and Angered Cities in its Path A Consumer Reports investigation finds 1,500 e-scooter injuries across the country, and many hospitals still don't track them)
April, 2019 – CDC injury study – Austin, Texas
April 15, 2019 – Mid-year evaluation of pilot released including a study of by the City's Department of Public Health and the Zuckerberg San Francisco General Hospital and Trauma Center of scooter collisions and injuries.
June 12, 2019 – Bird Rides announces that it has acquired Scoot. "We are thrilled to welcome Scoot to the Bird ecosystem and look forward to working with the Scoot team as we further scale our complementary missions – to replace car trips with micro-mobility options for all," said Travis VanderZanden, founder and CEO of Bird. "Together we will make a bigger impact on our riders' daily lives and the cities we serve."
July 19, 2019 – SFMTA authorizes a permanent program to commence October 15, 2019. "Based on the conclusions of the mid-Pilot evaluation, the SFMTA Board amended the Transportation Code, revising the Powered Scooter Share Permit Program on July 16, 2019 to remove the limitations of the pilot, and authorize the Director of Transportation to establish the number of permittees and a cap on the number of powered shared scooters per permittee. Permits are to be issued for a period of no longer than one year."
August 21, 2019 – Deadline for applications for the permanent program.
September 25, 2019 – SFMTA selects four operators for permanent program: Scoot, Spin, Jump and Lime are accepted. Skip and 6 others are rejected.
October 14, 2019 – Pilot program ends.
October 15, 2019 – Permanent program begins with 4 operators – Scoot, Spin, Jump and Lime – each issued a one-year permit. SFMTA authorizes each operator to begin with 1000 scooters with the possibility of increasing to 2500 before the end of the year. However, SFMTA requires Spin, Lime, and Jump to begin deploying with fleets of only 500 ramping to 1000 over a few months. Scoot, the incumbent, is allowed to start with 1050 (reportedly because it would have to lay off personnel if only operating 500.)
Joe Dworetzky is pursuing a second career as a Masters student in Stanford's Journalism program. He practiced law in Philadelphia for more than 35 years. He represented private and governmental clients in hundreds of financial restructurings and commercial disputes. He served as City Solicitor for the City of Philadelphia under Mayor Ed Rendell and in that capacity, he led a 150-lawyer department responsible for all the city's legal matters. From 2009 to 2013 Joe served as one of five members of the Philadelphia School Reform Commission with responsibility for the overall management of the city's 250 public schools. He moved to San Francisco in 2011 and began writing fiction and pursuing a lifelong interest in cartooning. His first novel was published in 2013 by Indigo Sea Press and his short stories and creative non-fiction have appeared in dozens of literary magazines and journals. In 2018 he came to Stanford University as a fellow in the Distinguished Careers Institute, and his studies in that program kindled a passionate interest in journalism. He served as a staff writer and editorial cartoonist for The Stanford Daily and his reporting and editorial cartooning frequently appear in the Peninsula Press. In the summer of 2019, Joe worked on the metro desk of the L.A. Times as an intern. His wife, Amy Banse, is the managing director and head of funds for Comcast Ventures, San Francisco. They have four children ranging from 19 to 35 and live in San Francisco.