---
In a once barren valley off Highway Five, row after row of silicon panels now soak up the ample California sunlight. By the end of 2019, the Wright Solar Facility in Los Banos will come online, converting that light into renewable energy for more than 100,000 San Mateo County homes.
The Wright Facility — the largest solar project of its kind in California — is a local agency's latest stride toward fulfilling an ambitious promise: supplying enough green power for all of San Mateo County within the next five years.
That commitment comes from Peninsula Clean Energy, a public agency tasked with buying eco-friendly electricity for the county. In 2016, PCE became the county's official energy provider: it began piping cleaner electricity onto the grid, while PG&E continued to deliver the power through its lines.
For the past three years, PCE has supplied nearly all of San Mateo County with 50% renewable energy. But as costs for wind and solar power decline, and the threat of climate change mounts, the agency says it will aim to switch the entire county to 100% renewable energy by 2025— a move that would eliminate virtually all environmental damages coming from the local grid.
"Peninsula Clean Energy is confident we will achieve that goal," said Jan Pepper, CEO of PCE. "By demonstrating we can do this, then others will follow, and we can help move our region, our state, and the nation to a renewable energy economy."
PCE's efforts highlight the value of so-called "community choice aggregation" programs, which 21 California counties have now created to obtain cleaner energy at a lower cost. As the UN's 12-year window to reverse climate change quickly closes, CCAs are helping to rapidly clean up the statewide power grid, while also funding other sustainability efforts with their revenues.
"There's no more important priority than addressing climate change and reducing our carbon footprint," said Dave Pine, a San Mateo County supervisor and founding board member of PCE. "It's become obvious that [CCAs] are a very powerful tool for quickly reducing greenhouse gas emissions."
Since launching in late 2016, Peninsula Clean Energy claims it has reduced emissions by 105,000 metric tons per year — the equivalent of taking some 22,000 cars off the road. But moving to 100% renewable power by 2025 was always the ultimate aim, says Pepper.
"The goal was first set by our Board of Directors in 2016," she said. "We set this goal to demonstrate that this is achievable, and can be done in a cost-effective manner while still maintaining economic vitality in the county."
In its first three years, the agency has steadily increased the amount of greenhouse-gas-free energy it supplies, upping it by about 5% per year. The county's energy load is now 90% emissions-free, and is on track to reach 100% by 2021.
Not all this cleaner energy is renewable, though. Forty percent of PCE's power currently comes from hydroelectric and nuclear sources, which California does not consider renewable because of their impacts on fish ecosystems and hazardous waste.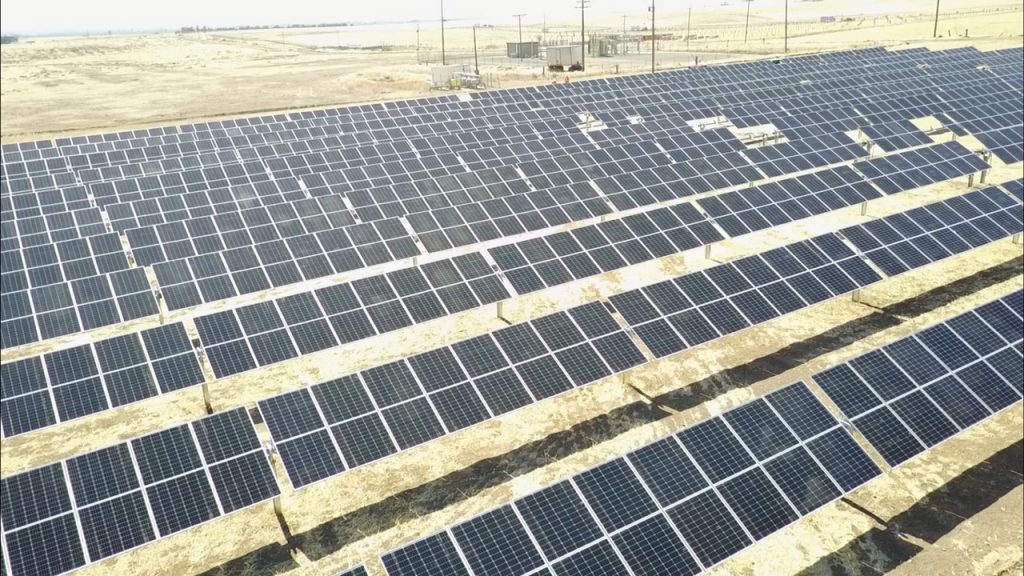 These sources were important in PCE's early years, Pepper says, in order to keep its rates competitive with PG&E's. But now that the program is on its feet, PCE will turn its attention to closing the renewability gap in the next five years.
There are a number of factors that make the 2025 goal achievable, says Pepper. One is the sharply falling cost of renewable energy. With increasingly efficient technology for wind and solar generation, experts say the price of renewables could sink from $0.04–$0.06 per kWh to $0.03—a full $0.02 cheaper than fossil fuels—by next year.
A second factor is new renewable energy projects, such as the Wright Solar Facility, which are being built for PCE. Overall, the agency says it has contracted for over 300 MW of solar energy, enough to power more than 150,000 San Mateo County homes. Another 13,000 houses have rooftop solar, which reduces the power load PCE must supply.
Still, there will be challenges to reaching the target, said Pine. One major hurdle will be providing renewable power at night, when no solar energy is being produced.
"No one has quite figured this out yet," Pine said. "At a statewide level, the idea of having 100% renewable energy 24/7 is really an unsolved equation." Solving that problem will involve finding ways to store large amounts of solar during times of excess, which Pine said will be "a big future initiative."
PCE's movement toward a renewable grid is a major piece of San Mateo County's overall sustainability goals, said Jim Eggemeyer, the county's sustainability director. In mid-September, the county declared a climate emergency, which came with a call to reach zero emissions—including an emissions-free grid—ahead of California's 2045 target.
But the push for renewable power isn't just about the county, Eggemeyer said. Though PCE buys clean energy for local residents, not all those "green" electrons go to local homes. Instead, they go into the power grid for California and other Western states, helping make that larger grid more renewable.
"The way I look at it is, 'Sure, we can look at it in numbers relative to San Mateo County,'" Eggemeyer said. "But it's really about helping all of California."
Besides cleaning up the grid, PCE is also contributing to sustainability in other ways. As a not-for-profit public agency, it invests all excess revenues in community projects, including incentives and charging for electric vehicles, and most recently, a $10 million plan to buy solar backup batteries for medically vulnerable residents in light of recent PG&E power shutoffs.
PCE's accomplishments, Pine asserted, speak to the power of having a local agency that is solely focused on greenhouse gas reduction.
"Peninsula Clean Energy is the foundation for our efforts to reduce carbon emissions in San Mateo County," said Pine. "We've been extremely successful with respect to energy. Now we have to move to the other big emitters: transportation and buildings."