It is her form of therapy.
Every Wednesday at 5:30 p.m., Paulette Brown shows up at San Francisco's city hall for a police accountability meeting, which aims to field complaints about officers.
"I'm still asking what more can be done for unsolved homicides, including myself," she told the board Oct. 2. "Even though it's been 14 years for me, I still cry."
Her son — Aubrey Abrakasa — was murdered in 2006. He saw gunmen with automatic weapons approaching the intersection of Baker and Grove Streets and warned people to run, getting shot 30 times in the process. He was 17 years old.
"I had to walk across the stage and receive his diploma. He worked. He was a good son and he was my only son," Brown said.
Abrakasa's case remains unsolved. The police are still waiting for witnesses to come forward and there is currently a $250,000 reward for information leading to the arrest of the suspects. Brown said she believes the police know who the assailants are.
According to the San Francisco Police's website, there are currently seven cold cases with the latest dating back to 2002. The city's clearance rate, in which there is an arrest or some kind of conclusion to the case, is much higher than the national average. In 2018, the city's homicide clearance rate was nearly 100 percent.
"Investigators constantly work on cases and follow up on leads," Officer Robert Rueca wrote in an email. "Cases can remain open indefinitely if they have not been solved, which includes the identification and/or arrest of a suspect."
Brown can remember the day her son died in the hospital, watching the police leave.
"'Aren't you going to find out who murdered my son?'" She recalled saying. "Their words to me were, 'We don't get paid for overtime. We're going home.' And I've never forgot that. That fueled my fight even more. It wasn't that I hated them, they didn't kill my child and I can't make them stay. I had to do the work."
Brown carries posters of not only her son's reward, but other young people killed. These flyers can be seen online but Brown wants a physical presence in the neighborhood in hopes of attracting witnesses and confronting the assailants.
"I have to climb up on the pole all the time and, and stick them up there, for someone to take them down again," she said.
Brown's wish for a permanent memorial may be granted: a plaque where Abrakasa was killed is in the works.
Getting witnesses to come forward is difficult. George Jurand, a former program coordinator for the San Francisco Sheriff's Office, said he has seen cases were witnesses were killed.
Matthew Clair, an assistant professor of sociology at Stanford University, said lower income communities of color have seen the police as ill equipped to deal with violent crimes.
"The witnesses are afraid to come forward, most likely, because maybe they'll be implicated in some way or think, 'Can I trust the witness protection program is actually going to protect me?'" he explained.
Brown said she feels a disparity in the way her case is handled, especially since they are an African American family.
"I still feel if my son was a little white boy with blond hair and blue eyes. I wouldn't be going through this," she said, believing her case should have been solved.
Clair cites studies that show, in some states, if a white victim was killed, there is a higher chance of a death penalty as punishment than if it were a black victim.
"There is this statistical reality of a devaluation of black victimhood and black victims," he said.
Brown is a lead facilitator for a bimonthly support group called The Healing Circle.
In 2005, San Francisco had a slightly increased rate of homicides in 2004 and 2005. Brown said in her experience, the existing support groups about homicides then did not seem to cater to lower income neighborhoods of color. And so, during this period, The Healing Circle was started by another family who lost their son in a homicide.
After their son's case was solved, the family let the reins go to others. Brown started going six months after Abrakasa's death, eventually becoming a facilitator.
The Healing Circle is also unique for giving people emotional support after the initial year that other immediate services cover. They also help with funeral costs through donations.
"From the day it happened to a state of stabilization," said Jurand, who has since retired from the city. He has been The Healing Circle's second facilitator since 2004. "And we are there after years down the road."
It was a group of six at October's first meeting in the Bayshore Business Center in San Francisco. Mothers, partners, fathers, and sons who all suffered losses found the group as a way to express pain.
Along with the emotional support, Brown stressed action– showing your persistence to the court and police.
"Sometimes you gotta be humble," she said to the group, remembering incidents when officials walked away from her. "You gotta get on your knees and cry."
One of the attendees was Sangita. Sangita's significant other, Raheem, was robbed and murdered in March 2017.
"And he was the type of person who gives you his last dollar," Sangita said.
The assailants were found that September and are currently in jail. However, the trial for Raheem's murder has yet to be set. Sangita said the assailants' legal representation has requested extended time for the case, pushing back the trial's date. The judge also pushed back the trial, saying they did not have time to review the case. She recalled her victim advocate, a professional hired by the district attorney's office to help victims, telling her there are cases that haven't gone to court for years.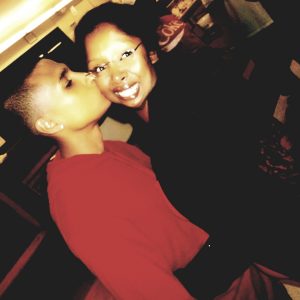 "I'm gonna have to sit there for trial one day. And while I'm doing these years of therapy and trying to heal, it's going to start all over again," she said.
Sangita had difficulties finding a support group in the Peninsula and Bay Area that supports families who have lost someone due to violence, since the existing ones were mostly for those who lost loved ones to illness or cancer. The Healing Circle was the last on the list of groups her victim advocate recommended her.
"I came here and felt welcomed. Even with my own close friends, the ones I grew up with my whole life, I don't feel comfortable talking to," Sangita said.
Brown even went to a preliminary hearing with her.
"Even though she's so supportive and I know she was there for me, I could tell that she can't wait for that day to come for her," Sangita said. She requested that Peninsula Press not use her last name because the case is still pending.
Despite her pain, Brown says she looks forward to The Healing Circle.
"Not only is it for other mothers and fathers and relatives, it is for me too. I get my strength through them and they get their strength from me," she said.