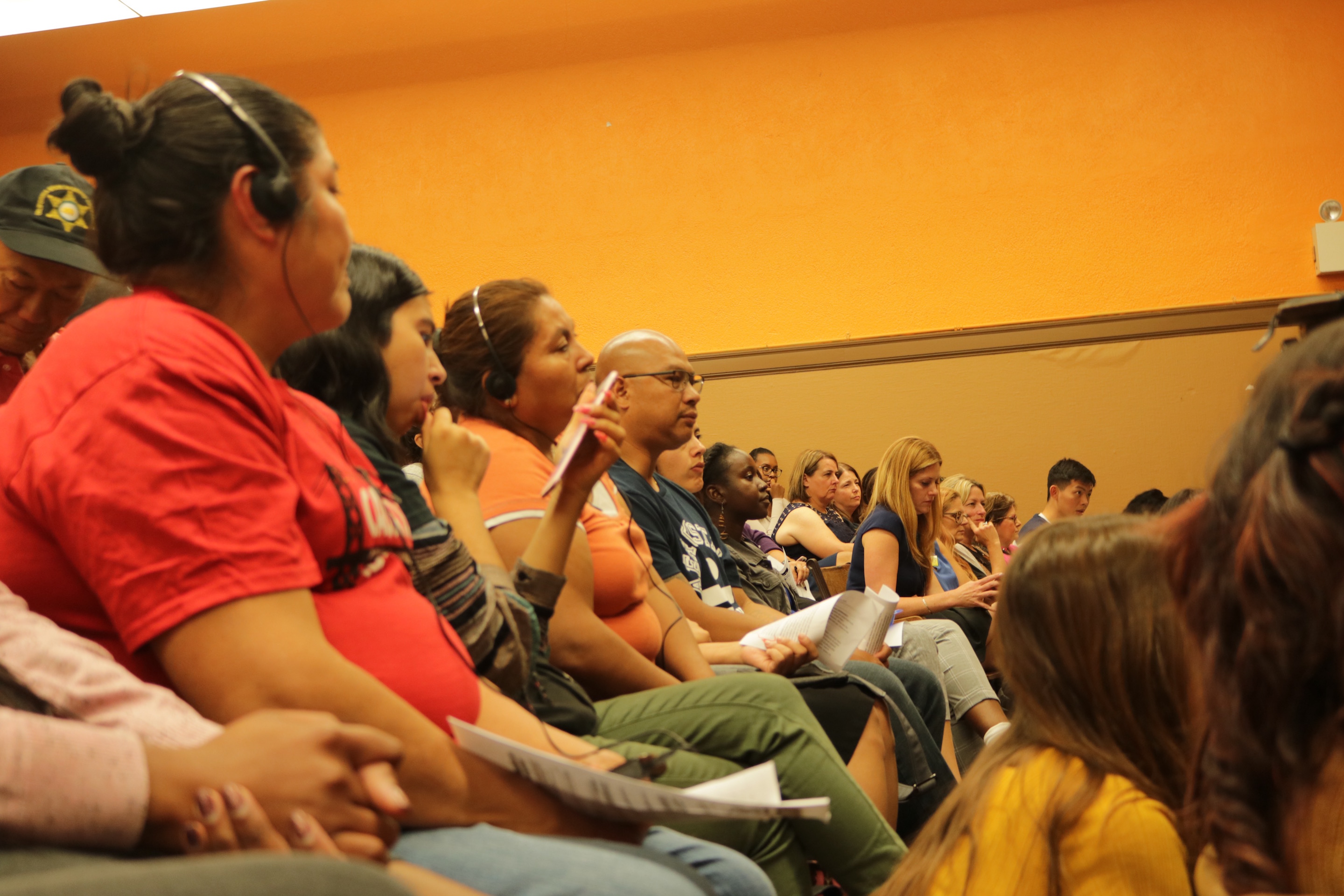 The District Attorney candidates were supposed to be talking about immigrant rights. But a candidate forum in a packed theater at Mission High School took a dramatic turn on Oct. 7 as audience members protested the decision by Mayor London Breed to tap Suzy Loftus, her favored candidate, as interim DA.
A small group of attendees waved signs opposing Loftus and repeatedly interrupted as she responded to questions.
"Shame! Shame! Shame!" one attendee chanted at Loftus, a former president of the San Francisco Police Commission.
The confrontation at a forum held by the FREE SF Coalition, a network of two dozen immigrant rights groups, came four weeks before voters head to the polls in an election pitting Loftus against rivals Chesa Boudin, Leif Dautch and Nancy Tung.
The four candidates used the forum as a chance to boost their credentials as defenders of immigrant rights, positioning themselves to join a group of prosecutors that have made fighting deportation a signature response to the Trump Administration's aggressive push to detain and remove undocumented immigrants. The issue is one way the San Francisco candidates have signaled they would reflect the city's progressive values if elected to the top prosecutor post, balancing criminal justice reform with public safety.
The November election was set to be the first District Attorney race without an incumbent in more than 100 years, a historic occasion that has sparked a competitive four-way campaign. But the contest has grown more contentious in recent weeks after Mayor London Breed on Oct. 4 named Loftus to fill the seat vacated by DA George Gascón.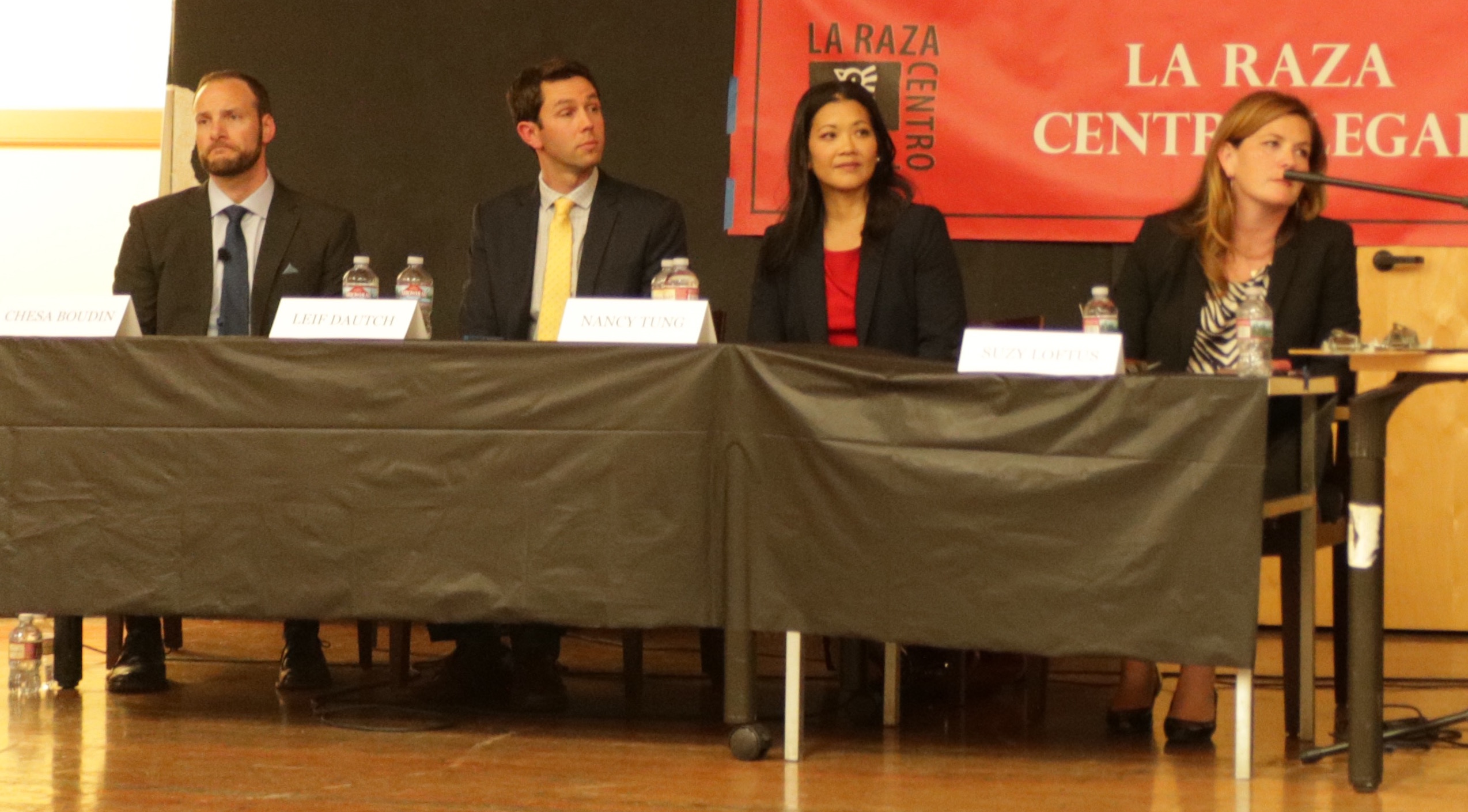 The surprise appointment has prompted a backlash from the American Civil Liberties Union and other critics, who say the temporary post gives Loftus an unfair electoral advantage. At the forum, Loftus' three rivals criticized the appointment, while Loftus defended the decision.
"The voters will decide who San Francisco's next district attorney is on the ballot," she said. "When an unexpected thing happens, and George Gastón vacated his post unexpectedly, and the mayor asks me to serve … I'm going to say 'yes'."
The contest at times has accentuated the candidates' differences. Boudin, a deputy public defender in San Francisco, has fashioned himself as the most progressive candidate in the race. Dautch has touted his managerial experience in the attorney general's office and won an endorsement from the San Francisco Deputy Sheriffs' Association. Loftus, who was sworn in as interim DA on Oct. 19, has emphasized her part in changing the city's use-of-force policies. Tung has stressed her years of experience as a prosecutor in San Francisco and Alameda counties and is seen as leaning more conservative compared to her rivals.
The Monday evening forum highlighted some points of discord among the office-seekers.
In one exchange, Boudin charged that Loftus and Tung had served as prosecutors while the DA's office had a policy of handing juveniles over to U.S. Immigration and Customs Enforcement under Kamala Harris.
Loftus replied to Boudin directly.
"Any policy that allowed for the cooperation to turn juveniles over to ICE was a mistake at the time. It's a mistake now," she said. "Anyone who had that position was wrong then and it will not happen under my administration."
Boudin, who won the most vocal support from the forum audience, has made immigrant rights a cornerstone of his platform, campaigning on his role in creating an immigration unit in the public defender's office. He has proposed starting a similar immigrant rights unit within the DA's office, which would offer immigrants plea deals that don't subject them to greater risk of deportation.
He also used the forum to take the strongest stance against ICE, vowing to prosecute ICE agents who "come to our courthouse and arrest people who are coming to give testimony, or are court-ordered to be there" and "lure families into being falsely arrested when they go pick up their kids in Spanish-speaking churches."
In an interview, Tung said Boudin's position "makes for good soundbites" but isn't practical.
"It's one thing to not cooperate with ICE because as our own city, we have that right," she said. "But to say that ICE is violating some type of criminal statute by executing the authority it has under federal law is something completely different."
The forum did reveal points of consensus.
The four candidates echoed one another on the need to improve outreach to immigrant communities, enforce the city's sanctuary city policies and protecting immigrant victims of crime.
Existing statutes already bolster the rights of immigrants in San Francisco. A pair of city ordinances limit the ability of city employees and police to cooperate with ICE and California law requires prosecutors to consider "the avoidance of adverse immigration consequences" during the plea bargaining process.