Caleb Wurlitzer was stepping out of his bulldozer for a quick assessment of a contingency line on Nov. 11, when he glanced behind him and saw flames approximately 600 yards away and getting closer. At age 21, he'd been fighting wildfires for three years, but the Camp Fire, raging through Butte County in Northern California, was unlike any other he'd experienced — because of how fast-moving and far-reaching it was.
"I looked over at one of the more experienced operators and I saw the fear in his eyes… I wasn't really worried up until that point," Wurlitzer recalled.
While toiling to protect an area called Berry Creek, Caleb and seven other bulldozer operators went from working on a contingency line to working on the fire line, as windswept embers and flames jumped nearly 300 feet over Lake Oroville.
Without the lake to provide a safe buffer, they were now directly in the fire's path.
With the flames and smoke on their side of the lake, they believed their only escape route was cut off, so they built a bigger safety zone and had only one thing left to do — wait to be overtaken by the fire.
Wurlitzer works with his father and sister for Wurlitzer Farms — one of 18 bulldozer vendors contracted by Butte County Cal Fire for extra assistance in combatting an increasing number of wildfires that have strapped the state's resources.
As fires tend to become larger and more destructive, Cal Fire turns to its private contractors — like Wurlitzer Farms, which is contracted by both Cal Fire and the Forest Service — to support their efforts.
Scott McLean, deputy chief of communications for Cal Fire, says Cal Fire uses private contractors when significant incidents happen that require extra resources. He notes that approximately 14,000 individuals overall were assigned at the height of the fires earlier this year.
"You reach a certain point where they're requested to bolster our abilities," McLean said.
Before they are hired, private contractors pass a formal training and their equipment is inspected. Yet, even with well-defined operating procedures for private vendors, some situations just can't be planned.
As Caleb Wurlitzer tried not to think about the dangers at stake, his father and founder of Wurlitzer Farms, George, watched anxiously from an elevated safe zone a short distance away, wondering if the eight bulldozer operators that worked for him — including his son — would emerge alive.
"Difficult, very difficult," said George Wurlitzer, when asked by Peninsula Press recently to recount Nov. 11, while sitting in his living room. As he spoke, a decorate piece hung just above him echoing his message, the quote read, "What I love most about my home is who I share it with."
In all of his 33 years working on fires, one hour and twenty minutes burned into George Wurlitzer's mind from this incident. He watched the whole scene unfold from the elevated safe zone, just a small distance above those he felt responsible for.
As both a business owner and father, George Wurlitzer operates his family-owned business on two rules: Whoever goes to the fire, comes home from the fire. And always follow rule number one.
California's most destructive fire put Wurlitzer's rules to the ultimate test.
Covering about 153,336 acres, the Camp Fire was the deadliest fire in all of California's history. The fire killed at least 85 civilians and destroyed 13,972 residences, 528 commercial structures and 4,293 other minor structures, according to Butte County Cal Fire's Nov. 25 incident update.
As flames nearly enveloped the eight bulldozers, there was no forgetting that one of the heavy fire equipment operators was Caleb.
"I got a text from my dad and it was saying, 'Hey, I don't know where you are but look up…I love you," Caleb recalled. Although he tried not to think about it at the time, there was a moment after Caleb looked down at his phone that he thought it could very well be the last text he would ever receive.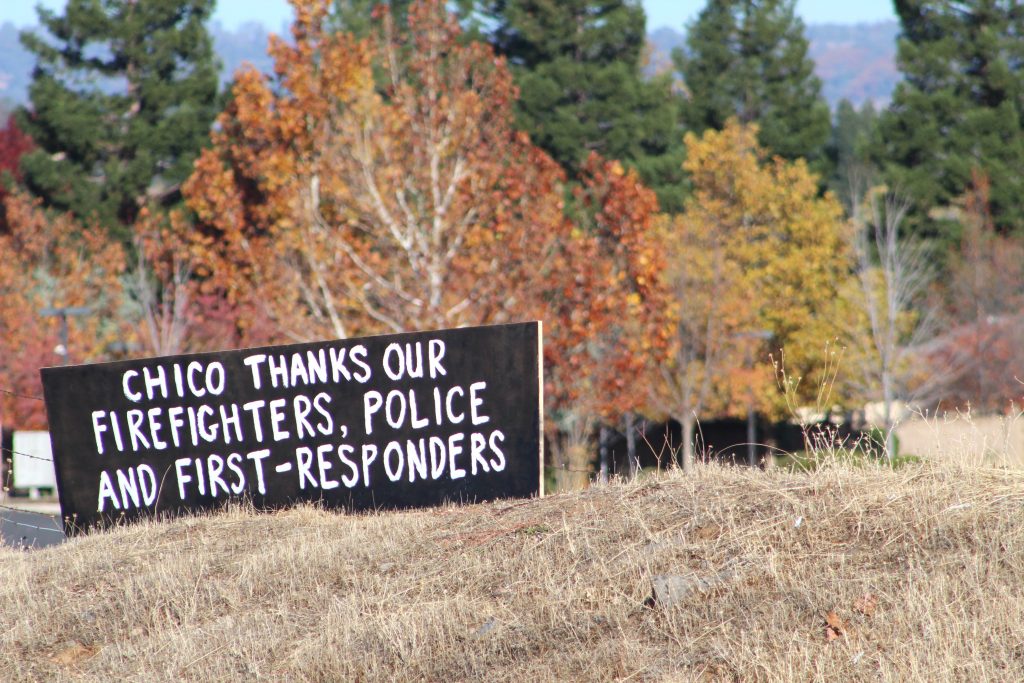 It was an unexplainable feeling of isolation and slowing of time that made this experience different for Caleb.
In all his time working on fires, Caleb learned not to be afraid of the encroaching wall of flames that might quickly overtake his group. Nor the feeling of being completely surrounded by smoke, secluding him from the undiscernible blue skies. This time, it was being isolated from his loved ones and not having any control over his situation that felt different. Rather than worry about his own safety, he wondered, whether his family would be okay and grudgingly waited for the fire to determine his next move.
"I'd rather it'd be me out there just 'cause I know I can take care of myself whether it's my dad or sister or someone else I'm working with there's that unknown, will they know what to do?," said Caleb.
Krista Wurlitzer spent her 23rd birthday by her father's side, watching the spot fire threatening her brother's life, from the vantage point of a lookout tower.
Out of the eight children, only the youngest two, Caleb and Krista Wurlitzer, would work for the company George Wurlitzer started in 1996. Yet, their childhood memories of riding bobcats and skid steers at the family shop, would not prepare them for the spot fire.
What had started as a picturesque scene overlooking the ridge, took an intense turn. All of a sudden, Krista noticed an alarming change in the fire.
"The smoke just got dark and angry…and it was all of a sudden really close to us," Krista said. "It went from a brownish tan color that looked like it was a couple miles away, to…black and maroon and it was a mile away."
With a spot fire confirmed over the radio, Krista and her father, George, soon realized their worst fears, as strike teams of engines and personnel from the correctional facility pulled back into the safety zone.
Caleb Wurlitzer was still down there.
But sister, Krista Wurlitzer, never lost hope.
"There was a lot of stress and chaos going on…[but] not for a second did I think that my brother wasn't going to make it out. Not only do I have a God that's bigger than that, but also, like my brother knows what he's doing and he's really good at his job," said Krista.
"He was in a few minutes of possibly not making it. All of the bulldozer operators he was with…began calling their families and saying 'I don't know if I'm going to make it. I don't know. And they did. Everything turned out okay. But this is the first time that I thought, 'Oh my gosh, I almost lost one of mine," said mother, Lori Wurlitzer, choked up with tears over the phone.
With the help of planes dropping retardant and better visibility, the bulldozers made it out with five to ten minutes to spare. For a bulldozer that goes 4.2 miles per hour, that's scant in terms of distance, explained George Wurlitzer.
"If they waited ten minutes longer, they would have been all entrapped and they all would have burnt."
There were no fire fighter fatalities on the Camp Fire. Only two reported fatalities of privately contracted bulldozer operators have been recorded in the past three years by Cal fire.
"We appreciate the work that our private contractors do," said Rick Carhart, public information officer for Cal Fire Butte County Fire Department.
"Those are operators that are out there doing some of the most dangerous work that there is on the fire line…and we really appreciate it…there are a lot of things that we are able to do because they help out, that we couldn't do without them."