The boutique shops once owned by local up-and-coming fashion designers are nearly gone from San Francisco's Union Square and Oakland's Jack London Square. The culprit: the same Bay Area rents that pushed some budding chefs out of brick-and-mortar storefronts and into food trucks.
Unable to afford store leases of $6,000 or more each month, newcomers to the Bay Area fashion scene have turned to pop-up shopping experiences. These include vendor booths at local events and even the fashion equivalent of food trucks.
"The absurdly high cost of living in the Bay Area creates an extremely challenging environment for small businesses to stay afloat, much less thrive," said Kevin Biggers, chief strategist for San Jose Made, an organization that helps up-and-coming designers grow their brands by periodically sponsoring pop-up events. "A lot of emerging brands within our network are run part-time or run by people who do a lot of freelancing on the side."
Selling their garments and accessories through pop-ups is not only cost effective for local designers who cannot afford to take on their creative endeavors full-time, Biggers and others say, but also can be exciting creatively.
"With San Jose Made, we try to offer as many low-cost or no-cost retail opportunities as possible throughout the year," Biggers said. "Pop-up shops work so well for these creative retailers because it takes back control of the narrative."
In the past five years, the city of San Francisco has seen a 47 percent increase in the average price for renting a retail space, according to data from commercial real estate analyst CoStar Group. San Jose experienced a similar increase, and the jump has been even steeper in the East Bay Area — 53 percent. A 2,500-square-foot storefront in San Francisco could cost an up-and-coming designer about $10,000 a month.
"I've watched the [rent prices] over the years continually go up, up and up. It can eat up a lot of your capital," said Bay Area native Tonya Montgomery. Montgomery owns Mixx Collection, a women's contemporary apparel brand that uses a fashion truck to reach its consumers. The Mixx Collection truck, loaded with garments handmade by Montgomery, roams the Bay Area, popping up on streets in popular neighborhoods in San Francisco and Oakland, as well as at local events. Montgomery's clientele, which predominantly consists of Bay Area residents, can find the truck's location via social media.
Montgomery, who balances a career in corporate retail with her creative endeavors, believes that pop-up shopping experiences can increase awareness of an emerging brand like Mixx Collection. "I would like to expand down the line into a brick-and-mortar storefront, but pop-up events allow me to go to where the consumers are," Montgomery said.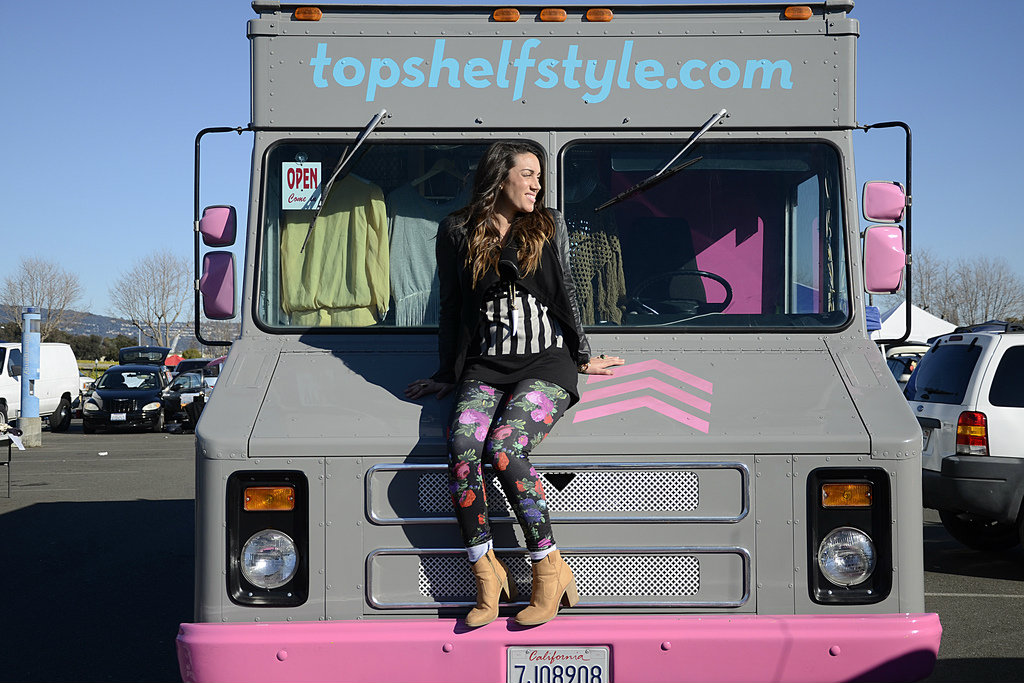 Fashion Institute of Design and Merchandising graduate Christina Battle also took the mobile boutique route to launch her brand, TopShelf Style.
"I always wanted my own store, but didn't know how to start one in such an expensive city. By doing so in a truck, it was more affordable," Battle said. "I tended bar for 10 years in San Francisco before starting my business. How was I going to prove that I could sign a one-, three- or five-year lease?"
While vendor booths, pop-up shops and fashion trucks can help cut costs for local designers, these methods are not without challenges. To begin, there's the city of San Francisco municipal codes, which require that anyone hoping to own and operate a fashion truck apply for a permit and maintain an annual license. This process can be lengthy, frustrating and costly, according to Battle. Permits are not always available, they are easily lost at the slightest violation, and once lost, it is often a struggle to get them back, she said.
"It was easily one of the toughest challenges of my life," Battle added. "You have to want something really badly to go through this whole process."
In 2017, Battle put her TopShelf Style truck in park for the final time and opened Isalis, a women's clothing boutique on San Francisco's Post Street. While the storefront is not large, a steady stream of women flow through its doors, some just stopping by to take a closer look at a garment in the window, and some loyal shoppers who have followed Battle and her brand since the days of the TopShelf Style truck.
"It was the hardest work I've ever done and I'm no stranger to hard work," she said of her experience operating a fashion truck. "Ultimately, it ended up being the gateway to getting a store, so it was all worth it."