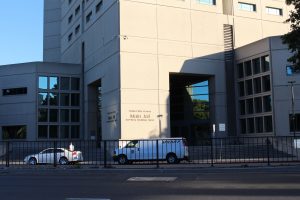 Santa Clara County's five-term sheriff, Laurie Smith, is facing her toughest re-election battle in two decades amid heightened scrutiny of her record and recent high-profile deaths at the county jails.
Smith's opponent, former Undersheriff John Hirokawa, has advocated for independent oversight of the Santa Clara County jails following the murder of mentally ill inmate, Michael Tyree, three years ago.
The death of inmate Isai Lopez in October – determined to be a suicide by authorities, a finding that his family questions — and interviews of inmates by Immigration and Customs Enforcement agents have been issues during the campaign.
The focus on the deaths and problems at the jails appear to have contributed to Smith's lowest pre-general election polling numbers in her career. In the 2018 primary, Smith won 43 percent of the vote compared to Hirokawa's 32 percent.
In the 2014 and 2010 primaries, Smith won an outright majority – 59 and 62 percent respectively – and avoided a general election runoff.
Martin Monica, a former San Jose law enforcement official who ran against Smith and Hirokawa in this year's primary election, credits the high visibility of this particular sheriff's race to Tyree's death. Three deputies were convicted of second-degree murder and sentenced to 15 years to life in prison.
"What's at stake, is the lives of the community, the lives of people out there," he added.
Smith defended her handling of the Tyree incident. "We addressed it quickly," she said in an interview. "We arrested three of our own deputies."
For the campaign, Smith said she was focusing on her strengths, citing what she described as her leadership opposing President Donald Trump's "unconstitutional immigration policies" and holding others in the sheriff's office accountable.
"I am very strong in those areas and maybe that's why some people in the organization do not support me," said Smith of people who oppose her within the sheriff's office. "It's because they know I will hold people accountable."
Smith's campaign focused on community protection and advocacy for vulnerable populations, including victims of gender-based violence. Addressing mental health and homelessness was also listed as a priority on her re-election website.
County Supervisor Cindy Chavez said she supports Smith because Smith is the most qualified of the two candidates to lead reforms in the jails and has had the right approach for working with the immigrant community.
"[S]he understands that we don't want anybody in our community to feel afraid to call the police," Chavez said.
Hirokawa's campaign focused on his desire for transparency. He advocated for independent oversight of county jails and supported direct community outreach in order to build trust between law enforcement officials and minority groups.
"You bring them into classes so they can explain and give their stories about how maybe they felt they were being profiled… and how they feel that law enforcement might have treated them unfairly based on their perspective," Hirokawa said in an interview.
Hirokawa has faced questions about his response to a racist-misogynistic texting scandal that resulted in the firing of three deputies and the demotion of Don Morrissey – previously a sergeant and president of the sheriff's union for failing to report the messages. Hirokawa had said the demotion was too severe.
Due to Hirokawa's stance on Morrissey's demotion – some organizations that previously supported his campaign such as Santa Clara County Democratic Club and the San Jose Police Union – pulled their endorsements.
"Those accusations about me and my participation are misrepresentations…the bottom line is, Laurie Smith is the sheriff. She has the authority and the opportunity to [have] fired Don Morrissey, but she chose not to," Hirokawa said.
Santa Clara County Sheriff Detective Matthew Peyton said he is supporting Hirokawa.
"Hands down, I know John is the better candidate," Peyton said. "He's overall just the better person…I think he's going to continue to do well."
According to Santa Clara County's most recent filings, Smith raised over $235,000 in monetary contributions and still had about $116,000 after expenditures on Oct. 20.
Hirokawa raised over $66,000 and loaned the campaign $100,000 – bringing his monetary contributions up to $166,000. He still had about $42,000 after expenditures on Oct. 20.