Eager new phone bankers arriving at the Democratic Volunteer Center on San Antonio Road in Palo Alto are greeted with a big smile and a question: "Who would you like to make calls for today?"
Some nod at names like Senate candidate Beto O'Rourke from Texas and Senate candidate Jacky Rosen from Nevada.
"I want to call for Heidi Heitkamp!" says one volunteer, referring to the embattled North Dakota senator, but Heidi's not on the list this day. With only a few days to go until the Nov. 6 midterm elections, says one of the organizers, they're focusing in on candidates whose poll numbers are more hopeful.
Volunteers across a large office space ding bells next to their station in excitement after a successful call, even though they likely have never seen a lawn sign, can't cast a ballot for this candidate themselves, and often don't even live in the same state.
The Democratic Volunteer Center (DVC) has been coordinating volunteers supporting Democratic candidates for office since it was founded in 2010. They opened their first brick-and-mortar office this year in Palo Alto, a heavily Democratic-leaning community. In fact, no Republican Presidential candidate has won a majority vote in Santa Clara County since 1984.
Phone Bank Director Karen Rivers coordinates hundreds of volunteers who come through the doors of the center each week. In the last couple of weeks prior to the election, the DVC is running phone banks every day. She said during presidential elections, volunteers at the DVC typically call voters across the country to support the Democratic candidate, but midterm elections had a narrower focus until this year.
"Maybe in previous midterm elections people would say, 'Well, I really just want to call for this person.' Now, it doesn't matter. You say, 'We're calling for Democrats.' Boom. The callers want to do that," Rivers said in an interview.
Out of 12 candidates the DVC has supported this year, nine of them have been from other states, including Texas, Pennsylvania and Ohio.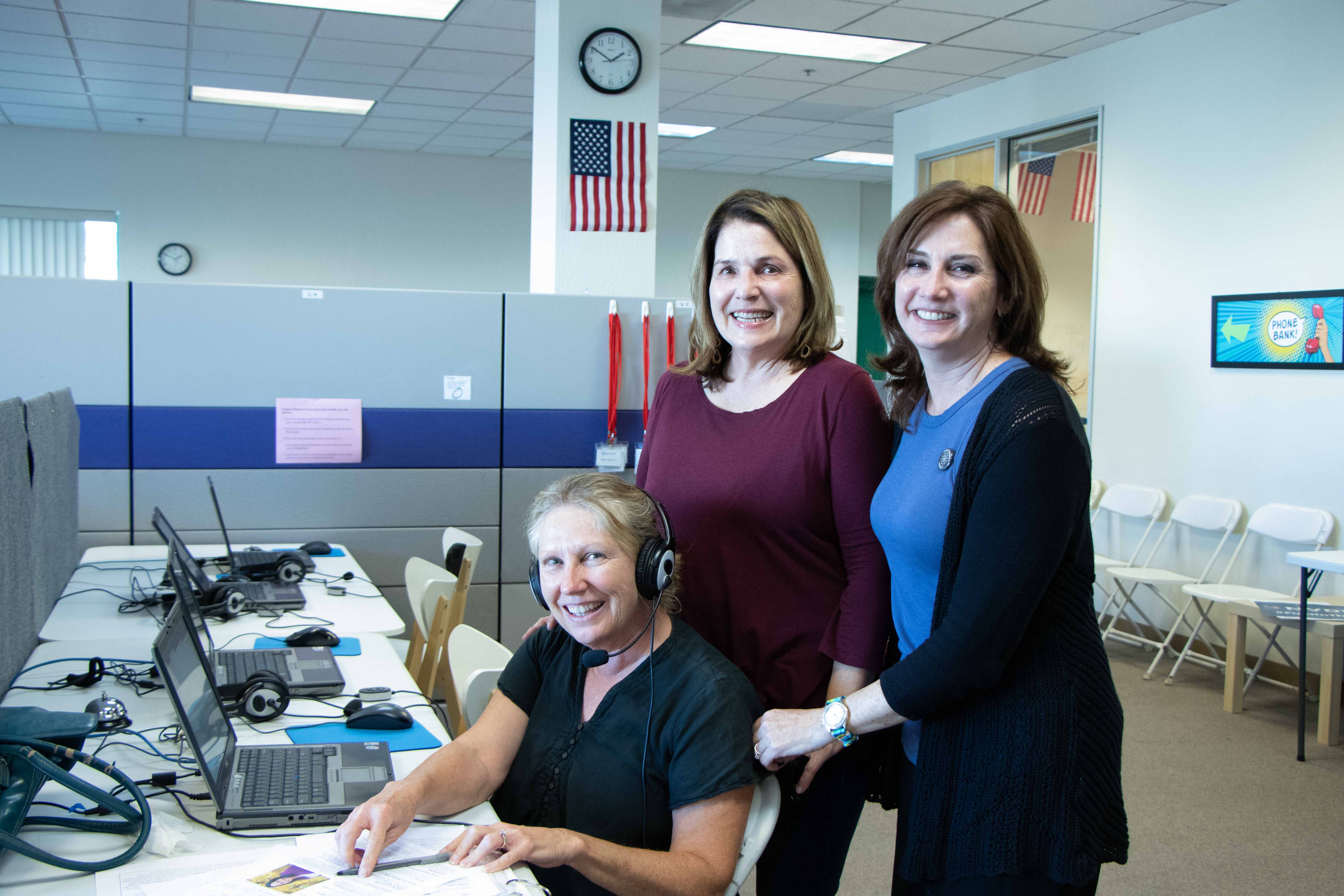 While California Republicans have also been actively invested in this year's midterm elections, their docket of phone banking events shows a keen focus on Bay Area local races, and some closely contested congressional races around the state. Their scope extends as far as Southern California, but coordinated efforts tend to stay within state lines.
Rivers attributed the shift to Democratic volunteers' fears and frustrations regarding the current political environment and concerns about what might happen if Republicans continue to control both houses of Congress after the Nov. 6 elections.
"People are much more energized," Rivers said. "People are angry. They're sadder. We were just shocked by the results of the 2016 election and we're very anxious. We do not want something like that to happen again. So I think that's what's motivating people."
While some volunteers show up to the DVC ready to offer their time to any Democratic candidate in need of support, others are coming laser-focused on specific races across the country.
On a recent Wednesday afternoon, one section of the phone bank was reserved for the Sister District Project's South Bay Team. Seven volunteers called number after number to remind Colorado voters to "Keep the Faith" and vote for Faith Winter, the Democratic State Senate candidate from one of the team's three sister districts.
Sister District Project was founded in 2016 and matches teams of volunteers with Democratic candidates for state legislatures across the country. Many of the teams are majority female, but the organization says they welcome men also to join Sister District teams.
"I did not have a political bone in my body," Marni Rubin, co-founder of the Sister District South Bay Team, said in an interview. But the Sister District Project's mission spoke to her growing political concerns. "After November of 2016, I realized that we needed to do something to make a huge difference in the political landscape."
Rubin said the Sister District's focus on State Legislature races, rather than national elections, is critical to Democrats' long-term strategy.
State legislatures decide on redistricting and are responsible for gerrymandering that could impact the outcome of future elections. They vote on issues that impact an entire population, like public education, transportation and affordable housing. And according to Rubin, the State Legislature campaigns themselves are much smaller in scale and budget, so teams of volunteers can have a much bigger impact.
How do voters in other states feel about campaign volunteers calling them from California? Joan Quigley is a member of the Sister District South Bay Team, and said she sees a broad range of reactions during her phone banking. She gets a fair number of people hanging up on her, or even getting angry for calling, but she said she also encounters gratitude.
In an interview, Quigley recounted one conversation where a voter in Kentucky asked why she was calling from California. "I said, 'We're calling whoever needs support. We get campaigns calling us and asking us if we could help them and we reach out to other campaigns.' And he said, 'Well, that's really cool! I really appreciate your doing that.'"
Catherine Grundmann is Co-Captain of the CA Peninsula team for Sister District Project, that brings together members from the San Francisco Bay Peninsula. She also got involved with Sister District Project in the wake of the 2016 election and saw it partly as a way to have a greater impact from within a very Democratic bubble.
"I wanted to make a difference even though I live in a very blue state. I wanted to volunteer in an area that's not blue and try to turn it blue," Grundmann said in a phone interview.
Like Rubin, Grundmann emphasized the opportunity that state legislature races provide for individuals and small groups to have a big impact. Pennsylvania's District 176, one of the CA Peninsula team's sister districts, has around 40,000 registered voters, half of whom are forecasted to vote in the upcoming election, said Grundmann. During the weekend prior to the Nov. 6 Election Day, her team plans to call 2,000 voters in the district.
Grundmann said while the main goal is to help the candidates, making calls helps the volunteers too. "It's so much more positive," she said. "It's not people just wringing their hands about how awful things are."