SAN FRANCISCO —  At 9 a.m. on a recent Saturday, dozens of young, African-American women, ages 13 to 17, stood in a line outside a tall, glass-plaited building to learn the complexities of bitcoin — a digital currency with a market that's worth more than $100 billion.
The event was part of Black Girls Code, a nonprofit groups that teaches technology and coding skills to African American girls.
Charmeinne Butterfield, a sophomore in high school, was among the crowd. She has been coding since she was 6 years old.
"My favorite language right now is Python," said Butterfield, while handing out her business card. "It's really universal."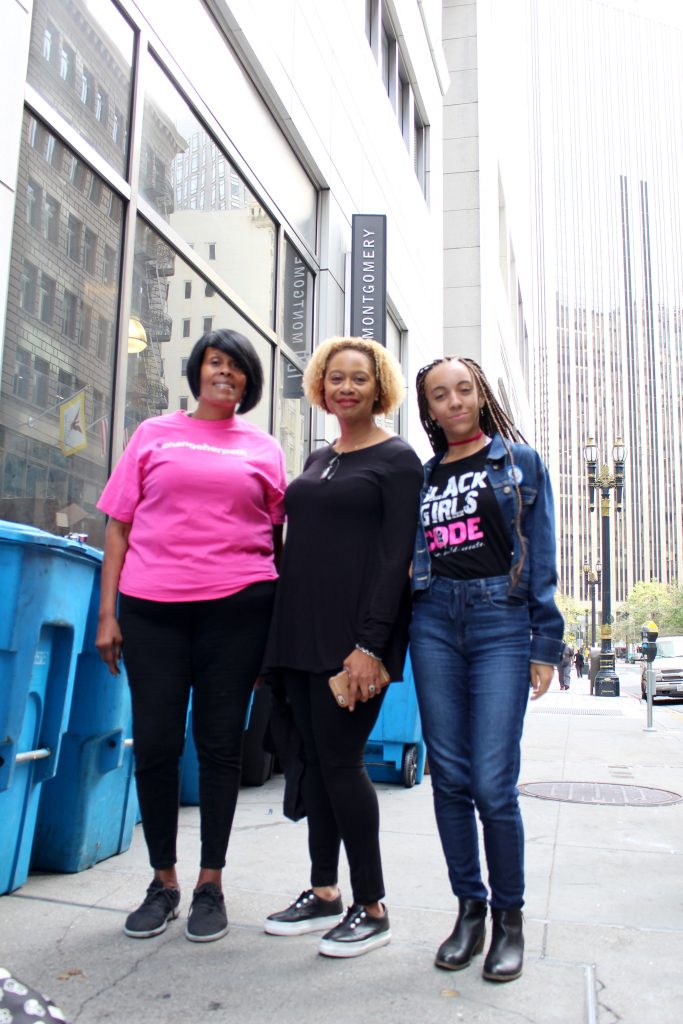 Butterfield attended the event with her mother, Amanda, who is also her teacher.
"We decided to homeschool to make sure they got the best education possible, especially for children of color," Amanda Butterfield said. "We didn't want them to fall through the cracks."
Charmienne's older brothers are also pursuing careers in tech, a fact Amanda Butterfield said is not an accident.
"From the beginning, everything was geared at getting them in the tech industry," she said. "It's where the jobs are."
The tech industry might be where the jobs are, but bitcoin is where the money seems to be. Launched in 2009 by an unknown person who goes by Satoshi Nakamoto, the digital currency has inspired a wave of cryptocurrencies and trading platforms. Like bitcoin, most cryptocurrencies record their transactions on a list, or ledger, called a blockchain.
Since the ledger is distributed or "decentralized," there's no central authority, like a bank, needed to verify transactions. Blockcain enthusiasts hail this decentralization as being more equitable and egalitarian — as the technology becomes more ubiquitous, people who previously didn't have access to financial services through banks could conceivably gain access in this more decentralized economy.
Staffers at Black Girls Code said it's important that members of the group get ahead of trends like cryptocurrencies — which could potentially change how money moves around the world, and shape financial transactions in the future.
At the event, participants called Tech Divas, split into groups and learned basic blockchain and cryptocurrency principles.
"You can only add to the blockchain, you can't go back and change it," one instructor explained. "Unlike your bank, or PayPal where you have to trust them to be the intermediary, in this case, it's owned by the people, by everyone, everyone can participate in the blockchain."
Amber Morse, who leads community outreach and partnership for the organization, said she's excited to see more African Americans represented in the blockchain community.
"We hear it, and we're not exactly sure what it's all about," she said. "So this introduction to the basics and what the girls can learn is just really beneficial. We're excited to see how far this goes."