It's Oct. 9 and Mike Johnson's television is turned to Monday Night Football. The Minnesota Vikings play the Chicago Bears. Johnson sits with two friends on one dorm room couch, the wall behind them decorated with posters for popular movies like Pulp Fiction, Jaws and Star Wars: A New Hope.
The students are not watching the football game.
The day before, Star Wars had announced via Twitter that tickets for the Last Jedi would go on sale following the release of the movie's second trailer at halftime.
The trailer starts. the young men hush each other as the familiar John Williams score swells up over images of Rey, Luke and Kylo Ren, all main characters in the Star Wars universe. Mike starts refreshing his laptop screen.
Soon, all three men have receipts from Fandango in their inboxes. Star Wars: The Last Jedi tickets. Not tickets for release day, however. The Last Jedi opens on Friday, Dec. 15, but Mike and his friends will see the movie on Thursday, Dec. 14—not at midnight, not at 9 p.m., but at 3:30 p.m., the earliest possible screening for their time zone.
They turn off Monday Night Football.
Mike and his friends are not alone in their excitement. The popular movie ticketing website Fandango crashes repeatedly as everyone in the galaxy (Star Wars joke) seems to want to buy a pre-sale ticket at the same time, as reported by Fortune.com the next day.
It is not unprecedented for movies to bring out such intense fandom from their audiences. The San Diego Comic Con, a massive event held every July that is often looked upon as the epicenter of movie, television and comic book fandom, for example, has sold out consistently for the last 10 consecutive years, according to the San Diego Union Tribune. The paper reports that average spending by attendees at the event is almost $83 million annually.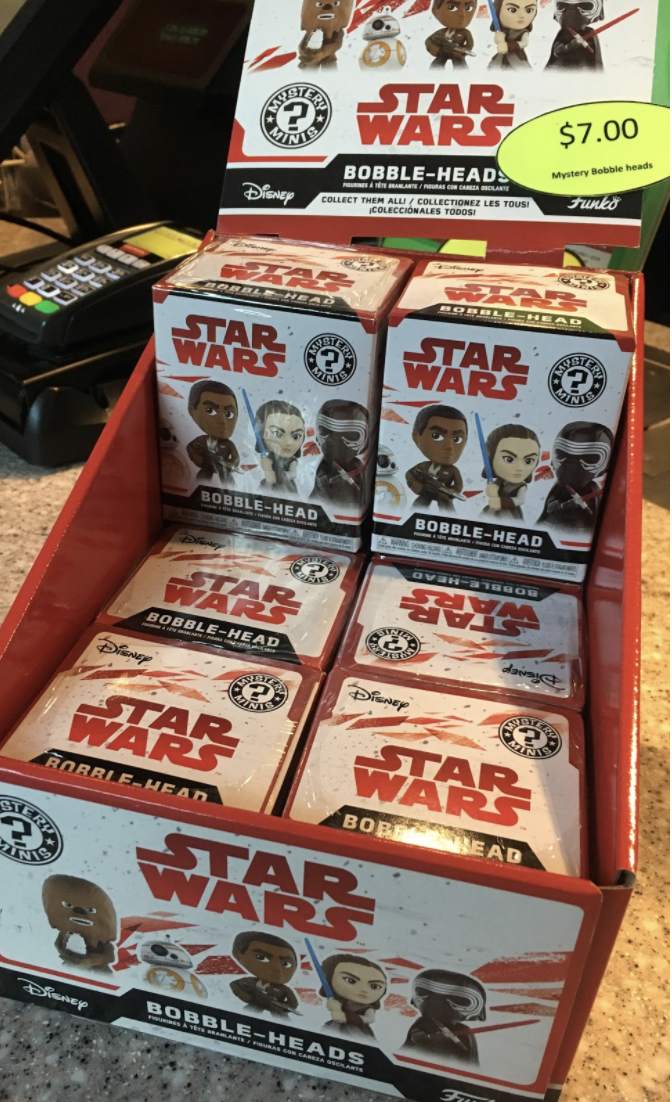 Solid opening weekends for blockbuster hits can more than quadruple that amount. The eighth film in the popular the Fast and Furious franchise, the Fate of the Furious had the most successful opening in cinematic history this summer with a global gross of over $532 million, reported Deadline, an entertainment news site. This beat out the most recent Star Wars film, The Force Awakens (2015) which grossed $529 million.
Opening weekend box office numbers can be predictive of long-term success for a movie, according to a study done by Jefferey S. Simonoff, a professor of statistics at New York University. The first few days of a movie's release typically account for 25 percent of total domestic box office gross.
Opening weekends are a big deal, and the fans aren't the only ones who are ready months before release date.
Prep-Work: the Theaters Do it All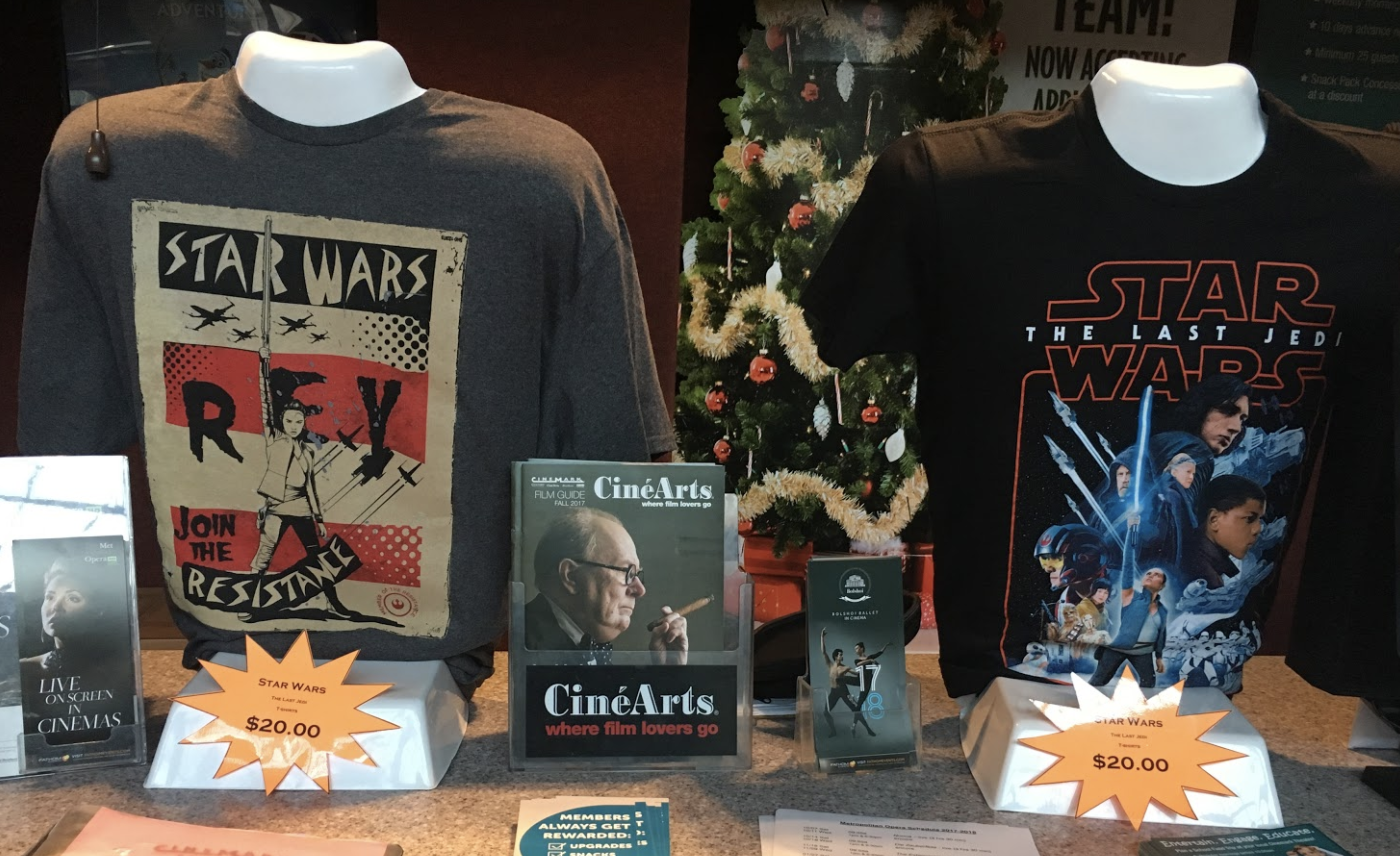 Movie theaters start their preparation around months before opening weekend. Screen logistics, fan events, employee hiring, merchandise orders and food stocks are just some of the areas that managers must plan for long before crowds stampede the ticketing booths.
Stephen Davis is used to the preparation. He has been working the ticketing counter at Redwood Downtown 20 and XD theater in Redwood City for almost 23 years. He says that after years on the job, blockbuster openings can become slightly predictable. They would not, however, work without the weeks of prep time.
One thing all opening weekends have in common is that they are crowded, Davis says. But the crowds are actually easier to manage, adds Ken Sheaffer, manager at Redwood Downtown 20 and XD.
"It's definitely stressful, but in actuality opening weekend crowds can often be way more understanding," Sheaffer says. "They anticipate the busy-ness… so often they don't complain quite as much. They are excited to be in the environment regardless."
Sheaffer has been managing the Redwood City theater since it opened in 2006. Today, he says it is one of the busiest theaters in the country, and that they do a lot of special premiere events for that reason.
"One of the biggest was definitely when the last Harry Potter movie came out. I still remember… we ran it on all 20 screens at the same time at midnight," says Sheaffer. "That was pretty fun."
Silicon Valley companies also often rent out the theater for private screenings.
"Apart from insane weekend crowds, everyone also wants to rent out a theater to watch Star Wars, so we definitely have to hire additional staff before big openings," says Sheaffer. "Usually about an additional 20 people or so."
An employee-wide meeting takes place about a month before opening day in which old and new employees alike are given a rundown on the impending craziness.
Sheaffer says that although training procedures don't change before blockbuster openings, it is imperative that employees realize they will have to come earlier, stay later and not miss any shifts.
New employees often don't know what to expect, Davis says.
"I just try to be a guide for them when I can," he says. "It can definitely be overwhelming your first time around."
And employees aren't the only things increased upon before big releases.
An employee at Century Cinemas 16 in Mountain View said that on a normal weekend, the theater gets four shipments of food supplies to the theater. On the weekend of the Last Jedi release, they will receive nine.
"It's ridiculous how much extra food we have to order before opening weekends," Sheaffer says. "We have to order so much extra stuff we can't even fit it in our stock rooms any more, we have to find extra places to stash it."
He lets out a frustrated breath.
"Then they start running out of stuff at the distributors, and then other theaters start running out," he says. "So, yeah, we definitely have to extra extra overstocked to be prepared."
Although Sheaffer says that he can often feel pulled in a million different directions, the reward on release day is enormous.
"The spirit is a blast," he says. "There's a guy that came in in a fully automated R2D2 contraption that he drove around for the release of the Force Awakens, and that's kind of cool."
Davis remembers when someone came in dressed as Gandalf for one of the Hobbit releases, "fully on stilts and walking around 10 feet tall."
Even two weeks before release day, the theater already has Star Wars paraphernalia all over the place. The ticket counter features a full merchandise display with two different shirts, posters, stuffed animals and even "mystery bobble heads", for which customers can open without knowing which character they will receive upon purchase.
In the corner stand life-size cutouts of the main characters, watching over the entire ensemble.
And behind all the decoration, is a giant "Now Hiring" sign.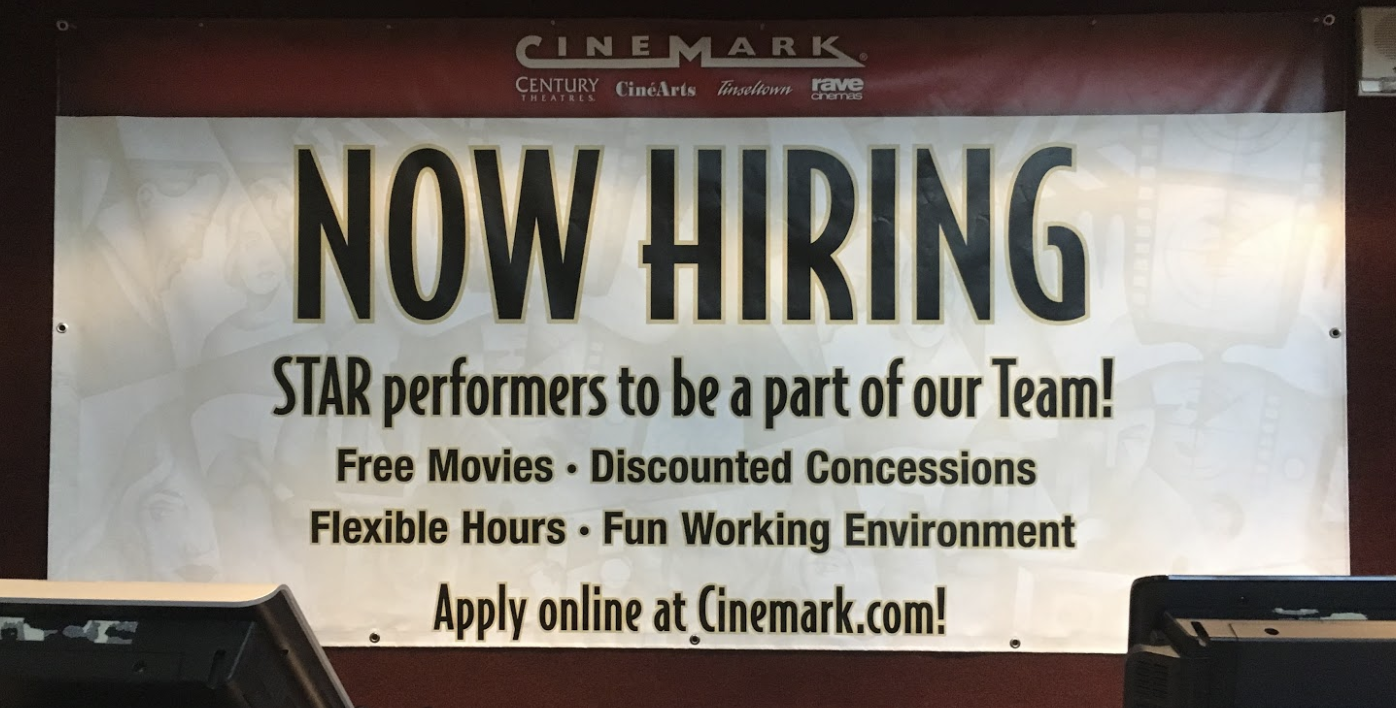 On Dec. 14, the plaza outside of Redwood Downtown 20 and XD, normally serene, is filled with hundreds of people. Most of them are in costume, a quarter of them wield lightsabers.
The man with the R2D2 "contraption" is back, and drives it around to the laughter of neighboring children and adults alike.  
Davis wears the signature Cinemark uniform of black polo and black pants, and Sheaffer wears an expensive looking blue suit. Despite the intense crowds, both have smiles on their faces.
"It's the movies," Sheaffer says. "Our business is about the movies. Everyone loves movies, and it's great to see people brought together by that common love."
Johnson and his friends mingle with the crowd. One of them wears a furry Chewbacca hat that covers his eyes, and another wears a Darth Vader t-shirt.
"So, so excited," said Johnson. "Now I want to see the movie already!"