A planned Google campus in downtown San Jose has city officials and business advocates anticipating an economic boom – and activists worrying it could further gentrify an area already facing an affordable housing crisis.
In late June, San Jose's city council voted to negotiate the sale of more than 20 acres of land near Diridon Station — a major transit hub for Caltrain, Amtrak, light rail and buses — to Google. The pending real estate deal is the first step in Google's plan to build a six to eight million square foot campus village with retail, public spaces and offices for up to 20,000 employees in the Diridon area. Major construction would occur between 2025 and 2027, according to a memo prepared by San Jose's deputy city manager, Kim Walesh.
"For decades, San Jose has been trying to recruit major employers into the downtown core," said Matt Mahood, president and CEO of The Silicon Valley Organization, a business interest group. "They haven't had a major employer relocate downtown since the mid-90s. So…it's a complete game changer for downtown San Jose."
San Jose is already experiencing a "Google effect," or spurt of land acquisitions by businesses hoping to invest in the city, he added.
In an interview, San Jose Mayor Sam Liccardo described the relationship between Google and the city as "dating, but not quite married." He said the city hopes to resolve real estate negotiations this year and to have a period of "robust community conversation around entitlements and benefits" in early 2018.
Proponents like Scott Knies, president of the San Jose Downtown Association, say the Google campus would transform an underdeveloped area into a futuristic, high-density village.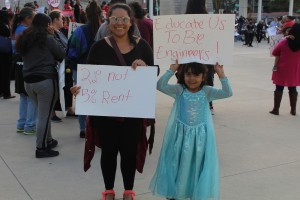 "It's bigger than you can imagine," Knies said, "because it really is expanding downtown to kind of this borderland, this west side of downtown that is kind of one molecule thick right now."
Community organizations and labor groups agree that the Google project would be transformative, but they are fighting for a voice in the city's negotiations with the company.
"OK, Google, good jobs now!" some 300 service industry workers and community supporters chanted as they marched through downtown on Oct. 19, referring to the command a user gives to Google's digital assistant on Android devices. "OK, Google, affordable housing now!"
Activists called for Google to create affordable housing units in the city and provide more benefits and rights for its service workers.
"Everyone is very, very concerned about how this is going to affect their family," said Maria Noel Fernandez, campaign director for the advocacy group, Silicon Valley Rising.
Tyler Breisacher is a software engineer at Google and a member of the Tech Workers Coalition, an organization that brings together local engineers and service workers. A recent town hall meeting he attended explored community concerns about the new campus.
"People feel like these massive tech companies like Google and Facebook are driving rents up, not just near where their office is but everywhere," he said. "I think that's a fair criticism."
A Google communications associate referred the Peninsula Press to a city memo with details about the proposed campus and declined to offer any additional comment. Community groups will hold another town hall meeting about the Google project Nov. 20 in San Jose.
Google's development proposal comes at a time when gentrification is a major concern for locals. The median single-family home price in San Jose is just under $1 million, according to city housing data. Average apartment rent in San Jose jumped 32 percent between 2009 and 2015, according to a recent report by Silicon Valley Rising and community organization Working Partnerships USA. The report found that a majority of San Jose families earning less than $50,000 a year spend more than half their monthly income on rent.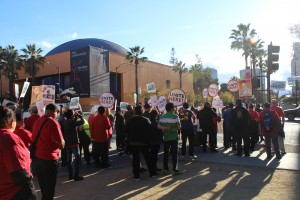 "My husband's family, all his family moved to Modesto, Fresno, Madeira," said San Jose resident Angelica Florez. "We're almost the only ones here because they couldn't handle it, you know, the rents."
Residents like Florez are worried the cost of living will rise further once more Google employees move in to San Jose near the new campus.
"This is inhuman, and it can't go on," said Sandy Perry, head of the Affordable Housing Network of Santa Clara County. "The valley's going to break down and fall apart."
On Nov. 14, The San Jose City Council voted 6-5 against a proposal for stronger rent control. The city currently limits rent increases in rent-controlled apartments to five percent per year.
But proponents of the Google expansion say San Jose's housing prices would continue to soar — with or without the new campus.
"All these companies are on our doorstep anyway," said Liccardo, pointing out that a quarter of employees at Apple's Cupertino headquarters live in San Jose. "The increase in housing cost comes whether the companies are on our doorstep or inside our house."
When major technology companies choose to build offices in suburbs like Mountain View, Cupertino or Menlo Park, a large share of their employees live in cities like San Jose and depend on the city's services, according to Liccardo. The affluent suburbs reap the tax revenue from the corporations, he said, while San Jose struggles to provide resources for its financially struggling residents.
In addition to bringing much-needed tax revenue to San Jose, Liccardo said the Google village will include housing units, including a "significant share" of rent-restricted affordable housing. Google has not specified how much affordable housing it would build. Discussions among the city, community organizations and Google are set to begin in late December, according to a city memo.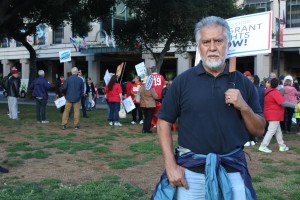 This is not the first time a city has negotiated with a major tech company over housing. Facebook pledged millions last year for affordable housing in Menlo Park as part of its campus expansion negotiations.
If Google doesn't develop affordable housing in San Jose, "they're going to displace a lot of the people who work here, who don't have the good fortune of working for Google and making more than $100,000 a year," said Salvador Bustamante, executive director of Latinos United for a Better America.
But others think activists are asking too much of the private company.
"It seems premature to be going after Google to use it as a wedge to address all of society's ills," Knies said. "Google is not an affordable housing developer."