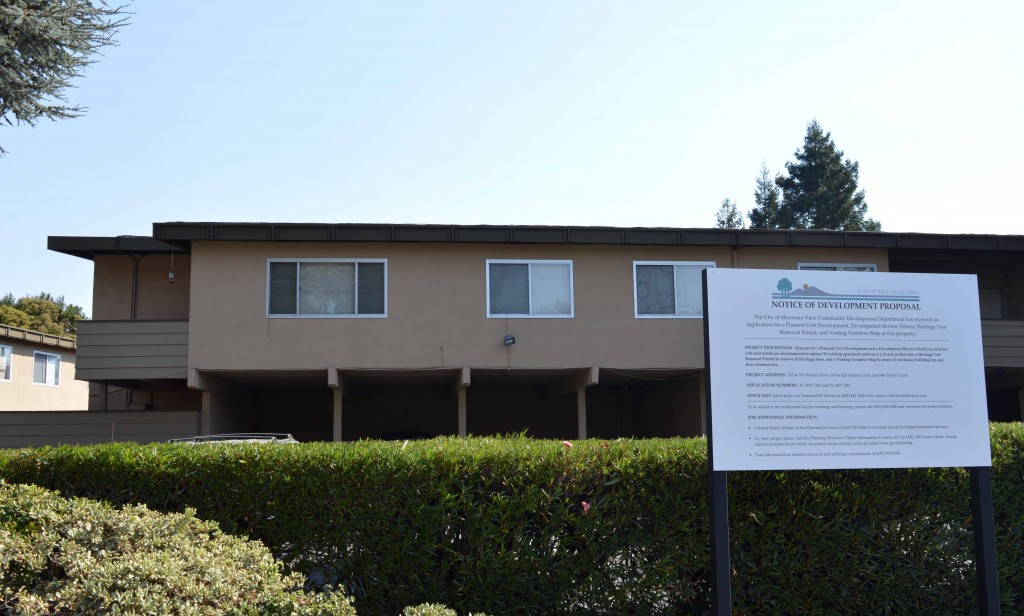 MOUNTAIN VIEW – A proposal by SummerHill Housing Group to build 60 small row house units is moving forward after the Mountain View City Council signaled approval for preliminary design plans, despite concerns that construction will force evictions of long-time locals. The development would eliminate rent-controlled apartments in a city that is already struggling with an affordable housing shortage.
At an Oct. 3 meeting, council members discussed the new housing proposal in light of their efforts to increase home ownership in the city. The SummerHill project would replace Moffett Manor, a rent-controlled apartment complex of 56 units. The complex was listed for sale in 2016 and is currently under contract with SummerHill.
Two members who voiced unease over the development, Vice Mayor Lenny Siegel and Council Member Patricia Showalter, said the displacement of current residents at Moffett Manor was their main concern.
Council Member John McAlister, who is in favor of the project, noted these types of redevelopments will likely become prevalent as developers seek greater profits in the booming housing market. Though he said during the meeting he is sad to see the current affordable housing complex go, he looks forward to bringing ownership units to the area.
Moffett Manor apartments are considered naturally affordable, meaning units do not cost more than 30 percent of household income. Rates published online advertise one-bedroom units for $1,900 and two-bedrooms for $2,200. The complex is one of 820 buildings in Mountain View subject to Measure V, a rent control ordinance passed in Nov. 2016, that was designed to stabilize rents and provide just cause eviction protections.
The proposal comes as the city struggles with housing affordability. With the median price of a single-family home in Mountain View at $2.1 million, homes are expensive even for families with above-moderate income, according to the California Department of Housing and Community Development.
SummerHill believes building smaller than average row houses at 535 and 555 Walker Drive would make them affordable, said Katia Kamangar, executive vice president and managing director at SummerHill. The average size of a rowhome in the area is around 1,400-square-feet, while these units would range from 700-square-feet for a one-bedroom unit to 1,200-square-feet for a three-bedroom unit. SummerHill said a one-bedroom unit is expected to sell for $680,000 and a three-bedroom unit for $1.1 million.
This price point is attractive to first-time homebuyers, said Tori Atwell, a broker associate at Alain Pinel Realtors, because bigger properties cost more and the ones that are in this price range tend to be very dated.
"[In Mountain View] if you want a decent home, you're looking at $1.8 to $2.2 million," Atwell said, "and that's a decent home, not one of the nicer homes. Mountain View's actually crested over $3 million now."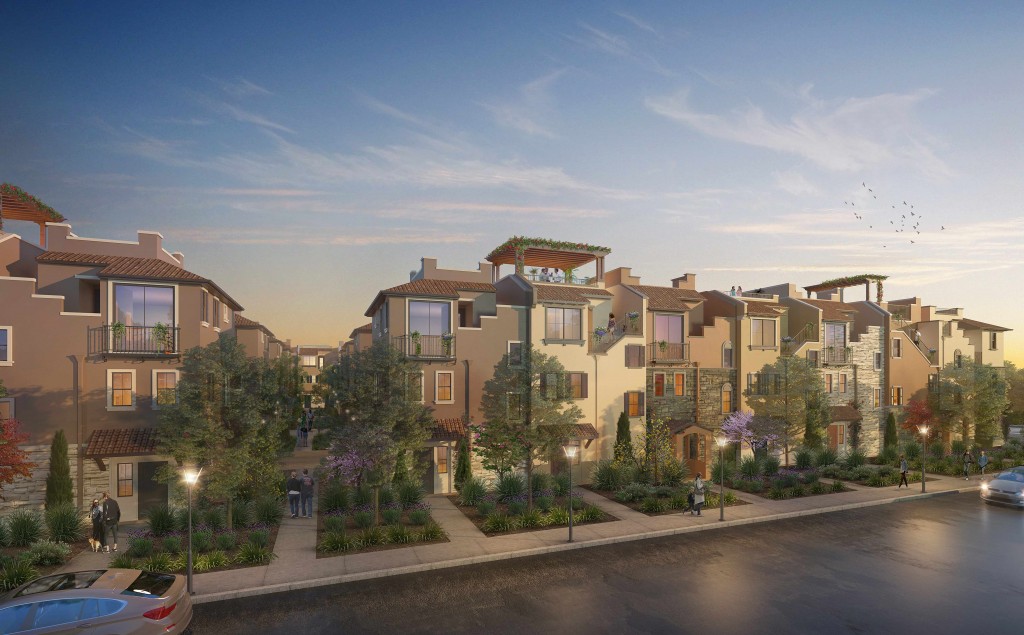 Kamangar said the units are targeted to millennials, who are "open to more compact housing sizes and less traditional open space formats such as communal gathering spaces." To court this demographic, units will include rooftop gardens with decks in addition to the lower price point. The site's proximity to the 85 and 101 freeways and Google also makes it a coveted spot for commuters.
The city requires through their below-market-rate housing ordinance that developers set aside 10 percent of all new housing units for low and moderate-income renters. But developers can opt to pay an in-lieu fee instead. In-lieu fees are used by the city to develop affordable housing units and support housing programs. According to the proposal, SummerHill plans to comply with the city's ordinance requirements through payment of these in-lieu fees.
If forced to move, tenants at Moffett Manor would be eligible for Tenant Relocation Assistance, though it may not be enough for those who live in rent-controlled units. Part of this assistance includes the cash equivalent of three months median market rent for comparable apartments, according to the 2010 ordinance.
Stephanie, a resident of Moffett Manor for three years who did not want to give her last name because of privacy concerns, said in an email that she was "very sad" when she first heard of the project.
"We like living here, we like our neighbors, and while the buildings are old, this is our home," she said. "Now, I feel angry and a little scared for my neighbors. It doesn't seem like the right thing to do, to knock down a complex full of rent controlled housing to put in expensive townhouses."
Stephanie also said if the proposal is approved, "we're looking at moving, maybe to the Seattle area. All my neighbors I've talked to are probably going to have to leave the Bay Area or at least Mountain View."
SummerHill will make changes to design plans based on feedback and expects to revisit the proposal with Council by summer 2018. The proposal would be subject to public hearings before a final vote.