Evan Miller started to take interest in the fashion and modeling industries as a young teen. "There was never anyone who just looked regular – just an African-American girl," she said as she remembered passing by magazine racks and seeing the slew of majority white faces.
Miller, a 19-year-old black woman from Texas with dark hair and eyes, signed with her first modeling agency five years ago.
"Honestly, the most difficult part for me has just been being a dark-skinned African-American model," she said, "We're still an anomaly in the industry."
Over the past three decades, American Vogue has featured five times as many white models on its covers than minority models, and Harper's Bazaar U.S. has shown nearly seven times as many white models. At the same time, the numbers of minorities in the United States has been steadily increasing, growing nearly 30 percent from 2000 to 2010 alone. The white population grew 1.2 percent over that same period.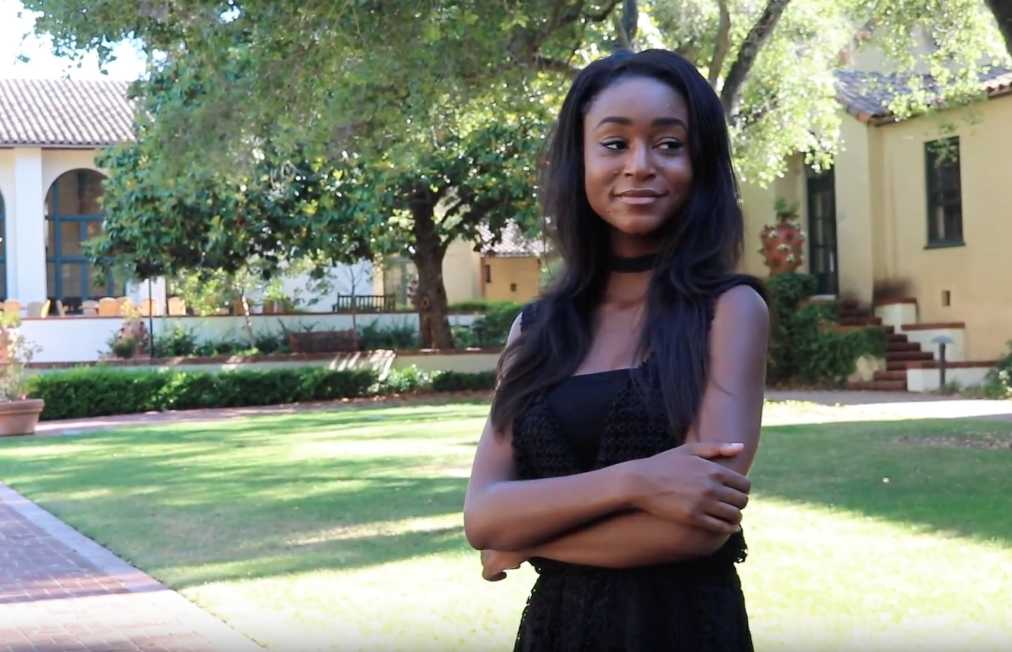 Some states, like California – one of the nation's largest media capitals – now have a minority-majority population, according to the 2010 U.S. Census. In that year, California had a 59.9 percent minority population.
Other fashion and entertainment hubs, like New York, are close to reaching a minority-majority population. In the 2010 Census, 41.7 percent of the state's population was minority at that time.
And diversity in the fashion and entertainment industries is increasingly under watch. A number of outlets, including theFashionSpot, Vogue, NYMag and Fashionista, covered diversity on the runways of New York Fashion Week this past year, while ABC's announcement of Rachel Lindsay as the first black "Bachelorette" also made headlines.
But of the 442 times a model, actress, television personality, singer or political figure graced a Vogue cover over the past 30 years, just 30 of those times featured a black or African-American person, about 7 percent. For Harper's Bazaar, a black or African-American person appeared 12 of the 348 times the magazine featured someone on its cover, or about 3 percent of the time.
Since some models have appeared on more than one cover, and some covers have featured more than one model, the number of times a person appeared is greater than the number of actual unique individuals who were featured on covers.
In other words, 185 people made up the 442 times someone was featured on a Vogue cover, 16 of whom were black or African American. Harper's Bazaar featured 163 unique individuals over the same three-decade time period, nine of whom were black or African American.
"That's really sad to me," said Sabrina Van Eyck, a San Francisco-based model and student who is of European and African descent. "How are little girls of color supposed to think, 'I can make it in this world,' if they don't see their people on covers?"
Vogue featured eight women of Hispanic origin on its covers from 1990 to present, about 5 percent of the 185 individuals who were shown on its covers during this period. Harper's Bazaar also featured eight women of Hispanic origin – nearly 5 percent of the 163 total individuals – on 23 occasions, or about 7 percent of the time.
While the number of individuals of Hispanic origin who appeared on either of these publications' covers did not increase significantly over time, the presence of Hispanic and Latino people in the U.S. grew tremendously, with "more than half of the growth in the total population of the United States between 2000 and 2010 … due to the increase in the Hispanic population," the U.S. Census reported.
For Asians, the numbers are even smaller: Harper's Bazaar featured one Asian – Lucy Liu, who is Chinese American – on its covers over the past 30 years, while Vogue had two Asian covergirls, Fei Fei Sun and Liu Wen, both of whom are Chinese.
Vogue and Harper's Bazaar covers were used as vehicles for exploring the racial diversity of models over time, since both are highly regarded representations of the industry. These publications also offer extensive records of past issues, making it easier to find covers dating back to 1990. Both Vogue and Harper's Bazaar could not be reached for comment on this story.
Ashley Mears, an associate professor in the department of sociology at Boston University and author of the book "Pricing Beauty: The Making of a Fashion Model," pointed out though that fashion magazine covers do not tell the whole story: "I think the pure counting of bodies and their colors is important but misses the contextual signals that give meaning to them," she wrote in an email.
Mears also suggested there is a difference between race in editorial models versus catalog models; she said the former "tend to embody high status markers of whiteness," while the latter are more ethnically diverse to appeal to a broader audience of consumers.
A big deal
When Van Eyck first began looking at modeling agencies, she noticed a lot of white girls on their websites. "I was like, 'Are they going to like me? I know I don't look like these girls. Am I going to get signed anywhere?'"
Now, she said, she still feels "sort of alone" in the industry. "There aren't very many of us that are mixed or of color. When I go to castings or shows or anything, maybe there's another girl who's mixed or of color, but everyone else is white."
Van Eyck recalled a photoshoot she did for a local magazine of a predominantly white town in California. The photographer told her it was a big deal that she got the job, since they had never had a non-white girl on the cover. She started to wonder if it was really going to follow through. "I guess it's actually happening," she said after receiving confirmation from the editor, "which is a big deal."
Proximity to whiteness
Miller said black or African-American people have to "already be at the top of their game" in order to make the covers of such high fashion magazines. "If you see a black model, you know her. She's Naomi Campbell or somebody. You have to be at that level. You can't just be the new up and coming it-girl."
In fact, the 15 black or African-American people on the covers of Vogue over the past three decades include Beyoncé and Michelle Obama, both of whom appeared on three covers each, Serena Williams, who appeared on two covers, and other well-known celebrities including Kanye West, LeBron James, Jennifer Hudson, Oprah Winfrey, Lupita Nyong'o and Naomi Campbell.
The nine black or African-American individuals who appeared on covers of Harper's Bazaar over the same time period include Beyoncé, Janet Jackson, Naomi Campbell, Tyra Banks and Whitney Houston.
Mears said black fashion models operate as tokens to signal diversity. "Everyone in the fashion modeling industry is looking for such a token which takes two forms usually: she is either extremely 'exotic' thus signaling racial difference or she is marginally different from white physical markers thus signaling her proximity to whiteness." Most black women, she said, do not satisfy either criteria.
Miller knows this firsthand. She used to wear her hair natural and curly, she said. Then, about a year ago, she began straightening it. The number of modeling gigs she got increased after that. The biggest difference, she said, has been a shift in clientele who have grown from smaller, local companies to bigger name brands since she's changed her hair.
When it comes to women like Beyoncé and Rihanna, both of whom have been featured on the covers of Vogue and Harper's Bazaar, Miller said she doesn't consider them to be a representation of herself. "They don't look like me, they don't," she said, adding that she thinks dark-skinned African-American models are more rare on fashion magazine covers as compared to those who are light-skinned.
Beyond the lack of representation of people of color on fashion magazine covers, Evan and Sabrina said that it's also a lack of understanding when it comes to how to work with the models who are minorities that has been discouraging.
"I would come in – dark-skinned girl, natural curly hair – and the makeup artist and the hairstylist would look at me, and I could just tell they didn't know what to do," Miller said. Van Eyck said, too, that 90 percent of the time hairstylists complain about her hair.
Towards the end of her modeling in Texas, Miller started to bring her own makeup to photoshoots and would fix it in the bathroom, an idea she got from Beverly Johnson, the first African-American model to appear on the cover of American Vogue in 1974.
Miller said she wasn't surprised to hear that nearly 70 minority individuals appeared on Vogue's covers over the past three decades, compared to about 370 white individuals. "When I try to think about models of color, not just black models, but in general, I cannot," she said. "It's discouraging."
Mears said such numbers are a product of the "old white hegemony – seriously, the historically entrenched associations of whiteness with beauty, status, wealth, power, stemming from the colonial project."
Beyond race
Race is not the only measure of diversity being paid attention to in media and fashion. Lara Harris, a supermodel of the '80s and '90s who appeared on the January 1993 cover of American Vogue, is an advocate for "speaking up and speaking out" particularly about age positivity for women. Harris is currently signed with Iconic Focus, an agency that, according to its website, has sought to "prove that beauty and age are synonymous." She is also a psychotherapist, and says many of these conversations about age activism arise between her and the women who come to her office.
"I think it's really important for women to be represented in the media as viable and visible after a certain age," Harris said, "as beautiful, sexual, important, valuable people."
Harris, who is white with darker brown hair and eyes, began modeling in 1982, at the "very beginning of girls not looking like they did in the '70s, which was kind of the blonde, blue-eyed all-American Cheryl Tiegs, Christie Brinkley look," she said.
When she began modeling in Chicago, Harris said, she rarely worked with black or African-American models despite the city being "pretty integrated." Harris recognized the privilege her race brought her, especially while she modeled in Europe. "I'd work in Italy and they would think I was Italian, or I'd work in France and they would think I was French. But, again, all of these countries are pretty much Caucasian, European countries."
Fashion designers use models of various ethnicities and are entitled to their own visions, Harris said. But, she added that she can't help but think it would only be better for them if they represented the population more comprehensively.
Van Eyck isn't hopeful that the world of cover models will become more representative of society. "We can't change what people think," she said. "If people were raised thinking white is pretty, that's how they were raised, you can't really change things like that."
Miller also isn't sure things will improve. "You would think that things would get better as the years go on, but it doesn't look like that," she said. "When you hear statistics like that you start to think maybe it's not getting better."