Three Palo Alto area entrepreneurs have very different backgrounds, but all are involved in the same enterprise: saving the independent bookstore.
Praveen Madan, an engineer with an MBA, once seemed like your average Silicon Valley success story, working as a management consultant for several Fortune 500 companies. He suffered a mid-life crisis and decided to pursue work with a greater sense of purpose.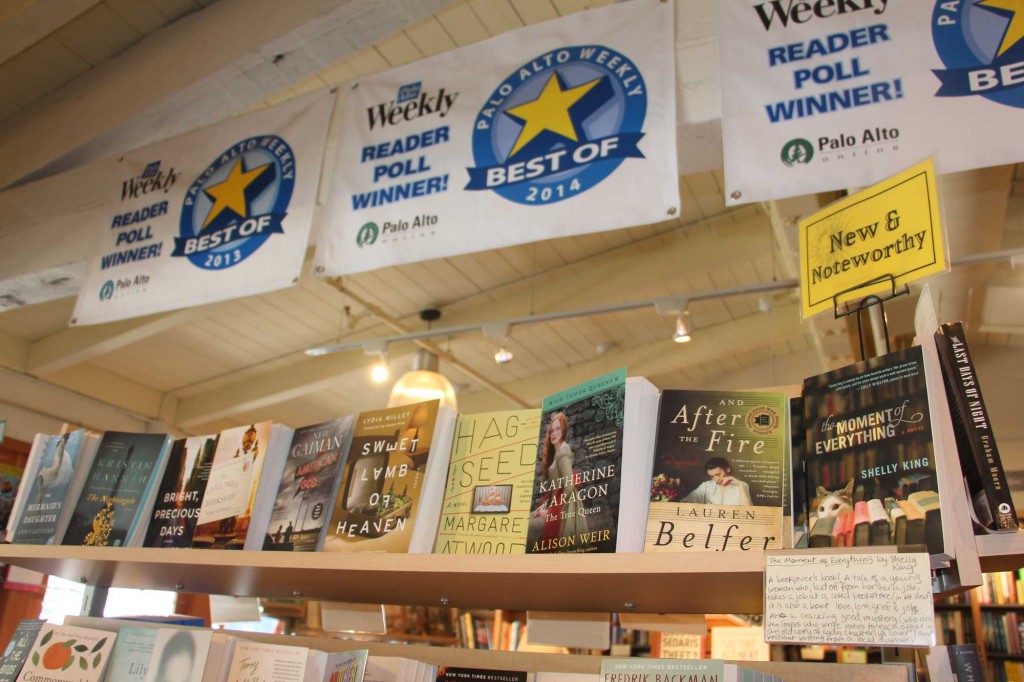 Glen Robbe, a middle-aged man who wears Nike athletic jackets to work, consistently uses numbers and statistics to illustrate his points.
Dori Jaroslow, a widow who does calligraphy in her free time, once sent J.K. Rowling a scrapbook of Harry Potter events the author had attended in the Bay Area. Rowling's secretary sent her word that her boss just loved it; Jaroslow now smiles to tell about this work of hers tucked away in a world-renowned author's house.
All three currently work at independent bookstores near Palo Alto, fighting to keep their businesses relevant in the world of e-books and the ever-growing power of Amazon, which recently opened brick-and-mortar Amazon bookstores in several cities. Jaroslow and Robbe each manage a Books Inc. location in Palo Alto and Mountain View respectively. Madan owns Kepler's.
Each bookshop strives to make itself integral to the community: by providing services and experiences that can't be replicated electronically, and by accommodating the changing desires of customers. So how are these three stores standing when bookstore chain behemoths like Borders and Waldenbooks have long since crumbled?
Besides facing the same issues as other bookstores — e-books gobbling up market shares, revenues plunging while rents, wages and costs rose, substantial price and revenue pressure form Amazon — Kepler's had to contend with community skepticism stemming from two public failures where it nearly closed its doors forever. In 2012, Madan decided it was time to create "the bookstore of the future."
"People [in Silicon Valley] are open to new ideas, to new innovations and [they] like big bold changes with results," Madan said. "For some of us who were looking to create a new model, this was the perfect place."
First, Kepler's focused on something Amazon could not do, providing literary and cultural programs like author book events and the Big Ideas Discussion Group to bring people together. By setting up a separate nonprofit organization – Kepler's Literary Foundation (KLF) to fund and manage programs through a community board – Kepler's became KLF's supplier of books and primary space for events, while KLF became the coordinator of event production, marketing and organizing.
Kepler's also worked to curate a collection of books selected by staff who possessed a deeper connection to writing than typical retail employees (half the Kepler's staff are writers and roughly a third have master's degrees). Thus, customers have a rich environment in which to serendipitously discover and stumble upon stories.
"The browsability and human element, the discovery, the customer service: we don't think Amazon can match that," Madan said.
Lastly, Kepler's acquired an online book gifting service, GiftLit, that helps people buy gifts, by selecting from lists curated by the staff. This gives customers the convenience of online ordering while also benefiting from the literary expertise of Kepler's staff. Madan hopes it will continue developing as a major source of revenue for the store.
Over at the Mountain View Books Inc., Robbe took a less revolutionary approach to the store he has managed since 2010. To him, the largest change in the book landscape since he began bookselling in 1991 has been Amazon.
"They really hurt bookstores because they basically sell for a loss. We can't compete on price," Robbe said. "There's no way we can discount and survive."
But unlike the big chains, who continued hemorrhaging money to fill their substantial shelf space with merchandise, Books Inc. tried to maintain a small footprint.
"Our stores are generally 3,500, maybe 4,000 square feet, and we don't stock as much stuff — we curate our selections for our market, our neighborhood," Robbe said. That selection now includes more than just books. Where book sales once represented 95 percent of the shop's revenue, now high-margin items like greeting cards, journals, toys and games make up a quarter of sales.
In particular, Robbe believes his store has been successful in giving staff creative independence larger corporate environments don't allow. "In an independent bookstore, you can let your employees grow and do what they're good at. You're not constrained by some formula that somebody in New York made saying every store has to do this," he said.
For example, one of his staff members loves doing her own greeting cards, so Robbe asked her if she'd like to order cards for the store. She agreed, and the store's offerings went from a few perfunctory spinner racks to highly sought-out items generating thousands in revenue each week. Plus, those who come in for a card often end up purchasing other items.
On one recent day at Mountain View Books Inc. 20-year-old Kathleen Kenealy dropped into the store to kill time.
"The cards reminded me Father's Day was coming up," Kenealy said. "And then I looked at these funny socks because they reminded me of my brother, and then I continued to wander around."
Kenealy left with almost $50 of merchandise, including a card for her father, socks for her brother and a copy of Sarah-Jane Stratford's "Radio Girls" for herself.
Unlike Robbe and Madan, Jaroslow attributed some of the Palo Alto Books Inc.'s success to well-educated parents seeking to give their children a head-start.
"They're really involved in buying their children books and it's just so competitive within the schools … they want to support and get the kids as much education through books as they can," Jaroslow said.
The children enjoy the store, too. One new Books Inc. book club, called "Just the Facts," meets once a month to discuss two nonfiction stories and do a related activity. After reading about Rosa Parks and Frederick Douglass, the kids created activist signs and talked about segregation, education and even health care.
"One little girl came up to me and wanted to know if we can meet more than once a month," said Jaroslow with a chuckle. To her, nurturing such enthusiasm in youngsters will help bookstores survive. "We want to make reading fun, make going to the bookstore an experience … [get] them excited about reading," she said.
Children aren't the only ones getting excited about their experiences in independent bookstores. Books Inc. will be opening a twelfth location in Campbell next summer, and independents nationwide are experiencing a resurgence according to the American Booksellers Association, who stated independents have increased their numbers by 27 percent since 2009.
Regardless of their specific strategies, these three local independent bookstores have managed to prevail because of the strong sense of community they have created. "When we have our events," Jaroslow said, "we tell the audience, 'Thank you for coming, because without you continuing to support us … we wouldn't be able to do this.' We're very grateful."
Madan agrees. "We are the stewards," he said. "Our job is to manage and run [our bookstore] for the benefit of the community."