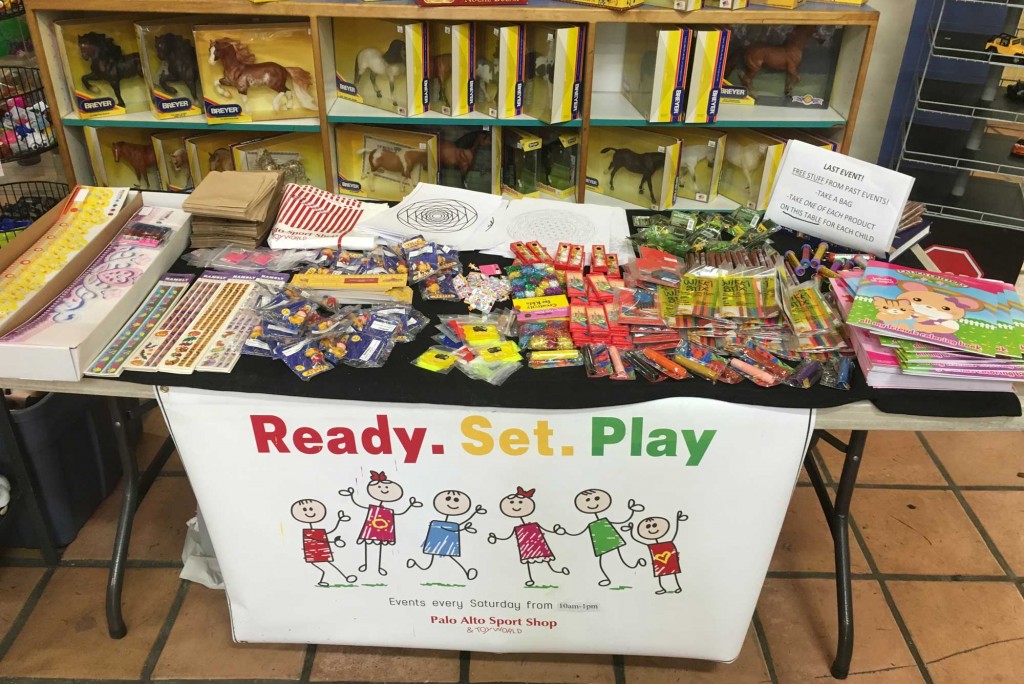 Eric Hager fiddled with a new dinosaur toy as he made his way past the empty shelves that used to be stocked with swimsuits towards his office. The dinosaur had just flown in from China with an entrepreneur looking to test his product. "If the store was going to remain open I would buy this for sure," Hager said. "It's quality play!"
General Manager Eric Hager had to pass the dinosaur along to his contacts in the toy world, since the store was readying to close. Over the years, many toys were launched in the store, since inventors could walk in the door and test their products, something that could be harder at a bigger chain store like Toys-R-Us or Target.
Reasons for closing
Amid the chains that have grown in Palo Alto like Blue Bottle Coffee, the Cheesecake Factory and the Apple Store — Palo Alto Sport Shop and Toy World was a rare family-owned business.
It was located around the corner from University Avenue on Waverley Street. Next door stands The Prolific Oven, one of the last independent cafes downtown.
Palo Alto Sport Shop and Toy World closed in mid-April because the owner, Ed Hoffacker III, wanted to retire.
To make the business viable, the building would have needed "a lot of renovation," Hager explained before the store closed, "and that isn't a project Ed is looking to take on in his mid-seventies."
Palo Alto Sport Shop and Toy World is one of many independent stores to close in recent years. Just a few doors down, the stationery store Congdon and Crome closed in 2013 after 110 years. The camera store Keeble & Shuchat closed both of its locations in October after 51 years, both as a result of soaring rent and reduced business.
"I never wanted to be the guy saying things used to be better," Hager said. "But I would say it's better now if you're a young, single techie, and it's worse if you're a young family with kids. Downtown is heavy on trendy restaurants but light on retail that appeals across a family spectrum."
Voices of the people
Among the families of Palo Alto, the store will be sorely missed.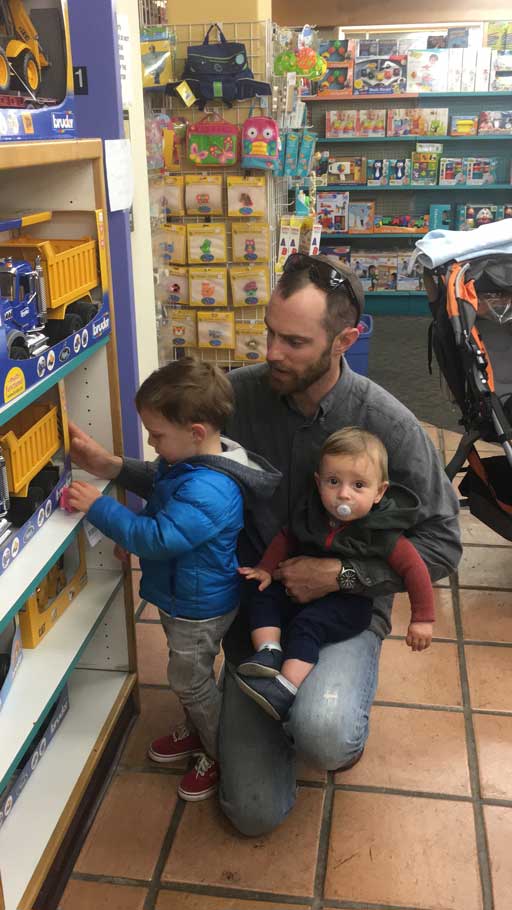 "It's sad for me to hear, because I feel like a lot of the places I knew as a kid are gone," said Matt Dolkas, a father of three who grew up in Palo Alto. "My brother and I and all the kids in the neighborhood, we would ride our bikes a mile into downtown just to go to the toy store. It was a destination. On Fridays, we would buy firecrackers and set them off on the sidewalks."
"Maybe it's nostalgia, but it's sad to see places like this leave. It's been a focal point of the community for a long time. I hope if anything replaces it, it has as much character as this place does," Dolkas added.
Another longtime resident of Palo Alto, David Simone, echoed the sentiment. "There are less small businesses, and now it's a lot of Cheesecake Factories," Simone complained. "This is particularly painful, because I have lots of memories both of being a child in here and bringing my own kids here."
The store's proximity to downtown Palo Alto makes it a stop in many families' weekend routine. "I'd go to The Prolific Oven with my dad and he'd get a cup of coffee and I got to choose something," said Emma Samuels, a longtime resident of Palo Alto.
"I grew up swimming since I was three years old all the way through college. I'll never forget the excitement of needing a new swimsuit for the team, and getting to come here and find my favorite pattern," Samuels said.
"When the Cheesecake Factory moved in on University, that was a sign of a shift towards commercialization instead of small, boutique stores."
Peter Gunadi, father of four and Palo Alto resident of 18 years, said: "It's hard to grow up in Palo Alto and not receive a present with that red and white wrapping paper. It's a sad day for this town."
History of the store
Palo Alto Sport Shop and Toy World first opened its doors in 1930, when real estate developer Ed Hoffacker I decided to set his sons up with the business in Palo Alto. It was originally just a sports shop, but then expanded to toys and swim gear.
Hoffacker sensed the business opportunity within the college town, and opened three storefronts — a real estate office, the sport and toy store, and one that he rented out.
The store had a major remodel in the 1950s to add a hunting and fishing section, and at various times had a second storefront in downtown Palo Alto and San Ramon.
Hager began working at the store in 1987 part-time as a receiver, unloading incoming shipments. After graduating and working as a teacher for a year, Hager was invited back by Hoffacker to manage the store.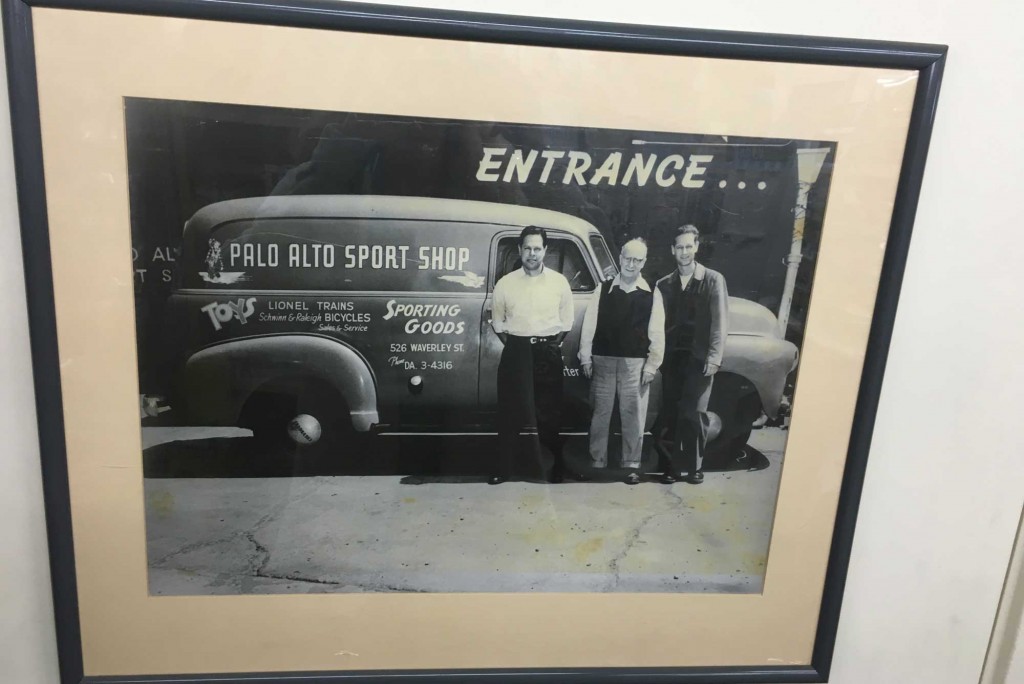 "I met my wife here and my sister met her husband here," he said. "I was working upstairs in the office and I heard this person laughing, and her laugh was really engaging so I looked over the edge and saw if anyone had helped her. She became my wife!"
The store's history is also reflective of its location in Silicon Valley. Hager taught himself HTML and built a store web page in 1995 long before the internet dominated commerce.
The store was also one of the first to use the delivery service, Google Express, when it was still in its beta phase and employees ordered products to ensure the delivery process worked smoothly.
If having an online shopping presence was once a great asset to the store, digital commerce may have undercut it by offering cheaper alternatives.
"That's the reason why they're closing — people come here, they look at the goods, and then buy them on Amazon," said Quinton Gomez, father of three in Palo Alto.
"When stores like this start closing, the question is what will happen? There will be an office here or a startup or something, which is not what you want to do downtown."