On a busy Thursday evening in San Francisco, drums sounded through the chill as protesters flooded in front of the San Francisco Federal Building. Projected images of political artworks and reflected candlelight shone upon the walls, lighting an otherwise somber cityscape that seemed to sigh burdensomely in the dark.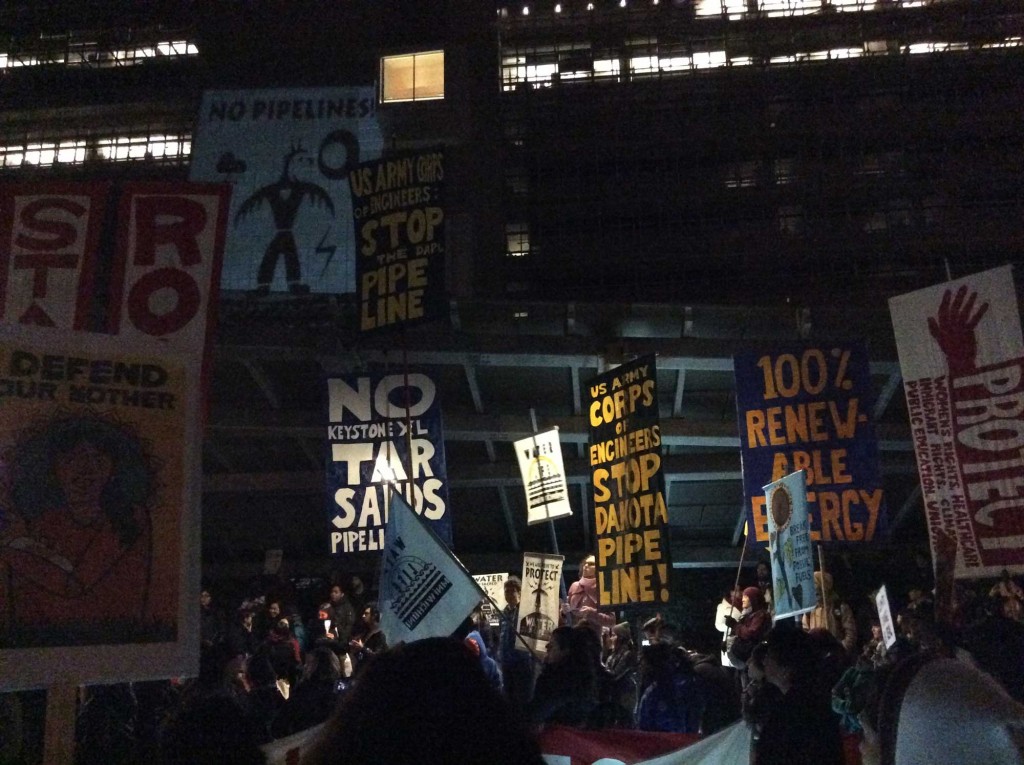 The gathering, led and hosted in January by Idle No More SF Bay, an indigenous and environmental rights organization, served as a demonstration against the recent reinstatement of the Keystone XL and Dakota Access Pipeline plans. Following President Donald Trump's memoranda to expedite construction, people gathered in solidarity with water protectors in North Dakota, who have since closed the Oceti Sakowin Camp. Speakers addressed racial and environmental justice efforts from the Philippines to North Dakota, and perhaps most chillingly, drew attention to the violence against indigenous women and girls taking place across oil pipeline communities.
Art projections accompanied by slogans such as "Stand With Standing Rock," loomed above the crowd; one image in particular — a woman breastfeeding her baby using oil dripping from a tower — hinted at the sinister nature of oil transportation in North Dakota.
The gendered aspect of violence against Native Americans in North Dakota, as a result of oil pipeline construction, has received little attention next to the looming environmental impacts and political controversy. But on that January evening, Pam Tau Lee of Asians 4 Black Lives and the Asian Pacific Environmental Network, among other organizations, brought first-hand news from Native women at Standing Rock. She spoke of the violence and sex trafficking committed by residents of "man camps" along the network of oil pipelines in North Dakota. Man camps commonly refer to designated residences inhabited by men working for oil companies. In a Boston Globe op-ed, writers Mary Kathryn Nagle and Gloria Steinem explained the central role played by these hubs in perpetrating violence in Native communities.
Perhaps due to the recent widespread media focus on #NoDAPL, concerns about the safety of women and girls living near oil pipelines are gaining increased coverage. An upcoming Vice documentary on sexual assault and trafficking associated with the oil industry in North Dakota focuses on the Fort Berthold Indian Reservation, just a few hours away from Standing Rock. Fort Berthold has experienced a massive increase in violent assaults against women since construction began at the Bakken oil patch.
The call from women and girls at Standing Rock for greater attention to this form of violence demonstrates that the continued health of water resources is not the only issue they are confronted with. A September 2013 testimony by Lisa Brunner, a program specialist at the National Indigenous Women's Resource Center, described a doubling and in some areas a tripling of reported cases of sexual violence in Fort Berthold, North Dakota since oil companies moved in.
This call formed part of the community concerns raised in San Francisco last month, where protesters began to form a human blockade of Mission Street. Patricia, who preferred to be known by her first name only, explained her view of the largest Native American resistance in a century. "It's helping a lot of people wake up to what's keeping us alive, and to see ourselves in relationship to "other." It's helping people understand their impact in terms of what we do now affecting our children to come, and our responsibility to each other."
Perched cross-legged upon the rough tar of the now-blocked Mission street, surrounded by a human train of indigenous song and drum, silence descended upon the crowd of protesters at the event. One dark-haired woman in the train turned and gazed at the seated crowd, her voice rising like a siren in the frosty night.
On March 10 at 5 p.m., protesters will gather once again before the San Francisco Federal Building to rally in support of the Standing Rock Sioux. Idle No More SF Bay will host a march to the Civic Center, in a call for global attention to the protection of indigenous rights.