UPDATE, Nov. 4 at 2:45 p.m. PT:
At the Nov. 2 meeting, the Santa Clara County Board of Education decided to postpone the action vote on Legacy Academy to the Dec. 14 meeting in order to give the Legacy team time to address concerns raised.
The county's first charter middle school for students who have been involved in the juvenile justice or foster care systems, or who have been expelled, suspended or struggled academically or socially in mainstream schools, will open in fall 2017 if Santa Clara County's board of education approves a petition on Nov. 2.
Marc Buller, a former Santa Clara County assistant district attorney, wants to serve these students through Legacy Academy.
"Our students [have] been told they can't succeed or they've been put in situations that haven't allowed them to succeed," Buller told the board at an Oct. 5 meeting. "We know we can build a belief in them that they can succeed and they will."
At the board of education meeting, Buller presented a revised petition for the school. Joseph Di Salvo, one of the board members, who is also a former middle school principal, said California's public schools are not equipped to serve these students.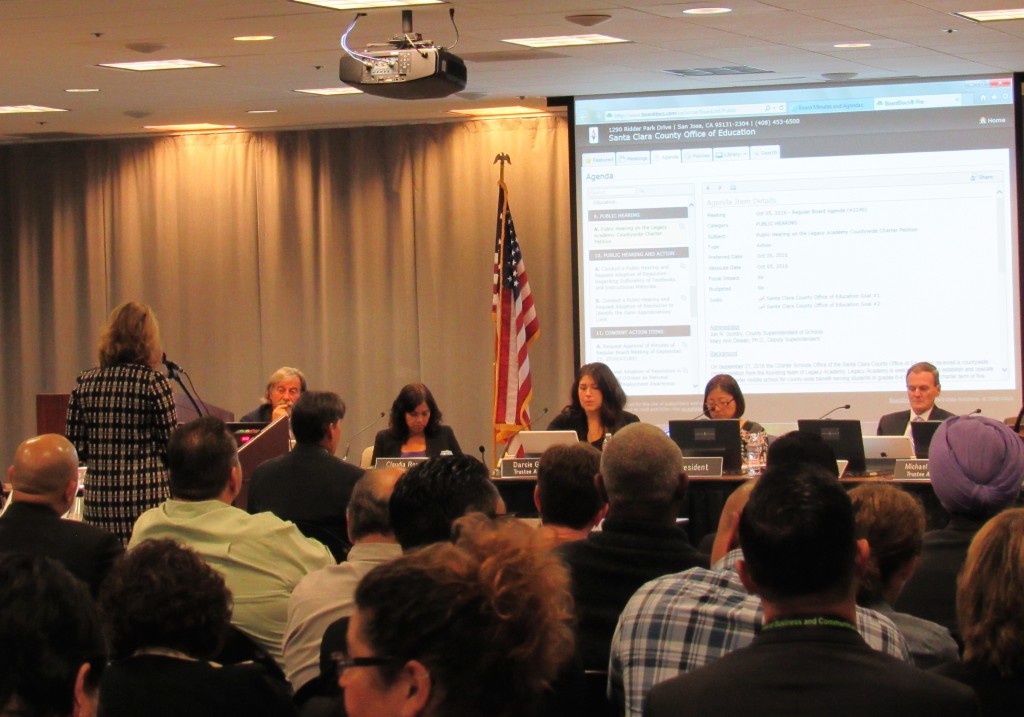 "Five percent of the children take up 95 percent of your time, and it's really hard to find [the time], because we are low resource for these children," he said. He estimated between 3,000 and 6,000 middle school students in the county need this type of school.
Board member Darcie Green said mainstream schools are excessively expelling students. "There are so many districts in this county that are expelling the same type of student all the time for things that they shouldn't be expelled over," Green said. "Student rights are being trampled on in this county."
Buller submitted the first charter petition for Legacy in February, but withdrew it at the March board of education meeting when the board didn't support the petition, citing deficiencies in sections including discipline, special education, curriculum and budget.
The original petition projected 120 students in each grade sixth through eighth. The updated petition plans for 60 sixth-grade students in the first year, adding another class each year for 180 students total in 2019.
The petition says each class will have roughly 20 students, one teacher and two behavioral health specialists to immediately address issues in the classroom.
A group from San Jose's Alum Rock Union School District, including Superintendent Dr. Hilaria Bauer, Assistant Superintendent Rene Sanchez, and four Alum Rock principals and assistant principals, attended the meeting to oppose the initiative, citing a lack of specificity in the educational and disciplinary plans and other concerns.
Mathson Middle School Principal Vince Iwasaki, one of the opponents, said he was wary of pulling troubled youth out from mainstream schools, and the petition needed to better address which behavioral issues and special education students they're prepared to serve and how teachers and specialists will collaborate to accomplish this.
"I do oppose a segregation model, but that doesn't mean it can't work," Iwasaki said. "If my child was an adjudicated youth, could they create a model that I would want to see my child in? I don't think it's impossible for them to do so, I just think that what they've shown at this point is not yet sufficient."
If approved, the temporary site for the school will be in the San Jose Unified School District for the first year, moving to the Franklin-McKinley School District permanently in 2018. The Legacy team is currently considering two sites in San Jose.
Because the Legacy petition is countywide, the school will be accessible to students in all Santa Clara districts, although transportation will not be provided.
Board members generally expressed support for Legacy's vision at the Oct. 5 hearing and said they would consider the viewpoints raised, including on segregation. Board member Grace Mah called the petition's improvements "very promising."