More than half of California's counties — most of them small and rural — don't provide online access to campaign finance records, and they say they aren't likely to change any time soon, an assessment of county-level contribution records shows.
Only 28 of the state's 58 counties provide campaign finance information online. And of those, just 17 make the data available in formats that make it easy to search and analyze the money influencing local elections.
Less than half of California counties put campaign finance filings online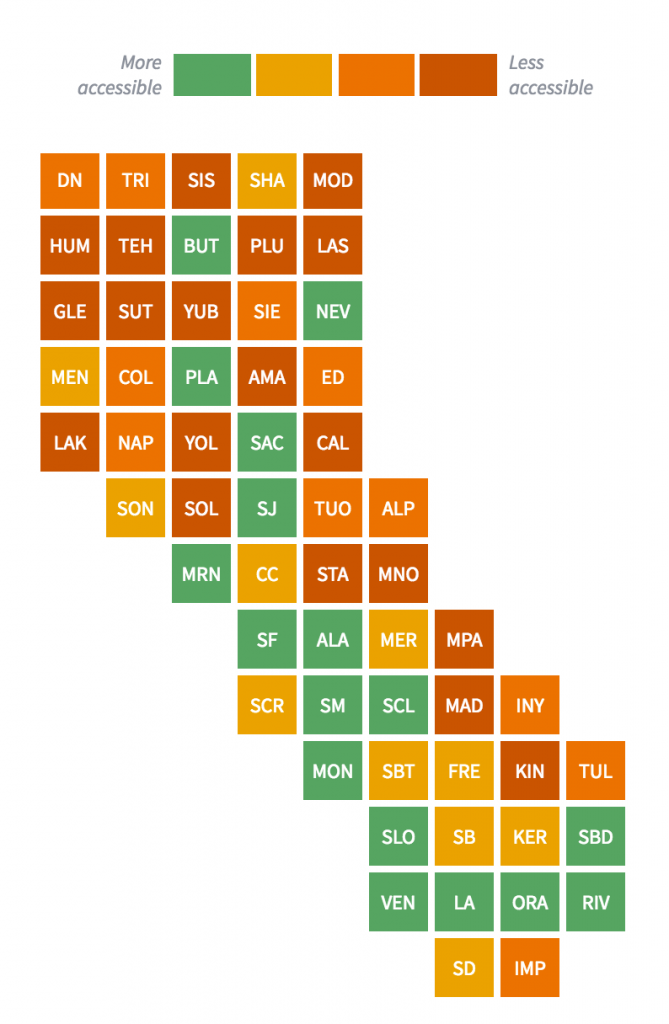 LAUNCH INTERACTIVE GRAPHIC
Graphic by Jeff Barrera and Travis Shafer/Peninsula Press

Some counties say shifting online would be too expensive given tight budgets. Others have implemented electronic filing systems, but have not made them mandatory for candidates and committees. That means it's more difficult to determine who local donors are, how much money they raised and for which campaigns. Counties operate independently because there is no state law requiring online filing.
California accepted the first electronic filing of a campaign statement in U.S. history in 1998. Little has changed since then.
"We were early out of the gate, but when other states set up their systems, they could do it with better technology and lessons learned from other states, and we haven't upgraded much from the initial system," said Gavin Baker, Open Government Program Manager for California Common Cause.
The most recent efforts to make campaign information accessible date to 2012, when the Political Reform Act of 1974 was amended to allow local jurisdictions to eliminate the paper filing requirement for campaign statements and create an electronic filing system. But the legislation, which went into effect on January 1, 2013, made the electronic system optional.
"Transparency at the local level is, in some ways, even more critical because the amounts that can be given to candidates can be so much higher," said Nicolas Heidorn, who serves as policy and legislation counsel to Common Cause, a nonpartisan group that promotes government accountability. Instead, contribution limits vary county by county.
In Riverside County, where there are no limits on campaign contributions, supporters have made individual donations of $40,000 or more at least 53 times in the past decade, with some donations as large as $200,000, based on an analysis of contributions in NetFile, the state's only commercial provider of electronically searchable campaign finance portals.
Santa Clara County caps local election contributions at $1,000.
Seven of California's 10 largest counties have searchable online election data, but population size is not the main factor for whether counties provide public portals for e-files — sometimes it is pressure from local citizens or journalists.
NetFile administers 16 of the 17 county portals that provide full downloadable electronic election filings (Los Angeles County built its own custom system). Depending on a jurisdiction's population and whether local officials request custom features, annual licenses for local portals can cost anywhere from $10,000 to about $100,000.
In 2013, Butte County, with a population of just over 220,000, transitioned from maintaining hard copies of election filings in the elections office to NetFile. The county pays $10,000 a year for its campaign filing disclosure portal. Butte County clerk-recorder Candace Grubbs said pressure from newspapers and from election researchers put a strain on her staffers to maintain and produce the documents.
"We thought if people could do their own research it would be better," Grubbs said. "And it's worked out well."
In Tehama County, media attention on election transparency has produced less tangible results. In August 2015, the California Fair Political Practices Commission fined state Sen. Jim Nielsen (R-Gerber) and Tehama County Supervisor Bob Williams for campaign finance violations stemming from Williams' unsuccessful 2012 run for the Tehama County Assembly.
Four years later, in 2016, Tehama County still has no plans to ease access to its campaign finance filings. Tehama doesn't have the budget or personnel to switch to e-files, said Mackenzi Parkinson, the assistant registrar of voters.
For Parkinson, switching to a NetFile portal would be unnecessary due to the small scale of elections in Tehama County. "We are an office of three people, and our campaign contributions are well below the $25,000 threshold," she said.
People who wish to view financial records for the county's elections office must request it in person or file a public records request.
Some of California's rural counties say the pricetag for creating an online system remains too high. In Calaveras County, one of the state's smallest with a population of less than 45,000, a lack of allocated funding prevents campaign finance filings from going beyond hard copies in a binder, said Calaveras County Clerk-Recorder-Election Coordinator Robin Glanville.
"We'd love to [go online] if we ever have funding for it," Glanville said. "Right now it's not a possibility."
The number of counties with e-filing systems is increasing gradually, said Baker, with California Common Cause.
"But given that there are a lot of very small population counties in this state, unless there is a mandate, or there's a free system that the counties can use, I don't know if it's ever going to get to 100 percent," Baker said. "We need to make a change to make it a system for the 21st Century."

Jeff Barrera, Saurabh Datar, Kim Kenny, Shane Newell, Travis Shafer, Jamie Stark and Carolyn Zhang contributed to this report.

A version of this story appeared in The Los Angeles Times.
Homepage photo of California flag courtesy of Scazon/Flickr, via Creative Commons.