It is March 1, 2016 — Super Tuesday. In a few hours, precincts will have been called, and the American political machine will have lurched one step closer to the conclusion of an extraordinary election cycle. The excitement is not lost on Christine Brennan, a sportswriter with a penchant for competition, on the field and at the ballot box.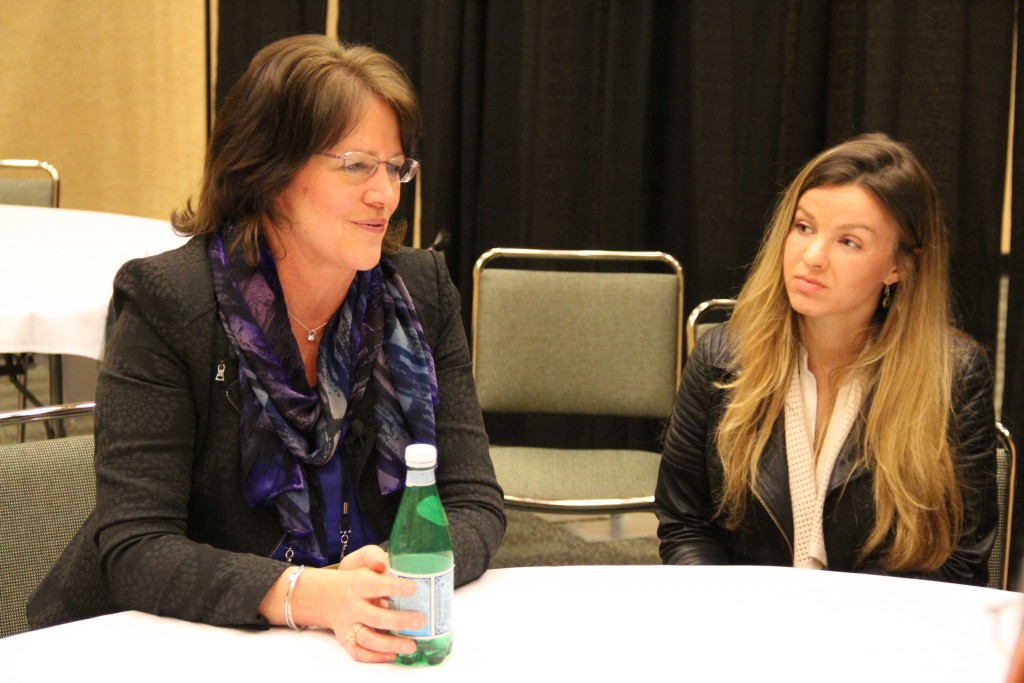 "I love the sport of politics," she says over Skype from her home in Washington, D.C. In her living room, she has CNN on DVR. She compares the preparation and hype surrounding Super Tuesday to that of the Super Bowl: "When I say it's a game, I know it's our election and I don't want to make light of it," she says, but "that's the allure of a night like tonight."
After 35 years as a sports journalist, Brennan knows what makes for a good contest. She is one of the first nationally recognized female sports reporters, who broke barriers and established a place for women in a historically macho field. In 1981, she became the first female sports reporter for the Miami Herald, and was the first woman to cover the Redskins for the Washington Post full time. "She did a lot of firsts," says George Solomon, Brennan's former sports editor at the Washington Post, who served as assistant managing editor for sports from 1975 to 2003. "I'd call that a trailblazer."
Today at 57, Brennan is known foremost as an Olympics writer, after covering the Tonya Harding-Nancy Kerrigan figure skating controversy at the 1994 Olympics. She has written six books and writes a weekly column for USA Today, and frequent appears on Public Broadcasting Service, ABC and National Public Radio.
As print journalism struggles to reinvent itself in the Internet age, Brennan's unique position is not lost on her. "I'm amazed my career continues to have these high wire moments," she says, as many of her former colleagues have left journalism due to buyouts, layoffs or burnout.
"The key to her success is she loves what she's doing," Solomon said. "No one is as an authoritative voice in journalism as Brennan … You don't have to always agree with her, but you have to respect her knowledge."
Nearly six-feet tall with dark-brown hair and confident shoulders, Brennan turns heads when she enters a room. But her most striking feature is her voice: it is deep and mellow, and Brennan speaks with authority and measure, but with perceptible warmth. Even over the phone, her smile is audible.
Christine is in Brennan's professional by-line, inspired by her father, who told her when she was applying to college at Northwestern to put her full name on everything she writes. Only a few people call her Christy — a name bequeathed by a childhood best friend, and still used only by his family. To friends and family, though, she is Chris. And to her eight nieces and nephews, she is Aunt Chris.
Brennan has never married, but she loves her nieces and nephews "like they were my own kids," she says. Growing up, "Aunt Chris was a third parental figure," said Brennan's niece Leslie Backoff, 23, who lives and works in D.C. near her aunt.
Brennan's roots are in the suburbs of Toledo, Ohio, where she grew up as the eldest of four siblings in a red-brick home on an acre of land. The Brennan household simultaneously embodied the average American family and defied that mold. Although she was a girl, and although it was the 1960s, Brennan says she never felt pressure from her parents to conform to a stereotype of femininity.
Growing up, "I didn't hear the word 'no,' ever, ever," she says emphatically. "If other parents thought it was weird that I loved sports, my dad said, 'Who cares?' and played ball with me."
Brennan's father, Jim Brennan, Sr., cultivated her love for sports and encouraged her to pursue journalism at Northwestern. He passed away in 2003 after a bout with cancer, a few years after her mother's death. "I think about him every day," Brennan said. "And his voice, which was so distinctive, so strong: it's like he's never left me."
"Dad had a baritone voice," said Brennan's sister Amy Brennan Swaak, who is nine years her junior, "and you noticed the confidence with which he used it." In a room of 200 people, "I could pick out his voice among everybody."
In 2006, Brennan wrote "Best Seat in the House," a memoir about her relationship with her father and their love for sports. "It's what I'm most proud of because it's probably the last thing that will ever be written about my parents," she said.
In 1992, Brennan co-wrote "Beyond Center Court" with tennis prodigy Tracy Austin, which David Foster Wallace famously vivisected in his essay, "How Tracy Austin Broke My Heart," where he described the book as "breathtakingly insipid" and "inanimate." "He ripped it to shreds, didn't he?" Brennan said wryly. "As I recall, I thought he had a rival book coming out on tennis, and he was trashing a book on tennis."
Brennan handles criticism — whether it's from Foster Wallace or Internet trolls — with ease. On Twitter, she dispatches online vulgarians by blocking them, not necessarily for her own sake but for her younger fans, "so that it's not somewhere that a high school student or a 12-year-old girl will see," Brennan said.
Being a mentor for young women in sports and journalism is Brennan's second full-time job. She has called Title IX the most important law in the past 45 years. The bill, signed by President Nixon in 1972, requires gender equity for boys and girls in every educational program that receives federal funding, including athletics.
Before the law, "we were basically telling girls for generations 'No, you cannot play those sports.' What were we thinking as a nation?" Brennan said. "Any girl who grows up to be a doctor, lawyer, journalist, businesswoman, mom, any combination thereof — she will be better at it for having played sports."
Brennan's father was a staunch Republican and as independent-minded as she is. He strongly supported the passage of Title IX. Brennan says if her father were alive today, he would not recognize the Republican Party as it is now. "What a year — it's very troubling," she said. "But the idea of having our first woman president is an extraordinary opportunity, and the message that would send to every girl in America is pretty cool."
Brennan also served as the first president of the Association for Women in Sports Media, which awards around six scholarships each year to young women sports journalists. Each year, Brennan personally funds the Jim Brennan Scholarship and the Betty Brennan Scholarship, in honor of her parents.
In 2012, Chelsea Janes won the Jim Brennan Scholarship and worked with Brennan as a sports intern at USA Today. (Editor's Note: Peninsula Press is a project of the Stanford Journalism Program, where Janes graduated from in 2013.) Now, Janes is the Washington Nationals beat writer at the Washington Post, and she credits Brennan as a mentor and example for her own career. "To be in this business at the level she's at, to have the time and the energy and the motivation to look out for someone random like me, it's unique," Janes said.
At the start of her career when women sportswriters were still anomalies, Brennan fought battles to earn recognition and access, including to locker rooms — battles that Janes and female colleagues largely do not have to fight today. "I benefit in ways I can't even imagine from her," Janes said.
Locker room access for women is not the only element of sportswriting that has changed over the course of Brennan's career. With the advent of the Internet and social media, news now breaks and travels exponentially faster than it did in print. In 2003, Brennan wrote a column about football quarterback Peyton Manning entitled, "Do You Really Know Your Sports Hero?" The column examined allegations of sexual assault against Manning, but the issue was largely ignored at the time. Now, after Manning's win in the 2016 Super Bowl, the allegations have resurfaced. Brennan's original column is recirculating, and the story is gaining new legs. "I think it shows the power of social media," she said. "What didn't exist in 2003? Twitter."
Although Brennan is well-known as a journalist, she does not want to be known as a workaholic. "I'm competitive — any journalist is. But if you're not competitive, I don't know what you're doing."
Competition is part of the job of a journalist, she says, and then stops to clarify: "I say job, but I don't mean that, because it's so much fun."
Brennan relishes her role. "Work-life balance? That went out the window the day I started at the Miami Herald," she said. "Today I got up at 5:00 a.m. to do 'Good Morning America.' How fun is that?"
As much as she revels in her role as a journalist, Brennan frequently turns down requests for TV appearances to spend time with her family, especially her nieces and nephews. "Aunt Chris was the ultimate cheerleader," said Backoff, Brennan's niece, who played field hockey, basketball and softball in high school. "She would go to the Olympics and be cheering on Michael Phelps but then she would drop anything to come to one of my softball games."
When asked if wishes she had lived life differently, Brennan answers with an emphatic 'no.' "I have no regrets," she said, "because I still think everything is possible."
After 35 years in the sports journalism business, Brennan knows that someday the TV appearances and newspaper contracts are going to stop. "I'm a realist, not fatalistic. But I'm as happy as can be," she said. "As long as this high-wire act continues, I'm not going to stop it."