In 2010, a gas-pipeline explosion incinerated the Crestmoor neighborhood in San Bruno, shooting a wall of flame into the sky and killing eight people. The city built a memorial garden adjacent to its baseball fields, with a plaque inscribed with the name of each victim. This year, the city installed an additional plaque with just one name on it: Bob Greenberg.
A mile away from the memorial, evening shadows stretch across a baseball diamond speckled with a winter's growth of weeds where Bob Greenberg Field lies in silence awaiting the Junior Giants' 22nd summer baseball season.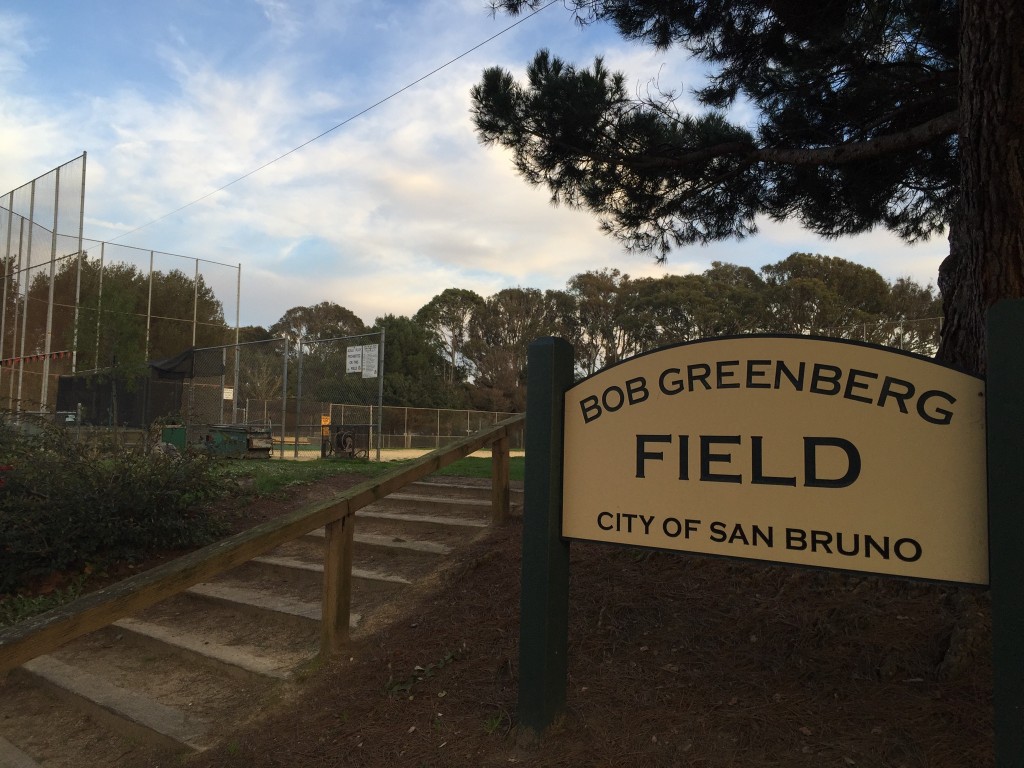 In the close-knit community of San Bruno, midway down the Peninsula, Bob Greenberg Field is more than just a place to play baseball. It is where the past and present co-mingle. Christened in 2006, the field honors Greenberg, a longtime city volunteer and Junior Giants Commissioner who died that year. His memory shines brightly each summer when his widow Lorry and San Bruno youth and parents convene on Saturday mornings during the Junior Giants' eight-week baseball program.
Junior Giants is a free summer baseball league funded by the San Francisco Giants' Community Fund. About 23,000 children throughout northern California, Nevada and Oregon participate in the program's non-competitive baseball games. The Giants provide batting machines and gear to the teams, and free mitts for children who don't have their own. In San Bruno, nearly 300 hundred children participate in Junior Giants on two baseball fields: one at the city park, and one at Bob Greenberg Field.
The story of Bob Greenberg field started in 1992 when Bob and Lorry met at the San Bruno city park baseball fields about two miles away. Lorry started playing softball in her 20s, and little did she know then how it would change her life. A woman on her team introduced Lorry to her son Bob. Fourteen years his junior, Lorry rebuffed Bob's first advances, but "he just kept bugging me," she recalled.
For a year, she declined his invitations to dinner. But one Sunday after church, Lorry walked down to the field to watch friends play baseball, and Bob met her with a beer and a plate of food. That did the trick. "I didn't know Jewish men liked to dote on women so much," Lorry said, as she gazed across the field where they met — the same field where several hundred children will congregate this summer in orange and black t-shirts clutching mitts and water bottles, ready to play ball.
Bob and Lorry married in 1993. A year later, Bob's best friend enlisted him to volunteer in a blossoming summer youth baseball program called the Junior Giants. Lorry and Bob already coached T-ball, but after some coaxing they decided to try Junior Giants "to see if we liked it."
From that point, they made volunteering for the Junior Giants part of their life.
"The first time I met Bob, he was parking his giant motor home next to the baseball fields as he was smoking a cigar," said Jeff Madonich, a longtime coach and volunteer with San Bruno Junior Giants. Seemingly gruff at first, Bob "threw all of his effort into the kids," Madonich said.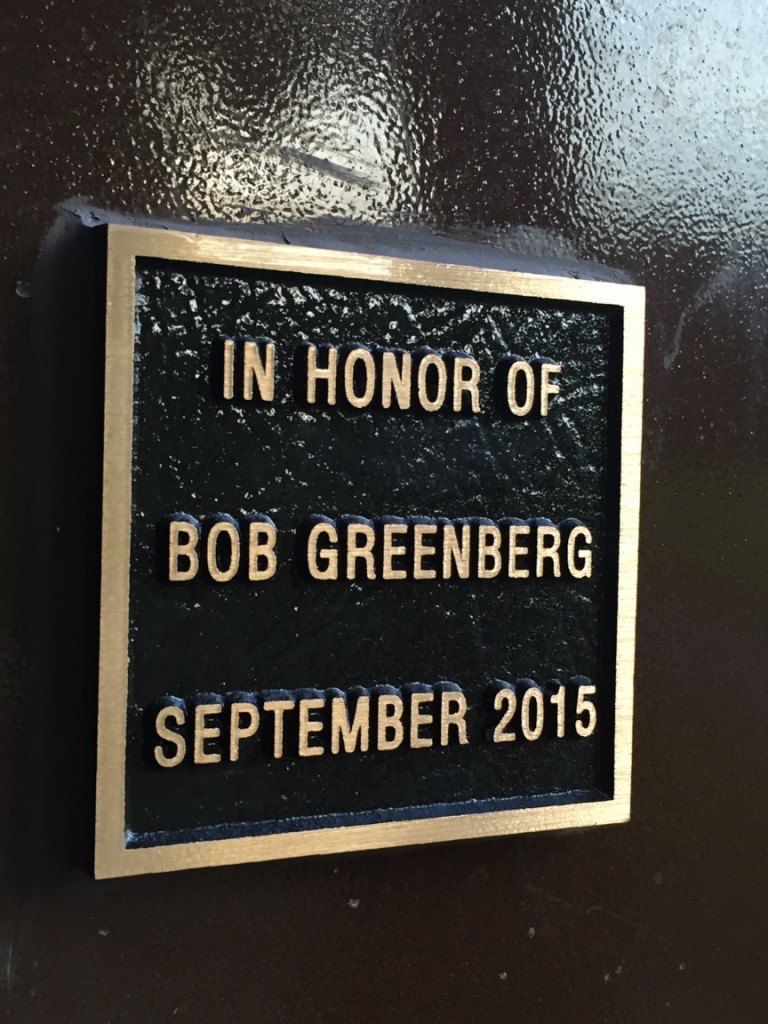 From inside the motor home, Bob would procure baseball gear and free mitts for the players. And at the end of every season, he would host a barbecue for all of the Junior Giants. He continued to volunteer with the league until he died from cancer in 2006.
After Bob's death, Lorry assumed his role as league commissioner. The administrative responsibilities of running the San Bruno Junior Giants league can be "overwhelming," she said. With 18 teams, the San Bruno league is one of the largest and only independent Junior Giants leagues in the Bay Area, meaning that it's run by individuals instead of organizations like the Boys and Girls Club. It's only an eight-week summer program, but Lorry works on administration and paperwork for all but two months of the year.
But what keeps her coming back each year to the Junior Giants is the community and confidence it builds in the children.
"If somebody comes up to you and tells you that something you worked on changed their life," Lorry said, "it's well worth it."
Nathan Madonich is one such person. He played year-round sports in school, but returned each summer to participate in the Junior Giants and later to volunteer. Now a senior on an academic scholarship at Ohio Wesleyan University where he competes in track and field and cross-country, he credits his time in the San Bruno league with kindling his love for sports. "The enjoyment I got from Junior Giants has stayed with me," he said. "Now when I compete it's for the love of the game."
Madonich attributes his university choice to the Junior Giants, as well. He received the Junior Giants' Harmon and Sue Burns Scholarship, which includes workshops for high school students on applying to colleges, in addition to $5,000, which they receive upon graduation from high school. At one workshop, he remembers a speaker mentioning a liberal arts college in Ohio. He scribbled down the name of the school, and unbeknownst to his parents, contacted the cross-country coach at Ohio Wesleyan, where he was later accepted. "My life would not be the same without Junior Giants in terms of that scholarship," he said.
Although he is now in college across the country, Madonich has not left the San Bruno Junior Giants behind. Each Saturday during the Junior Giants' season, he and his father Jeff return to Bob Greenberg Field and the city park at 6 a.m. to stripe the baselines before the first game.
"Lorry is so hardworking," Jeff Madonich said, "that we felt it would be one small way to give back to her."
Jeff and Nathan Madonich are not the only ones who continue to return to Junior Giants in San Bruno out of a love for baseball and community. Daryl Chin continues to coach for the league even after his daughter Brittany graduated from the program and started college.
"Junior Giants allows kids to make mistakes without being harassed or heckled for it," Chin said. "It's so gratifying to see the kids who normally would be the last to be picked on a team become the stars of the game."
As the sun sets and the shadows grow longer over Bob Greenberg Field, Lorry points out the Mayten sapling that was planted this year in Bob's memory next to the first base sideline.
Bob has been gone for a decade, but Jeff Madonich still speaks of him in the present tense, perhaps a testament to his legacy. The Greenbergs "provide nourishment and stability to this community," he said. "They are like the roots of a tree."