On a recent November morning in Sunnyvale's Baylands Park, dozens of wide-eyed spectators — including camera-wielding children — cheered on Marque Cornblatt as he flew his multi-colored drone inside the combat arena at the Aerial Sports League Fall Classic.
The drone-fighting sport, which bears similarities to sumo wrestling and demolition derbies, pits two drone operators against each other. The objective is to knock the opposing drone to the ground or into the black mesh netting. For almost 15 minutes, Cornblatt watched his buzzing drone get battered like a beach volleyball.
But life in the drone sports community may soon change. Drone operators — including hobbyists, racers and drone combatants — will likely be required to register with the federal government before flying or risk violating federal rules.
The federal government's push to mandate drone registration as a way to improve safety and accountability comes as drones increase in popularity and concerns mount over incidents involving drones interfering with wildfire operations and crashing at the U.S. Open and White House.
A task force convened by the Federal Aviation Administration (FAA) has recommended operators owning drones weighing more than 250 grams — about half-a-pound — register online. Registration would allow the FAA and law enforcement to trace drones that have broken the law back to their owners.
Some drone operators in the Bay Area welcome registration, but others are concerned about the potential impact it might have on the hobbyist community. Critics say the registration weight limit is too low and doubt that registration will achieve greater safety and accountability in the budding drone community.
As the CEO of Aerial Sports League and founder of Game of Drones, a drone sports company, Cornblatt is not opposed to registration. But, he believes education would do more to curb bad behavior.
"I'm concerned that the ultimate purpose of this drone registration is a little vague," Cornblatt said. "The goals of it will not necessarily be rectified by the registration process. The value of education over registration … is much more important."
Cornblatt wasn't on the task force, but he did serve as an expert who spoke to several of its members. In addition to drone combat, the Aerial Sports League also oversees small racing drones. These drones, he said, don't pose the same dangers as more sophisticated camera drones that fly up to 400 feet and have advanced features like auto-pilot or GPS. He hoped racing drones weighing more than 250 grams would have been exempted from task force's proposed registration rules.
"All of our drones are low to the ground," he said. "They're in close proximity and they're not going to fly away and hit an airport."
Cornblatt isn't alone in his dissenting views.
Adrien Perkins, president of the Stanford Unmanned Aerial Vehicle Club (SUAVE), has concerns about the weight limit, too. He's also skeptical of whether drone registration will make the skies safer.
"You have to draw a limit that isn't purely weight-based," he said. "It has to be also based on capabilities of the aircraft."
Some national experts have concerns about the registration, too.
Matt Waite, a professor in the College of Journalism and Mass Communications at the University of Nebraska-Lincoln, has concerns about the 250-gram weight limit and hopes registration will be based more on a drone's capability rather than its size. Waite runs the Drone Journalism Lab and has worked at the St. Petersburg Times.
"Are we really going to get in the business of regulating children's toys as if they were firearms or caustic chemicals?" he said.
Even though the proposed registration system may be imperfect, he said, it's a step in the right direction.
"There needs to be some way to enforce rules and hold people accountable," Waite said.
The debate surrounding drone registration intensified Oct. 19 when Transportation Secretary Anthony Foxx announced plans to mandate registration for all drone operators. During his press conference, Foxx said a task force would be convened to provide recommendations to the FAA — an agency within the Department of Transportation — of what a drone registration system might look like.
In an 18-page report submitted to the FAA Nov. 21, the task force recommended creating an owner-based registration system where operators would use one registration number for all their aircraft weighing above 250 grams.
The task force — comprised of individuals from companies like Amazon, Google and Walmart — said operators should be required to submit their name and street address to an online federal database before flying their aircraft.
Owners would have to attach their FAA-designated registration number to their drones to be in compliance with federal rules. The Consumer Technology Association estimates 400,000 consumer drones will be purchased during the holiday season, some of which will fall under the registration category.
Though the task force provided a series of recommendations for a registration system, the FAA has not indicated when or if it would adopt the task force's findings.
Some local hobbyists see registration as a step forward.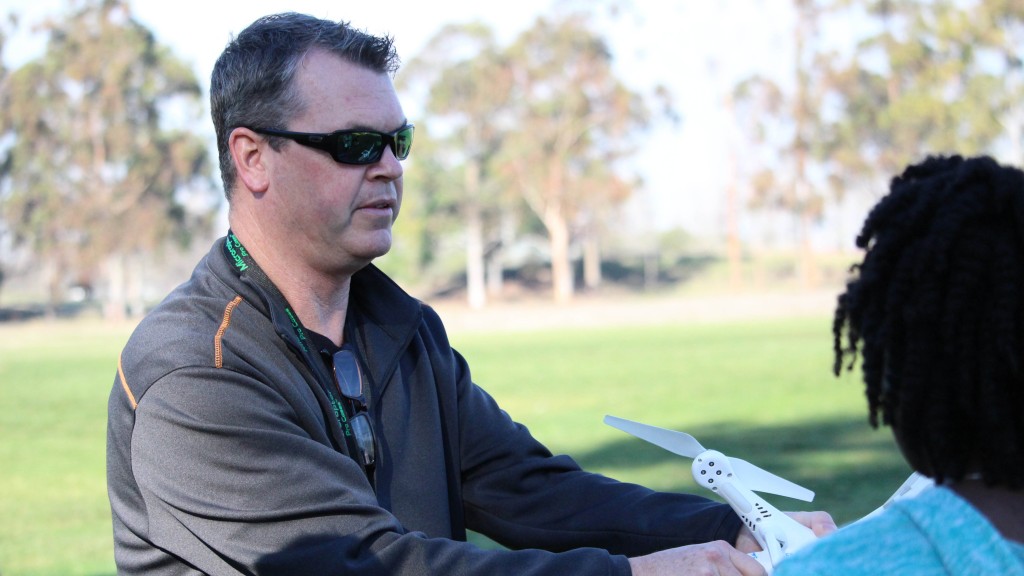 Clay Coleman, a FAA operations supervisor in Oakland, is a drone hobbyist who has worked for the FAA for two decades. His recreational white and gold DJI Phantom 3 drone weighs more than two pounds, making it eligible for registration based on the task force's recommendations.
"The main reason I really like the idea is because it will open an opportunity to educate new drone operators about the rules and regulations of airspace," he said.
Coleman said registration could make the drone population more accountable.
"There will be a segment of the population that still is going to do dumb things and probably cause some unfortunate tragedies," he said.
"That still doesn't mean we shouldn't try to educate as many as possible," he added.
Ian Gregor, a public affairs manager for the FAA's Pacific Division, agrees.
"We believe this (registration) system will also make it easier to find people who ignore the rules and operate unsafely," he said in a written statement.
"We recognize that registration is not the single solution to addressing unmanned aircraft safety, but it is an important part of our integrated strategy," he added.
Several corporations and airports, including Los Angeles World Airports – the entity overseeing airports in Ontario, Los Angeles and Van Nuys – have endorsed registration.
"We believe registration will increase accountability and contribute to ensuring operators know the rules and fly their unmanned aircraft in a responsible manner," Los Angeles World Airports said in a written statement posted on the U.S. Department of Transportation website. "Registration also will enhance multi-agency law-enforcement efforts to track down violators."
But whether drone operators will submit correct personal information to the FAA registration database is concerning to some like Jonathan Rupprecht, a Florida-based drone lawyer who represents clients seeking federal exemptions for commercial drone use.
He expressed concern over the lack of ID-verification in the proposed registration database and said federal rule-making process could prevent registration from being implemented until next year.
"It's all going to fall apart because it's not comprehensive enough," he said. "That's the major problem."