East Palo Alto parents have announced plans to petition San Mateo County to open a new charter school after recent Common Core testing showed that the vast majority of students in the city's Ravenswood School District are not meeting achievement standards in English and math.
More than 300 parents and community members gathered at St. Francis of Assisi church on Bay Road on Oct. 26 to urge members of the East Palo Alto City Council and San Mateo Board of Education to publicly support a proposal for a new K-8 charter school that would be launched in 2017. The meeting grew heated at times, as parents voiced their frustrations with the Ravenswood School District, which serves students in East Palo Alto and Menlo Park's Belle Haven neighborhood.
The proposed charter school would be part of the Knowledge Is Power Program network, which operates 183 charter schools nationwide. Several schools are in the Bay Area, with one in Redwood City where many East Palo Alto students currently commute to attend. That school opened in the summer of 2015, after the most recent Common Core test had been administered. In addition, East Palo Alto currently has two charter schools — Aspire and East Palo Alto Academy, which offer elementary and high school education.
The initiative comes in the wake of the first computer-based Common Core testing done in the state, which showed that only 17 percent of elementary school students in the Ravenswood School District meet or exceed state standards in English, and only 12 percent meet or exceed them in math. By comparison, 54 percent of students in San Mateo County are proficient in English, and 49 percent are proficient in math.
"It's a horrendous situation for Ravenswood." said Ruben Abrica, an East Palo Alto city council member who was invited to sit on the evening's panel.
Before the current Common Core testing system was adopted in California, the state employed the Standardized Test for the Assessment of Reading, which tested English-language and math proficiency, among other subjects. In 2013, the last year the Standardized Test for the Assessment of Reading was administered, 26 percent of seventh grade students at Costano Elementary School — one of the schools in the Ravenswood district — were at "below basic" or "far below basic" levels in English-Language Arts, while 28 percent were below or far below in math. In 2015, according to the new Common Core testing, 66 percent of seventh grade students at Costano are now below standard in English, and 75 percent are below standard in math.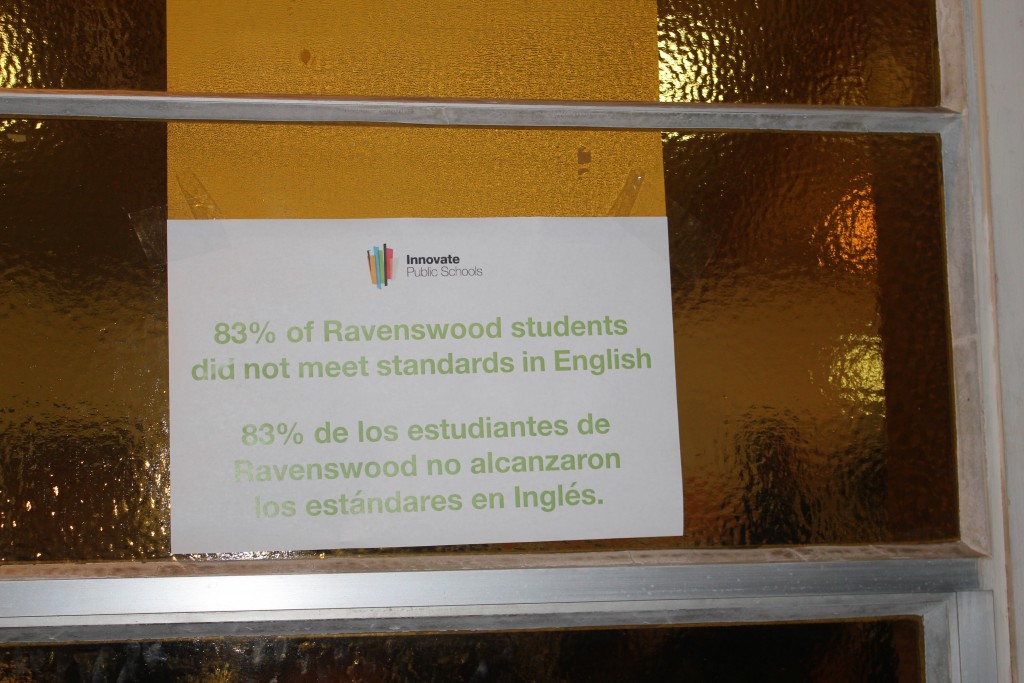 According to the California Department of Education's website, however, results from the two testing systems "cannot be reliably compared" because the Common Core test "evaluates new standards that emphasize analytical thinking, problem solving and communications skills." And the website for the California Assessment of Student Performance and Progress, which administers the new tests, notes that because the new exams are "based on more challenging academic standards, the results are too fundamentally different to compare to old scores." Instead, the new scores are intended to serve as a "baseline for the progress students will make over time."
But East Palo Alto parents say they are especially concerned about the new test results because school performance affects public safety and the economy of the city. According to Ligia Rivera, an East Palo Alto mother who is a member of the volunteer group hoping to bring the Knowledge is Power Program to the city, 50 percent of Ravenswood students do not graduate high school. "High school dropouts commit 74 percent of the crime in our city…. When young people do not have pathways to opportunity they can go down a very negative path that impacts everyone."
Some parents who spoke at the event criticized the Ravenswood District School Board, who they said had refused to meet with parents to discuss their concerns about the Common Core test results and who had declined invitations to attend the meeting.
Ravenswood Superintendent Gloria Hernandez-Goff was the only member of the school board to attend. She was not invited to speak, but sat in the front row of the audience. Afterward, during an interview, she acknowledged parents' concerns but said that the evening felt like "a judge hearing evidence in a court case before it's presented in court."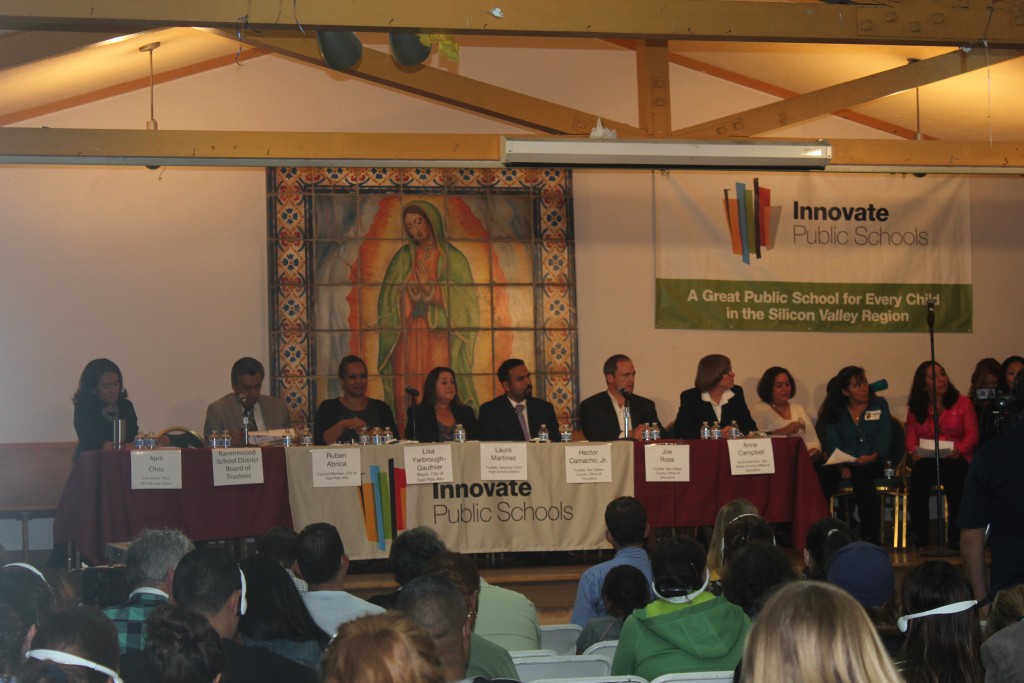 She also said that speakers at the session misrepresented why the other members of the school board were not present. Hernandez-Goff said that she herself had advised them not to attend in order for them to maintain objectivity when they ultimately review the initial petition to launch the charter school. She also pointed out that the district has only 1,547 computers for its 3,400 students, forcing many students to wait to take the test online, which she said negatively affected their performance.
Rivera acknowledged the district's efforts to improve the situation for students. "We understand the district is working hard to fix the current situation," she said. "But we know that the school system is like a boat and boats are really slow to turn. Simply put, our kids cannot wait for three or five or ten years for the system to change."
East Palo Alto Mayor Lisa Gauthier — who grew up in East Palo Alto and was educated through the city's public school system — expressed concerns over what would happen to students who remain in the Ravenswood School District, as their peers — and accompanying funding — transfer to charter schools.
"As the mayor of this city, I often look at our schools and I wonder what's going to happen if we continue to take our students from the schools," she said.
For each student who leaves the school district to attend a charter school, Ravenswood loses around $13,300 each year, according to San Mateo County School Superintendent Anne Campbell.
And in the past decade, seven charter schools have been established in the Ravenswood School District, while only Aspire and East Palo Alto Academy remain today. At those two schools, test results were only marginally better than those at Ravenswood, with 30 percent of students at Aspire meeting or exceeding standards in English; and 21 percent meeting or exceeding them in math. And at East Palo Alto Academy, 30 percent of students met standards in English, while only 4 percent met or exceeded them in math.