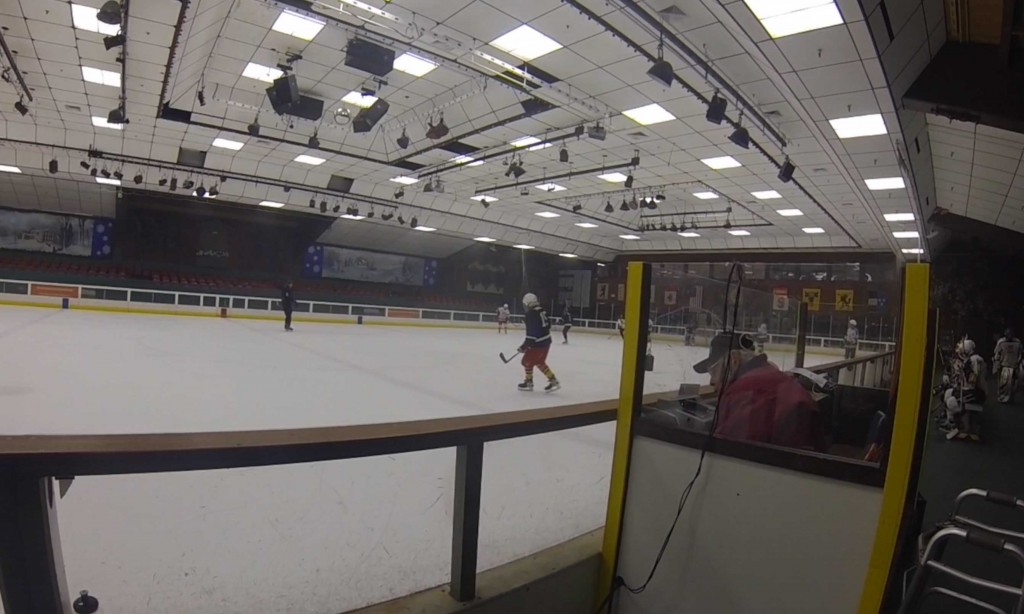 Alex Young only happened upon the Redwood Empire Ice Arena when his son, Richard, insisted on going shopping in Santa Rosa back in 1973. Through Alex was born in Edmonton, Alberta, and had played hockey throughout his childhood, he gave away most of his hockey gear when he moved to California in 1960. His Canadian accent — and memory — ever present at the ripe young age of 93, he remembered thinking, "Shoot, they don't play hockey in California. It's too hot, ya know?"
He had no idea what he was getting himself into when he walked through the doors: no idea that a 40-year friendship was waiting in the wings — let alone with Charles 'Sparky' Schulz, the creator of the Peanuts comics and the man who built the rink. He had never heard of Schulz before.
He could not have figured that in less than two years from that day, he'd play in the first Snoopy's Senior World Hockey Tournament at the arena — it was then called the Senior Olympics Tournament.
This July, the Snoopy tournament celebrates its 40th anniversary. In 1975, only about 20 teams attended, but this year, 68 different teams will be split into 17 divisions with ages ranging from 40-plus to 70-plus. Teams come from all over: from the Bay Area, across the United States from states like Michigan and New York, from each of the Canadian provinces, and even as far as Japan and Switzerland in some years.
But that December day in 1973, when Alex and Richard Young walked in, there was a hockey game in progress. Alex started picking out players on the ice that seemed to be his age. He said to his son, "Hey, I play as good as that old man. Or that one there. Or that one." Monte Schulz, who was at the arena and overheard what Alex said, told him to ask his dad, Charles Schulz, about stepping foot on the ice.
Charles said Alex could play for the last period. Just by chance, he had his stick, skates and gloves in his car, and he suited up in the arena's lobby. "It felt so good that the first chance that I got the puck," Young said, "I circled the net and I went through the whole team and scored a goal."
Schulz was impressed and invited him back. The two ended up playing on the same team at the Snoopy tournament until 1999, the summer before Schulz passed away. Young didn't quit hockey until he turned 80, and he's returns to Snoopy's Home Ice every Tuesday to run the clock and keep score at the recreational games. "It gives me an outlet to get out of my house," he said.
Schulz, an avid hockey fan from Minnesota, built the Redwood Empire Ice Arena in 1969 as a gift to the Santa Rosa community. In 1975, he took over the Senior Olympics Tournament, which was based in Burbank, and moved it up to wine country; it was rebranded to include the influence of Schulz's comic in 1982, which was a huge draw for a lot of people, said Mike Kovanis, the arena's hockey coordinator.
"When people are at other tournaments or other rinks they say, 'I went to the Snoopy tournament.' And people instantly know what it is," Kovanis said. "It has a long storied tradition; it's about camaraderie, friendship. All this stuff outside of playing hockey itself too is really what people think of when they think of the Snoopy tournament."
It has a long storied tradition; it's about camaraderie, friendship. All this stuff outside of playing hockey itself too is really what people think of when they think of the Snoopy tournament.
For three Santa Rosa hockey players — Roland Thibault, 76, John H.K. Riley, 64, and Kenny Martin, 51 — the tournament is more than just about playing hockey, and the rink has become a centerpiece of their lives.
The three players, plus Alex Young and Charles Schulz himself, are endlessly connected by Snoopy's Home Ice. Thibault coached Riley at the arena in 1967 and 1968, and later, they both played for the Woodstock Flyers championship team in 2013. Riley's dad, John H.C. Riley, was Alex Young's defensive partner for years at the tournament.
And Martin used to go to tournaments with Thibault when he was growing up. "I was 20 and he was 45. The good ol' days," Martin noted. Now they play together on Tuesday nights at the arena.
Thibault, who said he's probably the oldest guy still skating at the rink on Tuesday nights, was close with Charles Schulz before he passed away in 2000. Schulz even named a character in Peanuts after him — Thibault's slicked-back mullet-like haircut in the Snoopy comics even still resembles the real Thibault's hairstyle; the only thing that's different is that the real-life character's hair has faded to white over the years.
For those local hockey players, as well as those around the country who have made the Snoopy tournament a part of their lives, aging has become something they've looked forward to.
"It made turning 40 easy, turning 50, turning 60," shrugged Riley, who has played hockey in Santa Rosa since moving from Canada in 1967. "The tournament's still going; I'm still going to play hockey."
"Growing up here, we start out as little kids watching the tournament and trading pins and getting hats," Martin said. "By the time you reach the pinnacle, you're 40 and you make it in. It's rewarding to be able to participate after watching it for so many years."
For Riley, the Snoopy tournament has always been in the family. Riley has been involved with the tournament since he was a kid, watching his father, John H.C. Riley, serve as the master of ceremonies of the event for 37 years — starting with the inaugural tourney in 1975 until the 2012 tourney, a month before his passing.
While his dad worked late into the night, staying for the latest games that usually ended around 2 a.m., the younger Riley volunteered as an off-ice official.
After one of the Tuesday night "senior skates," all four men were gathered at the rinkside Warm Puppy Café. Ready to make his journey home, Alex Young rose from his chair and retrieved his walker — which paled in size to Young, whose hockey player build is still evident. Thibault shouted out, "Drive carefully, Alex!" Young replied, "At 93 years old, I don't drive like I did when I was 50 years old."