Mark Klever grew up relying on the rain.
Some years, his father's barley farm boasted fields of golden grain that spread for miles. In drier years, Klever's family relied on fertilizers and pesticides to cope with nature's unpredictability.
Today, instead of tending barley fields, he manages the farm for Belcampo Meat Company, an organic meat producer that like other ranches in California, is battling extreme drought conditions.
Water levels are so low that Gov. Jerry Brown mandated a 25 percent water cut across the state last month. Yet it takes 1,800 gallons of water to produce just one pound of grain-fed beef. Under this pressure, Californian beef producers, the fourth largest producer in the country, are raising their prices amid the water shortage. Distributors said beef prices have jumped at least 10 percent in recent weeks, highlighting in a new way for consumers how crucial water is to meat production.
"The issue of water [intensive] foods has been important for a long time, of course," said Sophie Egan, who works for Culinary Institute of America. "But now with the drought in California, the concept of a food's water footprint has really come into mainstream conversation."
Red meat has a high water footprint because farmers must plant a tremendous amount of grass for the animals to feed on, in addition to providing drinking water. While vegetables are ready to eat after a couple months, beef cattle require over two years of maintenance — the water adds up. Low rainfall in California has forced ranchers to move herds to wetter regions and purchase feed to supplement their animals' diets, which led to statewide price increases.
Changes for consumers
While the severity and urgency of the drought has highlighted meat's high-water footprint and led to some discussion nationally about America's meat-centric diet, many meat-eaters still overlook the hidden cost of their consumption when perusing supermarket aisles. The United States is the largest overall consumer of beef in the world. According to the USDA, Americans on average consumed 42 pounds of beef per capita (adjusted for loss) in 2012.
Last Memorial Day weekend, local meat-eaters flocked to the Safeway market in Menlo Park in search of ribs, burger patties and steaks to throw on the grill.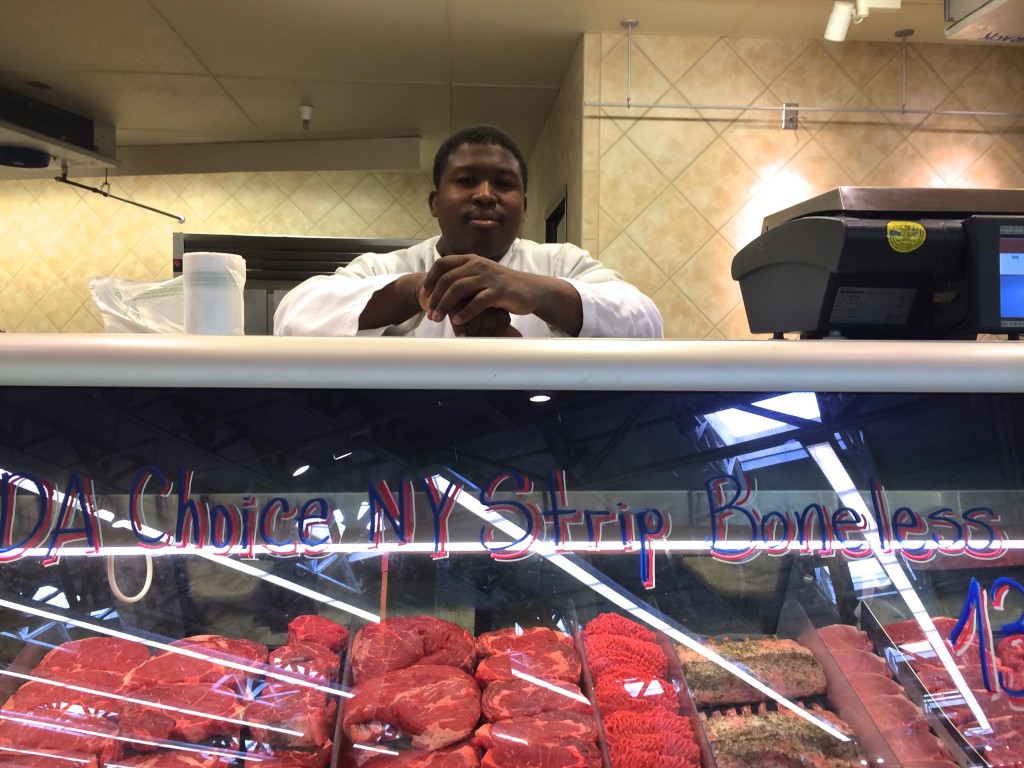 EJ Muray, a Safeway butcher, helped customers pick between the various cuts of meat in his display case, which was decorated with festive red, white and blue paint. Sales have not dipped, but he has noticed a price increase in the last few months.
A pack containing two rib-eyes a few months ago cost $20 but now goes for $30 to $40. The surge hasn't slowed demand.
"I don't think of a link between meat and the drought when I go to the market," said Loren Hillgerby, as he picked up a pot roast at the Safeway counter.
Renee Taylor, another Safeway shopper, had never associated meat production with the drought and thought of "more water-intensive crops like almonds."
Small-scale companies like Belcampo face the same problem. According to Kiley Boettcher, the Palo Alto store's general manager, customers were "a little shocked" when the price of a filet mignon increased from $35 to $39 a pound.
Some customers seemed to have focused their drought response on their landscaping. Yayoi Brown proudly converted her backyard from manicured lawn to drought-tolerant landscaping last year. While she personally prefers seafood, she cooks meat for her husband three times a week. Brown said that "everybody needs water, and you have to share [it]," so her husband now eats half a steak for dinner and saves the rest for another meal.
Brown's strategy to reduce portion sizes mirrors sentiments shared by some academics. Stanford Professor of Medicine Christopher Gardner maintains a vegan diet, except for the eggs produced by his chickens, named Batwoman, Catgirl and Barbie. In addition to conducting research on campus, Gardner is working with Egan on the Culinary Institute's Menus of Change initiative, which aims to reduce the role of protein on the plate to reflect more environmentally minded cuisine.
"Why don't we stop making the servings so huge?" Gardner said. "If we had a smaller serving, the farmer could make money and everybody could afford a smaller amount [of meat]. We could stretch the dollar."
Drought-friendly alternatives
Egan outlined ways for Americans to shift their consumption habits both by reducing the presence of meat in restaurants and by encouraging individuals to promote change through their purchases.
The biggest contribution the food service industry can make to environmental sustainability is "shifting meat from a hunk of beef spilling over the plate, to [using] meat as a condiment or a garnish," Egan said.
One example is the 50/50 burger.
Last year, the Culinary Institute found in a taste test that consumers prefer a 50-percent beef, 50-perfect mushroom patty blend over a 100-percent beef burger. The burger has gained popularity among some restaurants for its earthy, umami quality, and is served in Stanford dining halls.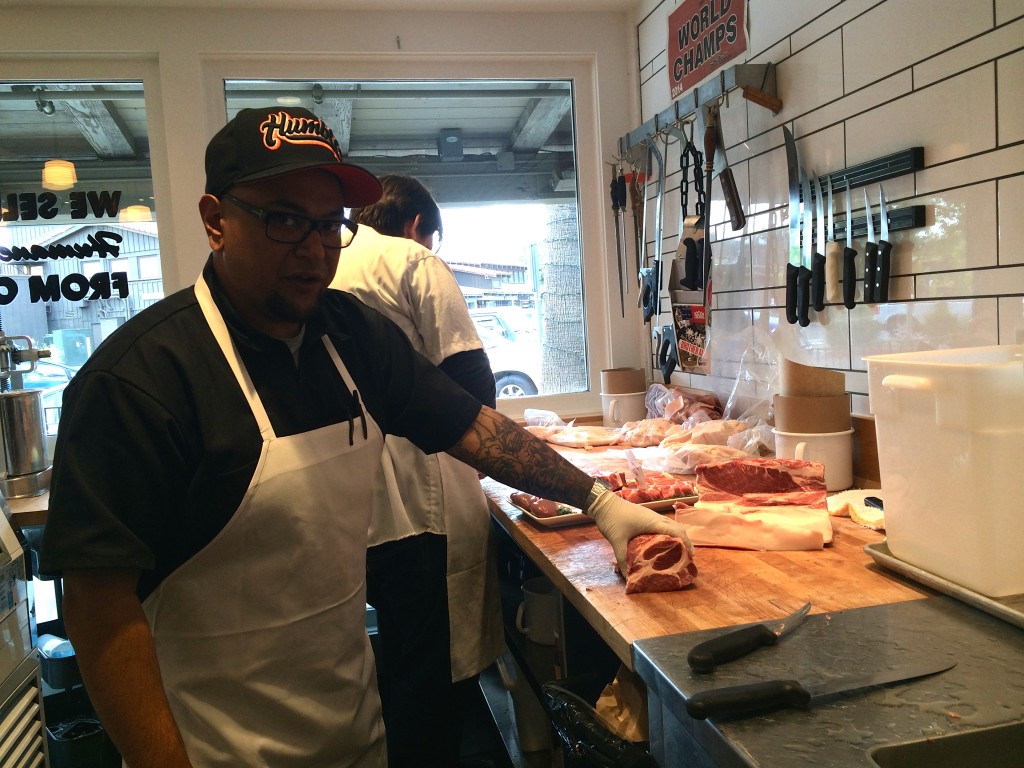 Egan said today's drought-conscious consumers could also use their food dollars to support growers that use better techniques for managing groundwater. Belcampo is one such example.
Belcampo's main farm sits on rolling hills at the base of Mt. Shasta in Northern California. A wide array of animals — including sheep, cattle and quail — roam the pastures, sometimes tailed by a herd dog. Unlike other ranches that ship their meat to distributors across the country, Belcampo only sells its product in its six shops in California.
Belcampo uses a grazing model that mimics natural migration patterns to develop good soil structure. With the addition of organic feed, the ranch is "beyond sustainable," according to Klever. He views the animals as a "byproduct of farming that benefits the land."
Belcampo also uses various irrigation systems to deliver water in the most effective way possible. While most farms leave seven to eight inches of water on their pastures, the drought has limited Belcampo to only four inches per acre.
Klever suggests consuming less water-intensive animal proteins as an alternative to beef. In particular, he encouraged substituting sheep or goat for beef because Belcampo's herds venture up into the brushier foothills of Mt. Shasta to graze on shrubs and weeds.
"You can use [sheep and goat] to your benefit and yet save water because you don't have those species on your improved fields," Klever said.
While food activists have used the drought as a catalyst for promoting a less meat-based diet, few encourage consumers to convert into full vegan or vegetarians. Rather, Klever said Americans would benefit by developing a relationship with their food.
"When you do [eat meat], enjoy it and savor it," Klever said. "Take it home, learn how to cook it and learn how to appreciate it."
The 50/50 burger recipe:
(Editor's Note: Reporter Alexandra Nguyen-Phuc is also on the leadership team for the Stanford Cooking Society.)