When Pope Francis announced that Junipero Serra, the founder of California's missions in the 1700s and 1800s, would be canonized in September, California Native Americans began to protest the impending canonization.
Through the process of canonization, an individual who has died is declared a saint, or someone who is recognized to have an exceptional degree of holiness or likeness to God.
The pope has deemed Serra the "evangelizer of the West," who converted thousands of natives to Catholicism in California. However, many Native Americans consider Serra's canonization a "mistake," as he is known among the native people for the destruction of their culture, language and belief systems.
Louise J. Miranda Ramirez, the chairwoman for the Ohlone Costanoan Esselen Nation, has traced her ancestors to the Carmel Mission. She was emotional when describing the impact of Serra's colonial crusade: "I feel the pain that my ancestors went through — the shackles, the whippings — and I think, 'How could you do this to them?'"
Along with Ramirez, hundreds of Native Americans have staged protests in California — including Carmel, Monterey, Los Angeles and Santa Barbara — holding signs that read:
"SERRA AIN'T NO SAINT."
"NO SAINTHOOD FOR SERRA."
"NATIVES AGAINST SERRA."
"NATIVE LIVES MATTER."
According to Ramirez, when Pope Francis makes his trip to the United States in September, he will be greeted with the voices of the Native people who oppose the canonization.
Alan Leventhal, an archaeologist and ethnohistorian at San Jose State University, has spent 35 years working with the Amah–Mutsun Tribal Band of Costanoan Indians centered around Mission San Juan Bautista, and the Ohlone-Costanoan/Esselen Nation centered around Mission San Carlos in Monterey, as they seek the reaffirmation of their culture and tribal status.
Leventhal said the native people feel as though the canonization is a mistake, that Serra, "while a man of historic figure and note, really is not deserving and that there is no miracle that he performed to be considered a saint."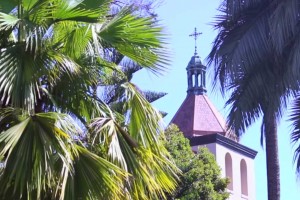 Jeffrey Burns, director of the Academy of American Franciscan History, believes that Serra is a "very good and holy man." He explained that Serra could have stayed in Majorca, Spain, where he was born and where he lived a comfortable life; but he instead made the decision to go to a new land and bring what he thought was the greatest gift he could bring – the good news of Jesus.
Burns acknowledged that there are mixed reactions among those associated with the church who are excited about the canonization of a new saint, and those who are in opposition because of what Serra represents.
"He is the symbol of what occurred," said Thomas Sheehan, a professor of religious studies at Stanford. "He represents the problems of colonization and imperialism that lead to the desolation of Native American culture and Native American people."
Ramirez said Native American history is being threatened through Serra's canonization, even though their ancestors underwent this treatment 200 years ago. "They can't erase the crimes he committed by making him a saint," Ramirez said. "And that's what they're trying to do."
What gives Ramirez and other Native Americans hope? "The greatest thing about all of this," said Ramirez, "is the voices of the native people standing up and saying 'no.'"
"NO, Serra is not a saint."