Suspended 30 feet in the air and armed with an electric drill, Andrew De Torres looks worried. Although his arms are long enough to keep him aloft between two impossibly flat bright-blue holds on the wall, De Torres is unsatisfied, voicing his concern that a smaller climber may not be able to attempt such a move.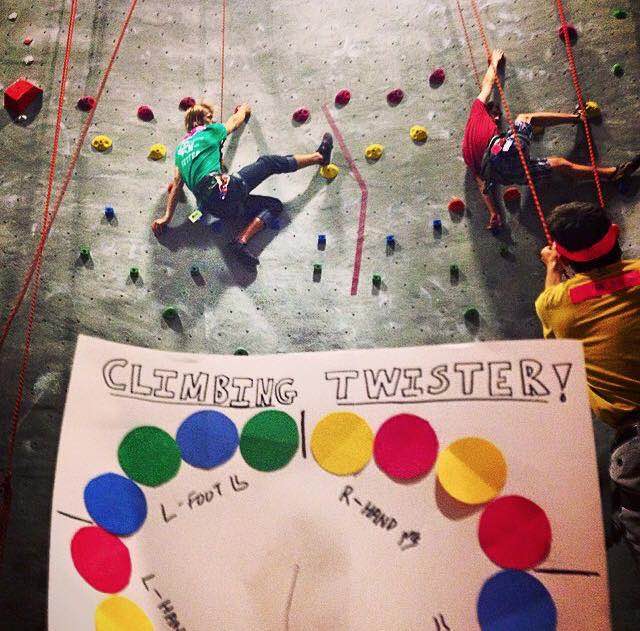 The drill whirs to life, filling the cavernous space of the climbing wall with head-splitting grinding. One of the bright-blue plastic holds falls from the sky, while another larger hold takes its place. In two swift moves, a new route on the climbing wall is created.
De Torres is the unseen man behind the wall at Stanford's Arrillaga Outdoor Education and Recreation Center (AOERC). He designs, installs and executes the colorful routes adorning the walls of the recreation center's spacious indoor climbing facility.
De Torres' philosophy behind this work is a simple one: think differently with your body.
With new routes and bouldering problems each and every Monday and Wednesday (and sometimes on the weekends), the wall brings climbers of all skill levels together. On May 8, the wall hosted a Cardinal Nights Climbing Twister event, where undergraduates from across the Stanford community were invited to play the contorting board game on the wall's vertical surfaces.
After a facility upgrade in 2013 from approximately 1,700 square feet in the Arrillaga Center for Sports and Recreation (ACSR) to 3,200 square feet in the newer AOERC, attendance at Stanford's newest climbing wall is allowing the seven setting staff members to flex their athletic creativity.