It was the third set, and Sara Choy anxiously stepped up to the baseline to fight off two match points. Choy's heart knocked violently against her chest. She wasn't breathing steadily, so she grunted through each shot so that she was forced to exhale. But as the point went on, Choy saw that her opponent's anxiety mirrored her own. As her opponent tentatively pushed another ball back, Choy decided she had nothing to lose. Three games of aggressive play later, Choy, a Sacred Heart Prep-Atherton freshman, walked to the net and looked toward the finals of the Central Coast Section, the Bay Area regional championships.
Choy went on to demolish her opponent in the finals of the CCS championships. And after an endless series of victories over the last few months, 4-foot-11 Choy rose to No. 6 in the nation in the 14-and-under division. But Choy doesn't dream of a professional tennis career. She hopes that her success will take her right around the corner, to the home courts of the Stanford women's tennis team.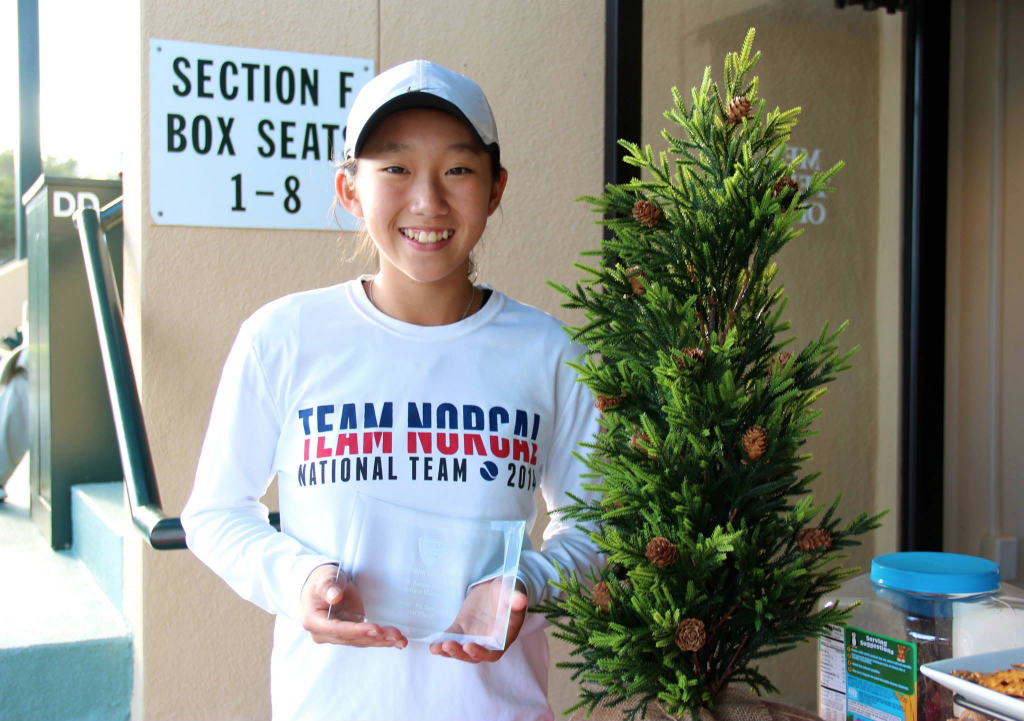 As Choy prepared for a practice session one recent day, her movements were swift and focused; she pulled her rackets out of her bag with the ease of a seasoned veteran. Now 14 years old, she stepped onto a tennis court for the first time at eight years old. After only a few months of playing, she began competing in tournaments.
"Stay through, don't let it open up," said Byron Nepomuceno, Sara's private coach of more than a year. "Stay through. OK, now forehands."
Under court lights that buzzed loudly above, he fed her balls that appeared to be fresh from the can, pausing only to suggest minor adjustments. Choy and her coach had an established rhythm; each resounding pop of the ball against her racket was followed quickly by another.
Last fall, Choy discovered a rhythm that no opponent could disrupt. In November, she became the first Sacred Heart Prep-Atherton player since 2005 to capture the West Bay Athletic League title. She defeated Menlo School senior Elizabeth Yao, who has been accepted to Stanford and hopes to walk onto the team next year, handily at 6-1, 6-1.
Then, she captured that CCS championship title to cap off her 31-0 season. In December, the San Jose Mercury News named Choy its girls tennis player of the year.
Choy is sure that despite her recent success, people still underestimate her when she steps onto the court. At 4-foot-11, she often looks up at her opponents. But this size difference thrills Choy.
"When they're bigger, I like it more," Choy said with a giggle. "I like to surprise them."
On this day, Choy practiced on one of the tennis courts at her apartment complex. Nestled against the edge of the Stanford campus, the complex is home to both families and Stanford students alike. From the tennis courts, you can easily spot the children emerging from the pool area, the adults lounging in the clubhouse and the students rushing to and from class. Choy chuckled as she remarked that the students around her are pretty loud.
Choy hopes to play for Stanford one day, and living so close to campus has both kindled and sustained that dream.
"I've walked around Stanford campus so many times," Choy said. "And it just gives me an incentive to work harder to go there. I feel so lucky to be living so close to Stanford. It's crazy how close I am to my dream school."
When Choy was younger, she practiced at the Taube Family Tennis Stadium, where the Stanford women's tennis team plays. The stadium sits less than three miles from her apartment.
Her father, Lawrence Choy, first put a tennis racket in her hand. One day, he hopes to cheer Choy on from the seats that line the top of the stadium.
"We've even looked at the Stanford roster to see how many players are graduating," he said. "We want to see if there's a chance that she could play there."
While Choy's mother, Karen Choy, doesn't work so that she can bring Choy to every practice and match, her father works tirelessly to infuse her with mental toughness. Choy's father works full-time as a general manager for Hydrogen Power, a company that partners with manufacturers of renewable energy products. But he goes to every match he can.
And he always repeats one piece of advice to Choy before she steps on the court.
He said, "Points are only 30 to 45 seconds long, I tell her. 'You can only think about so much during those points. The past is already gone. You can't recover your history. And there's no need to worry about the future. The future will come. So think about the current moment.'"
According to Jeff Arons, director of Sacred Heart's tennis program, Choy's response to advice and criticism sets her apart from other players. Arons, who played for Stanford from 1978 to 1982, has been a coach for more than 30 years and has coached 17 student-athletes who later played for Stanford.
"I've worked with so many juniors over the years, and many of them get frustrated when they can't hit a certain stroke," Arons said. "You spend a lot of time getting them to calm down so they can learn. Sara sees everything as a puzzle. She's like, 'How am I going to solve this?'"
Arons believes that if Choy continues to seek out improvement, she has a good shot at playing at his alma mater one day.
And with more than three years ahead to make those improvements, Choy's private coach, Nepomuceno, wants her to zero in on ruthlessness.
"I want her to have tunnel vision," Nepomuceno said. "I don't want her to wander, to think about who is on the other side of the net. Stand up for what you deserve, I tell her. Carry yourself confidently. Carry yourself with a little bit of arrogance."
Choy has been working to harness that power of tunnel vision. She also tries to remember her father's advice each time she steps onto the court.
"Focus on the point, and not the past because you can't do anything about the past," Sara recites. "And you can't do anything about the future unless you focus on right now."