Nearly 800 people were stricken by West Nile Virus in 2014 and the ongoing drought is likely to mean high numbers of people will contract the virus this year as well. Although no human cases have surfaced in 2015, several infected birds have been found in the new year.

With less water to go around, birds and mosquitoes are drinking the same water sources, allowing them to come into closer and more frequent contact with each other.

The virus is spread by mosquitoes, which contract it by feeding on infected birds. They spread the virus to the bird — or human — they bite next.

"The drought may have also brought some birds into closer proximity to people if, for instance, they traveled into urban areas from rural areas as they sought man-made sources of water," said Dr. Gil Chavez, deputy director and state epidemiologist of the California Department of Public Health.

In 2012 — the year California's drought began — there were 479 cases of human West Nile Virus cases. That's three times the number of human cases reported in 2011. In 2014, the state saw 798 human cases, the most since 2005, according to data collected in conjunction with the California Department of Public Health.

Orange County, with more than three million residents, saw 266 human cases. But high infection rates in other, less populated counties, are what drew researchers' attention.

Glenn County, with a population of about 38,000, saw 12 human cases of the virus — more than triple the rate of Orange County if you account for population. Glenn County is also a large rice producer, and rice grows in areas which are flooded with water, which attracts mosquitos.

"Several individuals have told me that having to recover from West Nile Virus, that they would not wish it on their worst enemy," said Jack Cavier, Glenn County Mosquito and Vector Control district manager. "I think West Nile Virus is here to stay, but the District will be doing more public outreach and enhanced mosquito control with our limited resources budget."

Noor Tietze, an entomologist for the Santa Clara County Mosquito and Vector Control District, manages the surveillance team at Vector Control to survey for vector-borne diseases such as Lyme disease, hantavirus and West Nile Virus.

Tietze's team will pick up and test dead crows and jays that are reported by the public for detection of West Nile Virus. They take the birds to the district laboratory to determine if they are positive for the infection. If several positive birds are detected in the area, Tietze's team will set mosquito traps targeting adult females. After placing 40 traps overnight within a one-mile radius, the live mosquitoes are turned over to the lab for testing.

Tietze said that the specific location of Santa Clara County lies along a thermal threshold for the virus. It is rarely found north of Mountain View, for example, due to prevailing cooler coastal conditions. So, typically, the danger in cooler parts is lower.

"We have observed localized areas where positive mosquitoes, birds and people are detected, showing that the disease does not spread evenly throughout the county each year, but rather as a quilt-like patchwork of affected smaller areas," Tietze said.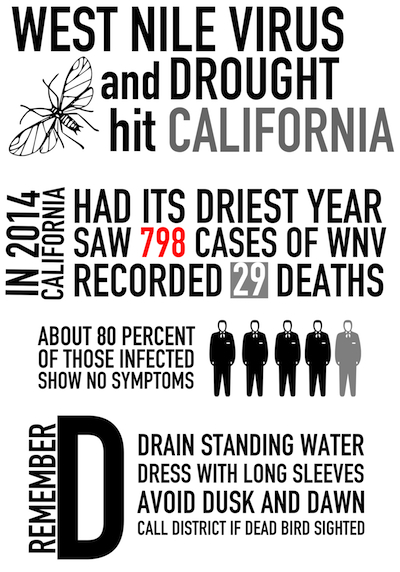 It is not only the drought contributing to the virus outbreaks, but also the behavior of people during the drought, Tietze said. People who hoard water during dry years may be inadvertently providing mosquitoes with breeding grounds if the containers are not properly sealed. Neglected swimming pools pose the same danger.
Tietze said, then, that mosquitoes are adapted to transitional aquatic habitats, areas where they can develop into adults before the water evaporates. The challenge, then, is to locate and treat those sites on a timely basis to reduce mosquito production, he said.
And so, what we can we expect in 2015? Although there has not been a reported human case in the new year yet, Tietze predicts that West Nile Virus activity will spring up in areas that did not see activity previously.
It is believed that the immunity of birds restricts the spread of the virus, so areas that saw a lot of activity may have a more defensive bird population. In other words, areas that were hot-spots before should not see too much more activity.
The eastern side of the valley, though, has seen minimal virus activity and young bird populations there have not yet experienced West Nile Virus. This may make those birds and that area more susceptible to infection in 2015.
Overall, "protection is the best prevention," said Tietze, along with the California Department of Public Health. He encourages more of a fighting response, not only encouraging the education of residents to reduce standing water at home, but also the use of environmentally safe mosquito control materials that are only toxic to the insect.
"The best defense for West Nile Virus is a strong offense against mosquitoes," Tietze said.
(Homepage photo courtesy of CDC/James Gathany.)